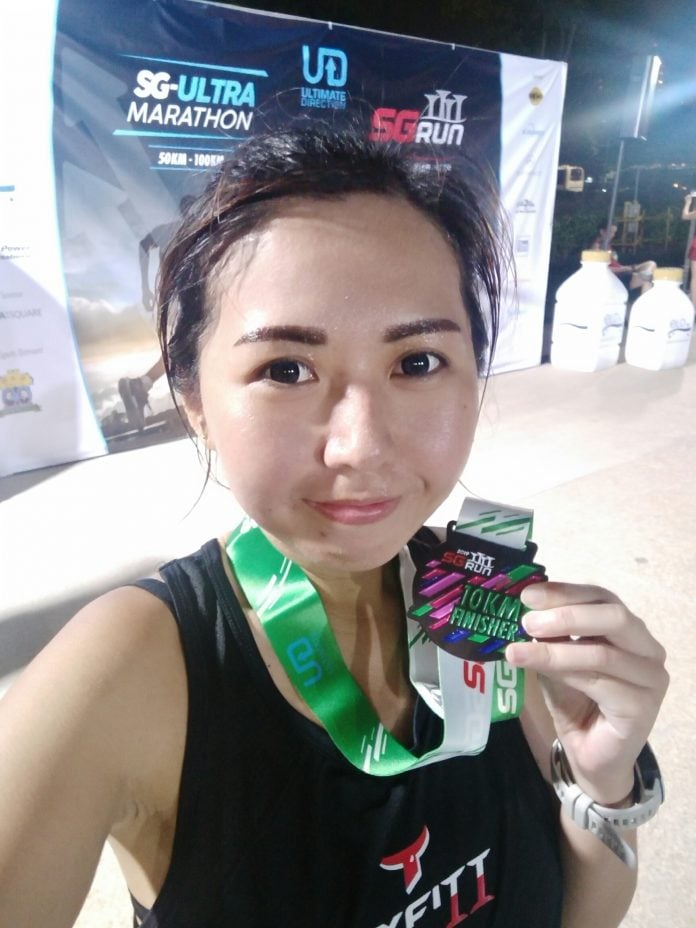 I should have stayed at home and rest legs as I have District Race the next day after SG Run and I have a 18km on the same day morning 😂 But it's my bad, because I signed up for U Run All Access and its almost the end of the year and I didn't use any credits yet and I don't want to waste the money 😭
There's 3 race credits to sign up for 3 races from a list of race and I used the first credit to register for Standard Chartered Half Marathon and then for Force of Nature and another one for The Performance Series 3. Then I realised that FON falls on the same day as my pacer training and I couldn't participate 😱 All thanks to the helpful staff of URAA to allow me to change my race to SG Run after I emailed them ❤ U Run All Access is actually quite good to get as average out race fee is cheaper and it's guaranteed race slots when you register with the credits before a certain dateline by URAA.
Considering the different categories available, insane distance like 100km and 50km ultra distance I don't have the courage to attempt yet and that it would be super torturous to run long distance of 21km or above since I will be doing 18km in the morning and the effort for me to get to the race site is like travel a total of 2 hours to and fro for a 30 plus minutes 5km run seems sot sot for me so I registered or the 10km category.
Immediately I thought I should have signed up 5km instead after the morning run. But sometimes things and events are unpredictable. TMD. I forgot to apply Vaseline. After the 18km run I kena abrasionsssss on my inner thighs and underneath my chest because of the sports bra. Unless you have fat thighs like me and have the sensation of the friction of the fats on the thighs rubbing with each step taken, people with slim chopsticks legs will not understand 😂 Jealous to the max. Need to slim down liao 😭 Run more, torturous. Mindful eating, also torturous 😂 Life is short, I prefer to enjoy it! 😆
It really was pain die me, I set up a plan to run walk run walk and thought I could use 2 hours to finish the 10km.
There's free shuttle bus service provided to and fro the race site at Stadium station. When I reached Stadium station I used my intuition and sixth sense to agak where the shuttle bus would be as there's no direction sign or indication in sight. Same as after the race when I wanted to find the boarding point 😂 But I must say other than that the shuttle bus frequency and service was very well organised thanks to the volunteer there guiding the bus driver and make sure bus was full before departing, I waited no more than five minutes each way to get on the bus 👍
When I reached the race site, its 5 more minutes to the flag off for the 21km and 32km runners at 6pm, so I walked out about 200m into the route to see them flag off and show some moral support to the runners and manage to spot a few friends 😊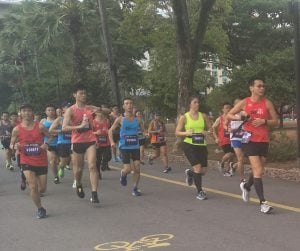 After that I proceed to bag deposit, changing my shoes at the same time while queueing for the baggage deposit. It's a long queue but it cleared up shortly. Then I head quickly to the start pen. It was then announced by the emcee that due to human jam of the runners at Marina Barrage, there will be a delay to clear the jam. So our flag off was delayed for 5 minutes at 6.35pm.
There's no official pacers available but there were lead cyclist opening path for the top runners. About 1km into the run, a young runner ran beside me and striked a conversation. We had a good chat and he asked me if I'm aiming to run under an hour, which he jio to run together as he wants to encourage runners, I said I'm not and I'm slowing down and he can go ahead. At that point I do want to carry on qnd run but my abrasions are getting so spicy pain 😭
After that I started walking when I reached the upslope at Marina Barrage. I think I walked sibeh unglamly with legs opened widely as I tried to avoid the friction between my thighs 😂 I did applied prickly heat powder prior on my thighs but after the cooling sensation fades off its back to hell, not really hell but machiam chilli padi was applied to very raw skin 😭 Plastering it instead would've been a better option. Or DNS would had actually be the wisest option in the first place 😆
While I was walking up the slopes at Marina Barrage I was cursing a lot, but it was a very pretty sight there. I've always thought that it was a pretty good dating location, the sun was setting and a lot of beautiful and colourful kites were flying at that time. 😍 I wished I had Willis with me for a romantic run but he was working. If I were a photographer for runners I will definitely camped there and capture awesome photos for runners. Maybe when I retires from running, I'll contribute to the running community and be a volunteer photographer at races ❤
Then I do some calculations that if I were to carrying on in the snail pace I was walking at, I might even need 3 hours to complete and even start wondering what's the cut off time. Eventually I convinced myself just bite my teeth and finish it and started running again! 💪
Amazingly, grateful that at about 5km or so into the run I realised the spiciness of the abrasions were gone 😍
It's a very stuffy and warm evening till it started drizzling but just for a little while. Then finally enjoyed some wind! But it was just that teeny weeny short few minutes and back to the stuffiness and still air.
I didn't notice any distance markers along the route and kept on looking at my watch and counting down the distance to finishing. At the last 1.7km mark on my watch there's a volunteer very enthusiastically cheering for the runners but was giving wrong information as he was saying: Last 3km to go 😂 Awwww, I was damn tired already when I heard him and even look at my watch again to double check 😂 Should have corrected him but at that moment I thought maybe it was my watch error?
It's a few hundred metres more to the finishing when I saw a backview of female runner further up front who I recalled seeing when we were in the start pen and wanted to encouraged her as she was walking already. I chased up and forgotten what I said to her but she asked me what's the distance left? I said about 600m and she said OK, she will run with me and we ran to the finishing together 😊
There wasn't any activities in the race site and I grab my finisher medal and tee and left shortly. Podium runners just got their trophies without any ceremonies. I mean no matter how, there should still be ceremonies for the podium runners 😟 I felt that it's an inspiration to other runners and also recognition for the podium runners hardwork and trainings.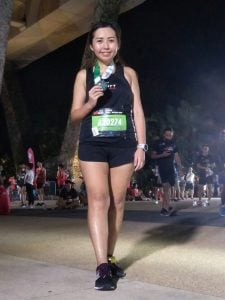 Results was out and you may check for your results here 😊