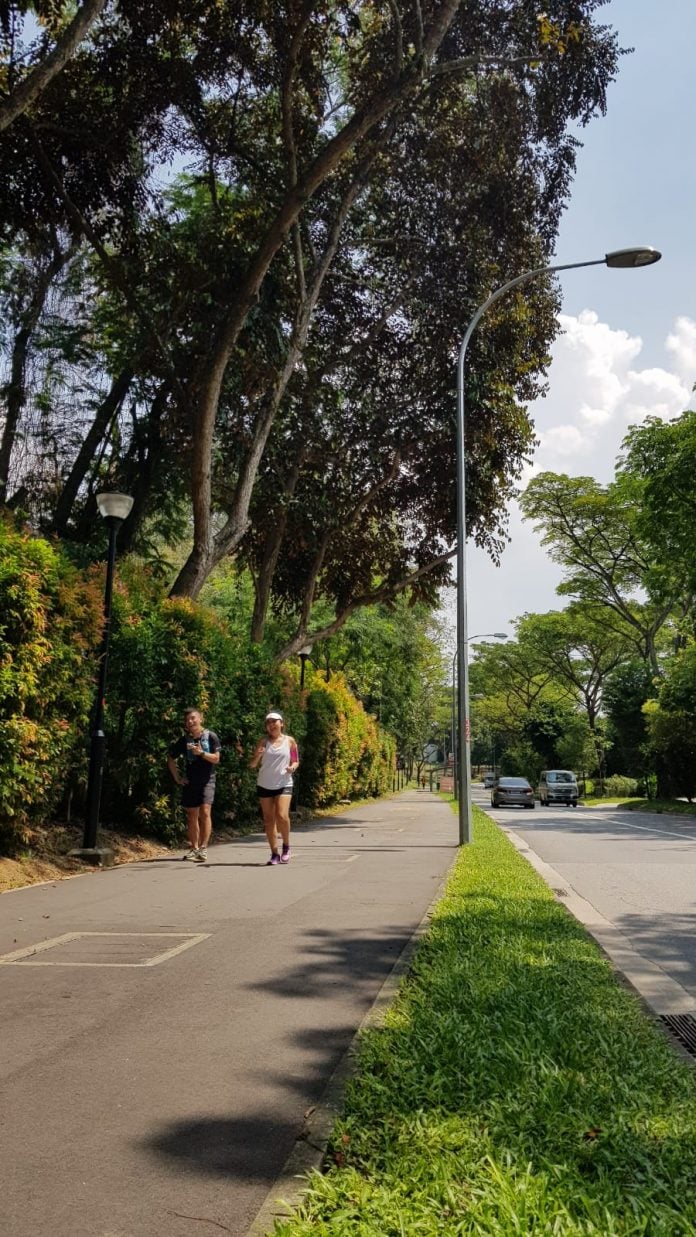 If you run, you're a runner. If you run 42.195km you're a marathoner. And there's ultramarathoner, which according to wikipedia, is a distance longer than 42.195km. So it means any centimetres more than 42.195km qualifies a person to be an ultramarathoner? But I don't consider myself as an ultramarathoner this way, I want to attempt at least a 50km to get the title of ultramarathoner 💪
To me, the most insane and godly term a runner could achieve would be ultra trail marathoner, which is really not a title that could be easily earned. It will need great courage to attempt these ultra distances and in crazy terrains or weather conditions depending on your luck you may get heavy rain or even typhoon maybe. It needs lots of determination and perseverance to cross the finishing line.
This time I participated in Craze Ultra as an "extra", I wouldn't say I'm a pacer, but I'm accompanying Rey in parts of the distances, he was in the 72km category. There's 101km, 72km, 55km, 45km and 27km with the most participants in 101km category with 105 finishers completing within the cut off time of 24 hours 😍 For 72km category there's isn't much participants, there were only 9 finishers with the rest which I think is about the 6 of them DNF or DNS.
Flag off was at MacRitchie Reservoir at 7.30am for the 72km category on Saturday morning and the cut off time is 7am the next morning. Willis and I decided to wait for Rey at a bus stop near to where I stay in Yishun, by the time Rey will be here it would be his 11km mark and I would already have enough beauty sleep and wake up naturally without any alarm set 😊
I thought why not while waiting for Rey we might as well get something to give the runners who ran passed? So the night before, we bought some ice popsicles and froze them. It's my first time showing runners some little support in this way. At first, I was quite paiseh and even asked Willis what if nobody want to take? 😂 I thought I'll be disappointed if nobody take. It would be the exact feeling like a kid coming to cheer for runners in a marathon and put out the hand for a high 5 but nobody gives the kid a high 5 back. But luckily we gave all the ice popsicles away ❤ I know it will be just damn shiok to eat something cold when running in hot weather.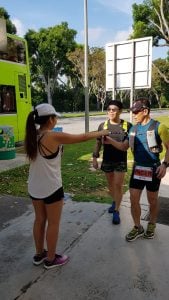 It's 9.08am when I started my sports watch. It's a super hot and sunny morning, Willis and I accompanied Rey at his pace. It's some walking some running and some chit chatting. Its the companionship. We cheered for those overtaking us, those we overtake and those who are already u-turning back. It's not easy to do 72km, I can imagine if I'm the person who is doing the 72km I will be damn grumpy. Only the 101km category participants can have a pacer bib for their pacer.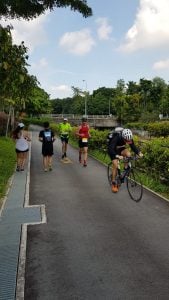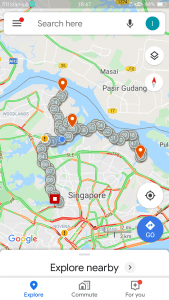 I can't remember what I had pressed on the website but the map route appeared on my Google map for the race period! 😍 One of the most important skills actually is actually Google map reading and I think I'm pretty good at it. Though there's signages along the route to point the directions but unless the eyes is as sharp as eagle's there's still possibility of missing a turn or go to the wrong path. For ultra distances if lost the way is sibeh hoseh, can do a lot of additional distances for free sia 😂 Rey downloaded the map as gpx file into his watch, I still haven't explored the function of it yet even though my watch have that function 😆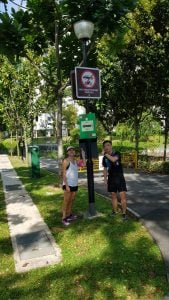 There's a total of 5 checkpoints but only the 101km participants will go to all the 5 checkpoints. I only went to checkpoints located in a small park in Yishun and another one in Sembawamg park. The checkpoints were all very bubbly and supportive volunteers. There were sports drink, coke, water and some food and fruits available at certain checkpoints for the participants.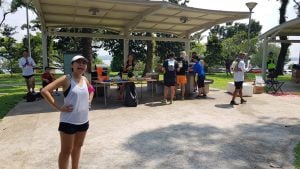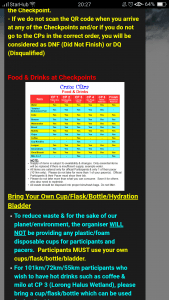 I must really clap clap clap for the very well done website, it's very informative and all the important stuffssss and information, such as map, safety, route what food and drinks is available at their checkpoints etc etc all can be found on their official website.
Willis and I accompanied Rey till back to Checkpoint 1 where Rey had already completed about 30 over km and we had completed almost 20km with him and I was very very burnt and exhausted. We took a bus home though it's just about 1.7km away but I'm already super drained. Head home, shower had a nice lunch and took a nap before I meet Rey again for part II as Willis have to work the next day, he did not joined us. Eleanor accompanied him after we left and meet him at a point near Punggol. Rey was very lucky that he avoided the super heavy rain in Yishun. Drastic change in weather conditions I can only imagined falling sick.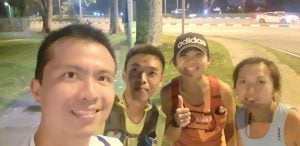 When they returned to the bus stop where I was waiting earlier, it was around 8pm and Rey only have the last 11km left, can see that he's already super tired. It's a long journey of brisk walking with a little bit of running and we reached the finishing at Macritchie Reservoir. They have finisher beers from different brands ready for Rey to choose from 😍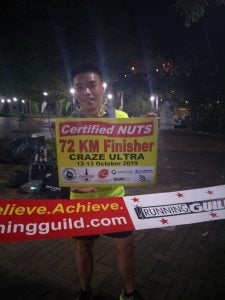 The registration fee was expensive at $100 and it does not include finisher tee and medal which have to be purchase. But if I were to run the crazy ultra distances I will definitely buy the medal and tee shirt 😆 I would like to attempt the 101km category next year as it's quite a interesting concept and I think the only ultra race that covers the most surface area of Singapore. Hope I have the courage to register for it when registration opens for it next year! 😆 I want to get a ultra trail marathoner title as well 💪