About #RealRun2019
An annual event, it sets out to promote Regular Exercise and an Active Lifestyle among the Home Team Guardians and their families. As we celebrate Singapore's Bicentennial in this 24th edition, recognition was given to Lifesavers (SCDF) and Protectors (SPF) who have worked hand-in-hand as Guardians of Singapore to ensure we continue to enjoy safety and security. So it was an elaborate 3 part series run for this year's RealRun. There were a new bicentennial 18.19km Virtual Lifesavers Run, a 5km Protectors Run, culminating in this October 5th's RealRun2019. I was given a free slot by JustRunLah for the RealRun2019. I take this opportunity to also thank JRL for giving me support and inspiration as an ordinary Joe to continue running into my second half of my half-century.
Race Pack Collection
I collected the race pack from Velocity@Novena Square without any queuing time using my contact number instead of the usual NRIC. This was to safeguard the protection of personal data which took effect from 1st Sep this year. For me, it was the first time using my contact number as the identifier.
The Race
I woke up at 5.10 am on race day.  After doing my usual pre-race routine I took my cup of coffee and double slices of bread with peanut butter and drove to Gardens By the Bay, the Meadows as I needed to be back for my Tai Chi regular Saturday's session. I reached the venue by 6:30 am and a fit-looking man in his 50s or perhaps older indicated a gap between the barrier by which I could enter. Later I found out this man was an 'Encik' (Warrant Officer in the army) and he was ranked number one in his category. As I walked nearer the Start Line, I saw the word Finish. I started to look around and the Encik said to me, 'yes, this is correct, this is the Start'. There were only him and myself and another chap further down. Slowly the runners started to walk in and I move myself a bit further behind to let the fast runners and elite runners have their positions. I also saw Runner Kao, a 'new' character on the scene who had started producing videos of his running and training quite recently. We are FB friends but he was much farther in front with the crowd that has thickened now.
The race was flagged off in time. The DJs did pre-warn us that there was a little surprise but most of us couldn't see what was lined up. It was actually the firemen hosing water, crisscrossing the path as the runners were flagged off. I only heard squeals or squawks as the folks dashed across right in front of me as they tried to avoid the full 'splash' of water.  After that, it was just 'serious' running for me.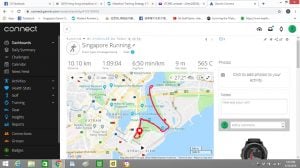 The weather was cooperative and it was only after 7.30 am that it felt warmer and when perhaps slower runners would wish for an earlier start. I enjoyed the run. A simple run mostly through the Gardens by the Bay to the Tanjong Rhu Promenade and back. It was 10 km, accurate by any measure, though the markers were slightly off with the second one if I wasn't mistaken. But subsequent ones make up for it. There were at least two hydration (Pocari Sweat) points but I wasn't paying much attention as I didn't plan to stop at any. I had not done as many 10 km races this year so I was testing out my inadequate fast split muscles. And I still had Plantar Fasciitis on my left foot. Got it back somehow after I was recovering from a bad bout of flu-like symptoms through most of August, unfortunately.
In the end, it was not my fastest 10 km pace but I was happy with the timing of 1:09:04.  After grabbing the medal, t-shirt and Pocari Sweat I was back for a quick shower before changing into my usual clothes for the Tai Chi session. Thank you too, to the organizers for a well-organized event. I had noticed different booths on displays and interesting activities going on but didn't have the time that day to browse through. Results and certificates were also ready within 48 hours.
So next race will be one of the longer distances I use to prep myself up for the SCSM that is coming. Till then, run free, run happy and run safe.