It's the most delicious run of the year!
I love to drink Meiji's milk and eat all those chocolates and biscuits especially! That's one of the reasons I participated in both the 10km and 3.5km category because of the goodie bag and hamper would be super worth it! 😊
It's very interesting and the first I ever heard of, there's cash back for runners if runners run below a certain timing! 😍 If the runners runs back the 10km competitive category within 60 minutes, it's $10 cash back and up to $50 if within 40 minutes! 👍
Though at first I was pretty sian 1/2 because the flag off timing for the 10km is at 3.30pm 😨 I scared scared the Sun 🌚 But while I was on the way to race venue on race day, it was raining heavily at first and was hoping that it didn't rain in Sentosa. I can't be pleased easily 😂
Eleanor and I were both late and arrived at Vivo wanting to take the tram in. It's free entry for Meiji's runners into Sentosa by showing the race bib when taking the tram in. To our horror, the tram's not working 😨 It was already 3.20pm and the staff couldn't tell us when could the tram be working again and told us the fastest way in to Palawan Green is to walk to the bus interchange to take the shuttle bus in. Hoseh liao! 😂 We decided to walk in instead. By the time we are ready to run, it's almost 4pm and flag off for the 10km was 3.30pm 😆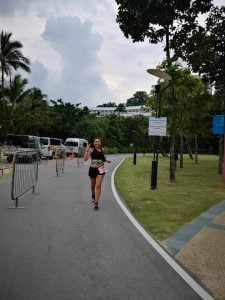 (Photo credits: Michael Kang)
We asked a volunteer where's the start for 10km and she look at us in huge eyes with great disbelief saying that they flag off was almost half an hour earlier 😅 But I googled the website beforehand to check any closing time for the start pen but it only stated the cut off time for all categories will be at 6.30pm. Eleanor and I convinced ourselves that we won't be the last one back because no matter what, we are both regular runners 💪 But we will still be late for the 3.5km run no matter how fast we chiong lah 😂
Luckily there's no rain nor sun. It's cloudy but humid, it's Singapore what can you know what to expect lah 😆 But I must say it's a rather smooth run for me because the runners were about 30 minutes ahead already but luckily there's many volunteers and road marshals along the way to direct the route. But I guess still, maybe some runners ran the wrong route as the elites was like only a few minutes ahead of the runners whom I'm familiar with. It's a hilly course as expected 😂 But I love the route as its a different route than usual, which many races offers the same route.
It was a slow and relax run for me as I already did a 8km run in the morning. After 4km, I stopped a while and opened YouTube, and search for "River Flows In You" a 1 hour loop music. It's a nice, life reflecting music and it's my lullaby for the past few nights. We ran towards Tanjong Beach and it's quite confusing for some runners. As we have to run a loop twice. If runners not alert, they would have ran a shorter distance back. Though still, it's only about 9.6km when I completed the run. There's too many water points in this 10km loop till I lost count and best of all, the drinks I had were all cold and shiok isotonic drink to drink in the hot hot weather ❤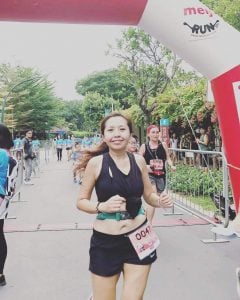 (Photo credits: Eleanor Lin)
Eleanor and I head to the start again to run the 3.5km before collecting the 10km finisher entitlements. Maybe I'm tempted to be late for my next races already. It's a smooth run as there's nobody else 😆 I must say the 3.5km category was super well done. Distance is exactly 3.5km tallying with my watch, distance board along the way very clear as well. And even though it's just 3.5km, the route had a 3 water point all spread out 😍 I guess all family run should be well equipped with water points like what Meiji run did. Many families and small kids and must have water for the kids 💗
It's a run I will definitely want to participate again next year because of the finisher entitlements. So happy with the milks, the confectionery and I think all these items in the goodie bag and hamper covera back at least $20 of the registration fee already 😍 The milk and yogurt etc was placed in a cooler bag and even when I've reached home like 3 hours later, the items were still cold! I was so excited with the food stuffs that I even forgot to take my mandatory narcissistic selfie photos with the finisher medal that I usually do at the race village 😆 The medals is so cute lah! Love it! 😍