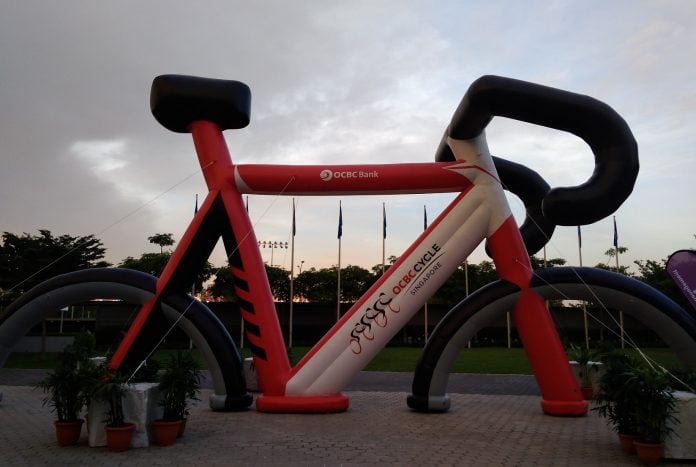 OCBC Cycle is the biggest cycling event held annually in Singapore. This event allows cyclists to visit iconic landmarks and places of interest under closed road conditions. There were around 6800 participants in this year's edition.
After a two years hiatus, I decided to participate this year's Straits Times Ride with my friend Lian Chye (LC). Like last year, there is a discount for the Straits Times Run if you sign up for the OCBC Cycle. But I did not take up the bundle deal as I had not decided if I will be joining this year's Straits Times Run.
Race Pack Collection
Race pack collections commenced on the 10th at The OCBC Arena, Sports Hub. Cyclists who wish to deposit their bikes at the Arena till race day could so. But their bikes must be identified by their bibs (sticker) and sufficiently secured as the organizer is not responsible for any loss.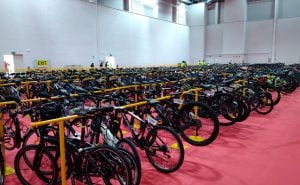 The race pack itself contained just the bib, bib stickers, event shirt, and a water bottle. The 'goodies' did seem 'pale' in comparison with we what get from run races. Well, perhaps this was because the would-be goodies were already at the Expo at discounted prices?
There were many retailers at the Expo, including Garmin, Shimano, Rodalink and Key Power Sports. They offered a wide range of cycling related accessories, such as helmets, jerseys, lights and even energy gels.
Cyclists were also trying to locate their names in the 'Participants Board', a reminisce of the recent Income Eco Run.
First Day (11 May)
The competition at the Club and Corporate levels started as early as 6.30 am until 4.00 pm. It started raining at 10.30 am and caused some of the races to temporary stopped and delayed.
I went to give my support to the first slot of Family & Kids Ride at 4.40 pm. There were many parents taking part with their children, some of whom appeared less than five years old. All of them had fun cycling and spending quality time together.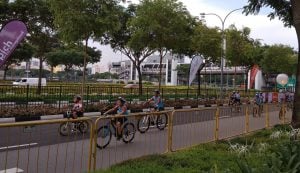 Second Day (12 May)
The main categories on the 2nd day are The Sportive Ride (42 km) and The Straits Times Ride (23 km). Both rides visit the same scenic places around the city. Except that for the Sportive Ride, more distances were added to extend the routes to Pasir Panjang and East Coast Fort Road. Sportive Ride commenced at 5.15 am while Straits Times Ride started at 6.45 am.
LC stayed overnight at my home on Saturday. We discussed the route and locations where we planned to stop for photo shoots. The next morning we had a light breakfast and rolled our foldable bikes to take the first train to Sports Hub.
We arrived at 6.30 am. Some cyclists were still retrieving their bikes from the Arena although the majority of them would now be at the Start Point at Nicoll Highway.
We set up our bikes and proceed to make our way there with other cyclists. Volunteers offered us bottled water and 100 plus for hydration. After passing Kallang Wave Mall, Security Officers told us to dismount and pushed our bikes instead of riding as the pathway was not sufficiently broad for cycling.
There were several waves of flag offs due to a large number of cyclists. It was also safer as we need more space to manoeuvre our bikes. We belonged to the 2nd last wave (it appeared so), and we were flagged off at 7.15 am.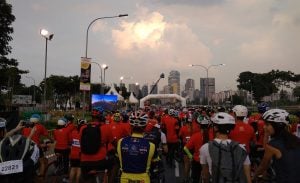 The Nicoll Highway and Republic Boulevard were familiar roads, as they were the usual parts of a run route at city area. We cycled along to F1 Pit, where we had our photo shoot with Gardens By The Bay and Singapore Flyer in the background. 10 mins later, we continued towards Bayfront Bridge and the Central Business District.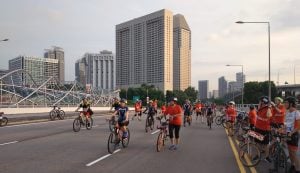 It is always refreshing to cycle at the CBD. But I think the road here was only partially closed as compared to full closure during Car Free Sunday. Perhaps it was not authorized for full closure today. One of the highlights in the route was a short ride through the MCE tunnel. Cycling at Expressway is not allowed in Singapore, so this was really a unique experience.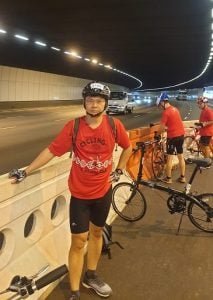 We took some rest when we reached the hydration point outside MBS Hotel. After that, we cycled to the top of the Benjamin Sheares Bridge. It was the most scenic part of the route and a recommended photo shoot area. Many cyclists briefly stopped here and enjoyed the surrounding scenery.
I am not sure about the 2017 and 2018 editions, but this year's Straits Times Ride did not allow cyclists to cycle down the Benjamin Sheares Bridge Flyover. The road was blocked by ambulances and we were told to u-turn. Looking at the Sportive Ride's route, cyclists appeared to be able to do so as the route goes all the way to East Coast Parkway and u-turned before Fort Road. Having experienced that before, I felt a sense of disappointment as the downslope brought out the most in terms of speed and adrenalin.
It wasn't long before we exited Sheares Bridge and embarked on the return route to the Sports Hub via Nicoll Highway. It was getting hot, but I chose to cycle rather slowly to enjoy the last bit of the ride.
I reached the Finish Point inside the Sports Hub and collected the finisher medal and 100 plus for hydration. There wasn't much post-ride activity. Cyclists were mingling around to rest, chat, and take photos at the photo booth.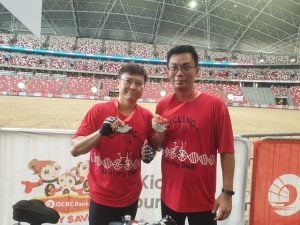 We took some rest, before continuing our ride to East Coast Park for lunch at the East Coast Lagoon Food Village.
Comments
1) The organizer could consider having baggage deposits for the cyclists, similar to most of the run events.
2) I hope next year's edition will remove the combi 3-in-1 medal concept. Cyclists have to take part in 3 consecutive years to complete a full gear medal. What if he/she is unable to attend one of the edition? Perhaps they could have a whole medal and another separate piece for that purpose, just like Spartan Race?
3) There are some comments that the fees are expensive. But in my opinion, the prices are still reasonable if you register early (bird), considering that it is the only cycling event in Singapore where you have major road closures for you to enjoy a scenic ride.