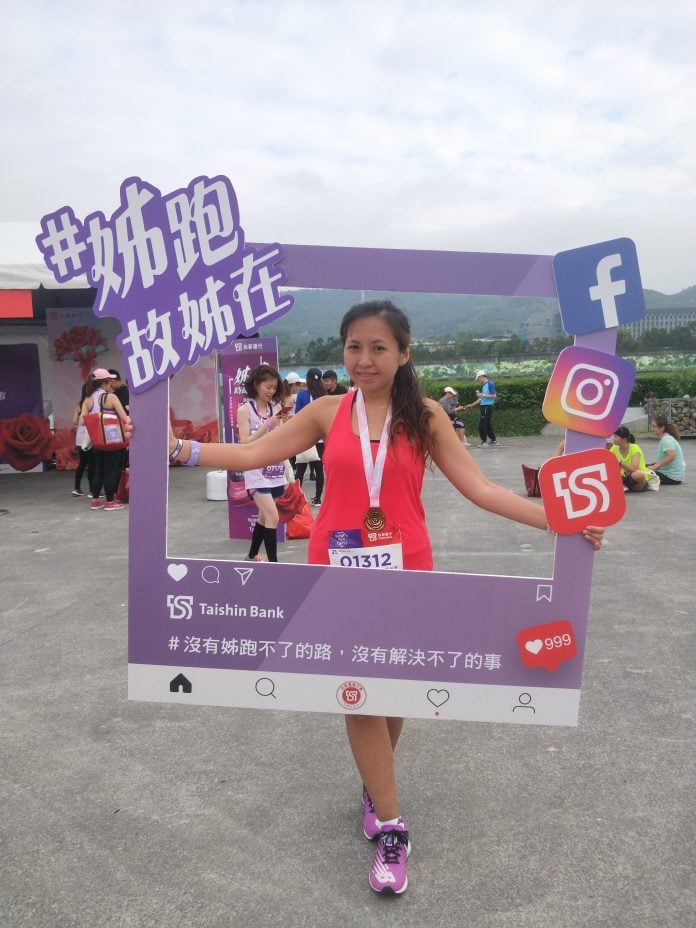 Honestly after Gopeng Ultra Trail 2 weeks ago, I didn't unpack much. My luggage just laid there in my room opened, till a day before this trip, I load up that very same luggage and head over to Taiwan 😆 It's my 5th time to Taipei, some of the same places I went at least 4 to 5 times as well 😂 But still I love Taipei! And I would want to explore more on the outskirts of Taipei as well in the future ❤
I was a little worried for this race as I was doing back to back half marathon. The last time I had done a back to back half marathon a week after another, I was struggling to complete that 2nd half marathon and felt nauseous. I used almost 3 hours at last year's Home Team NS real Run after GEWR 😭 So after 2XU Compression Run last weekend, I told myself just run whatever I can 😊
Race pack collection was not convenient as it's quite a few station from where we stayed near Taipei Main Station. We stayed in York Design Hotel with good food around and convenient traveling to places, it's a super awesome stay and it's only about SGD$30 per night.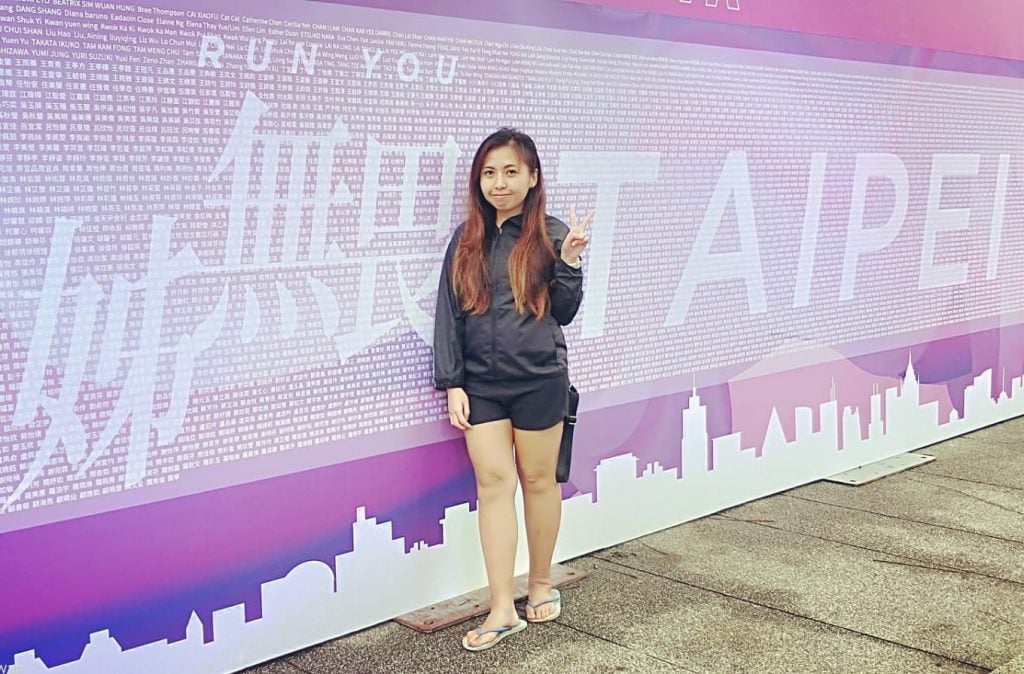 I love the slogan "姐无畏",it means Elder sister(I've) no fear. 💪
I pretty enjoyed the race expo. The atmosphere was good and there were games for runners to win running shoes and activities to participate in for a chance to win direct entry to Nagoya Women's Marathon! 😍 It's Friday afternoon when we were at the race expo and there isn't much people around. It was then I know that for runners running in Taipei who wishes to deposit baggage have to purchase a special bag just for baggage deposit. I bought one of the bag though I'm not depositing anything as I can use the bag next time in Taiwan 😏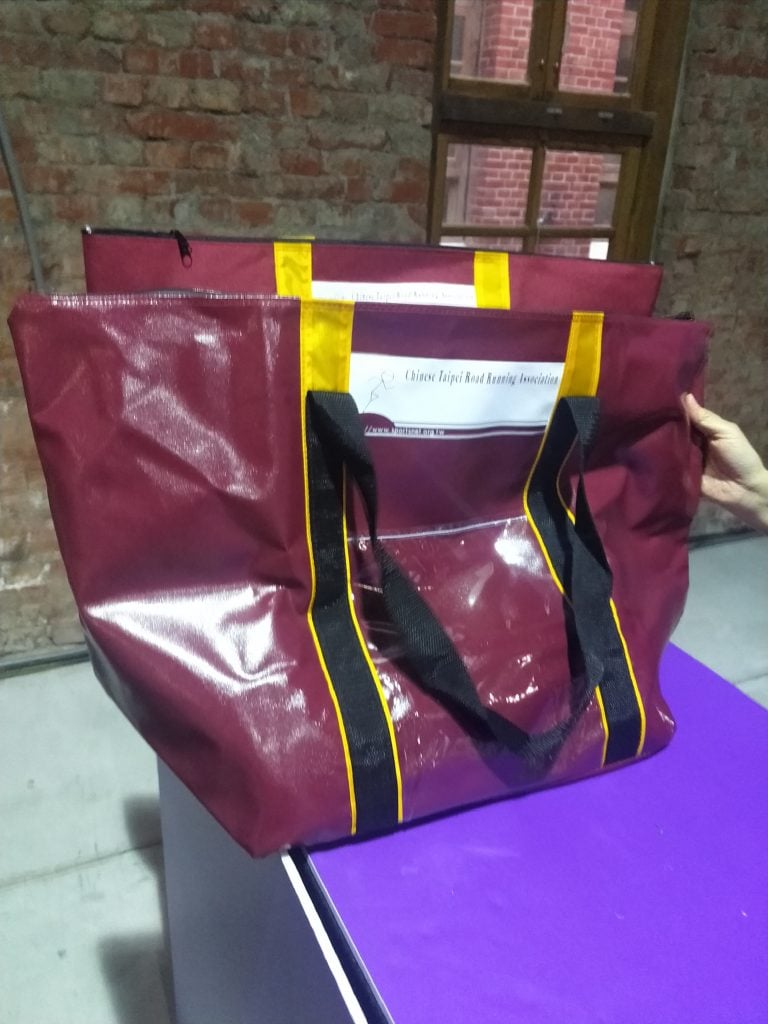 It's probably the best race pack I've ever collected with all the free gifts ❤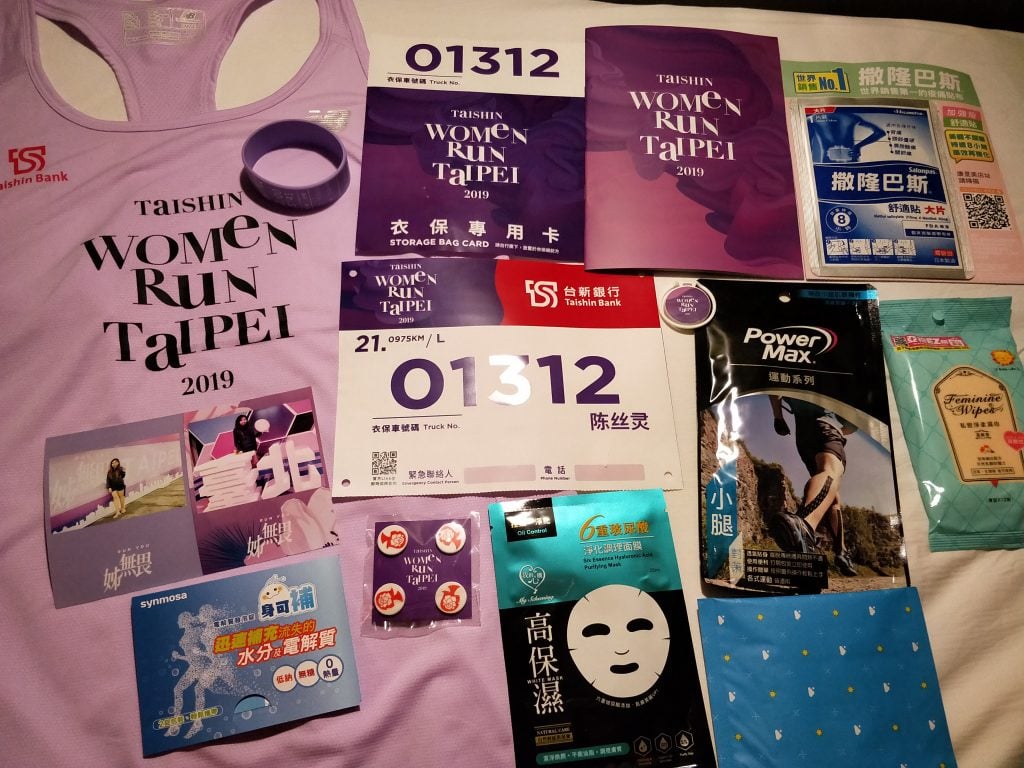 Love the race bibs clips! It's much better than receiving safety pins. And I'm super happy to receive my first ever bib with my Chinese name! 😍 It's in simplified Chinese though as it's my phone settings when I registered for the race online. Will definitely want to participate in another Taiwan race with my traditional Chinese name on the race bib 😏
Fannie and I participated in the half marathon category. It's a AIMS certified race as well, sponsored by Taishin Holdings and New Balance. Flag off was at 5.30am at Taipei City Hall with the iconic Taipei 101 in our background.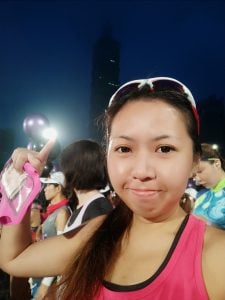 There's more than 4.8 thousand wonderful ladies participating in the 21km category. We reached a little before 5am and went to the portable toilet, there's no queue at all as we were pretty early. I like the portable toilet because it's squat style and more hygienic.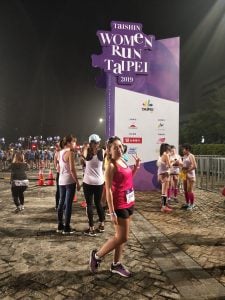 We went to the start pen and waited for flag off. There's a Taiwanese artist standing quite near to us but I'm not sure who she is, a few runners went to take pictures with her. Then the emcee started introducing the pacers individually which I felt that they really show appreciation to the pacers and were thankful for them to volunteer their service.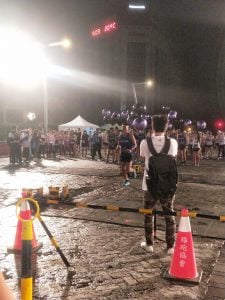 The runners opened a path to let the pacer in like how Moses crosses the sea and let the pacers in to the pen. There's 1hr40mins, 1hr50mins, 2hr, 2hr15mins, 2hr30mins and 2hr45 mins pacers. It was about 20 degrees, quite cooling and the emcee announced that temperature may go as high as 24 degrees. I'm not greedy as it's already a bonus for the lower temperature. I thought the weather would be like Singapore as I thought it's Summer already.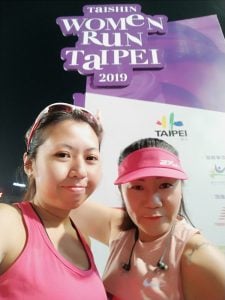 The sky was brightening even though its only soon to be 5.30am, it was as though Singapore's 7am sky. Once flagged off, many people chiong. Fannie was flying super fast and I was behind wishing the 2hr15 mins pacers will not overtake. I noticed for the first 14km it was like so many females overtaking me. I must admit that I'm not fast but I'm not that slow either. I was really impressed as there's so many strong female runners in Taiwan. There's many male supporters along the route cheering and holding boards with motivational quotes and also cute remarks like "最高颜值赛跑" which means "the most good looking race" 😆 Yup, many Taiwanese hot babes. And throughout the entire route I estimated at least 50 photographers! No joke! 👍 Looking forward to their photographs 😍
The climate isn't really cooling compared to the previous days I was in Taiwan, it feels like being in an air-con room with temperature between 21 degrees to 26 degrees. The Sun was out at around my 10km and I was glad I have my sunglasses with me. But I realised I didn't like the feeling of putting on sunglasses while running. I can't focus/concentrate or focus much with it.
Throughout the entire run, there's 2 up slopes I could remember and maybe one or two other small slopes which was quite insignificant that I couldn't recall. When it's near the 16km mark there's a bridge, which I was lazy and unmotivated and walked up the slope. Then this runner give me a push and said jiayou oh! Go go! It did give a push to keep on running.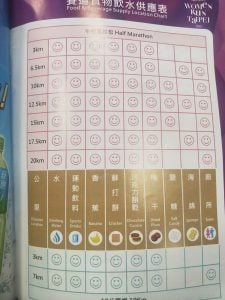 Aid stations were along the route and I didn't take a lot of water as I'm not very thirsty. Though I sweat, but it isn't those as wet as if you just came up of a swimming pool wet like 2XU when my shorts were dripping sweat.
Along the route, there's not much scenery as about half of the distance we were running on roads and expressway and the other half we were running along the riverbank. I can feel that maybe to the Taiwanese, the riverbank is like our East Coast Park. Endless and torturous, but I got no complains and enjoyed my run as it's my first race here.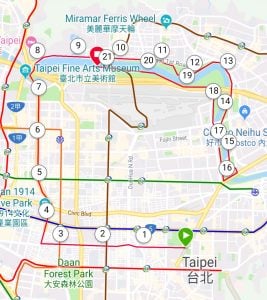 Somehow I caught up with Fannie along the way then Fannie caught up with me along the way and at the last km, we ran towards the finishing line together 😊 Congratulations to her on her PB! We finished in 2hr9mins! It's been years since I can get a half marathon timing lesser than 2hr10mins and I have a strong finishing 💪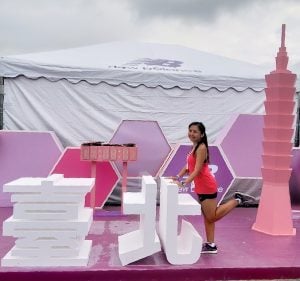 Race village was awesome. There's many booths to participate in games and there's changing rooms and even salon for runners to style their hair!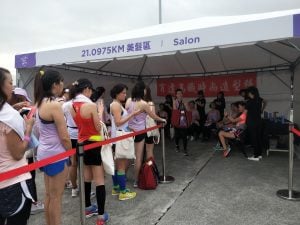 There's many photo spots for runners to take photos and runners can go to a booth to have their finishing timing printed on the finisher canvas bag 😍 The finisher entitlements were awesome as well! 😍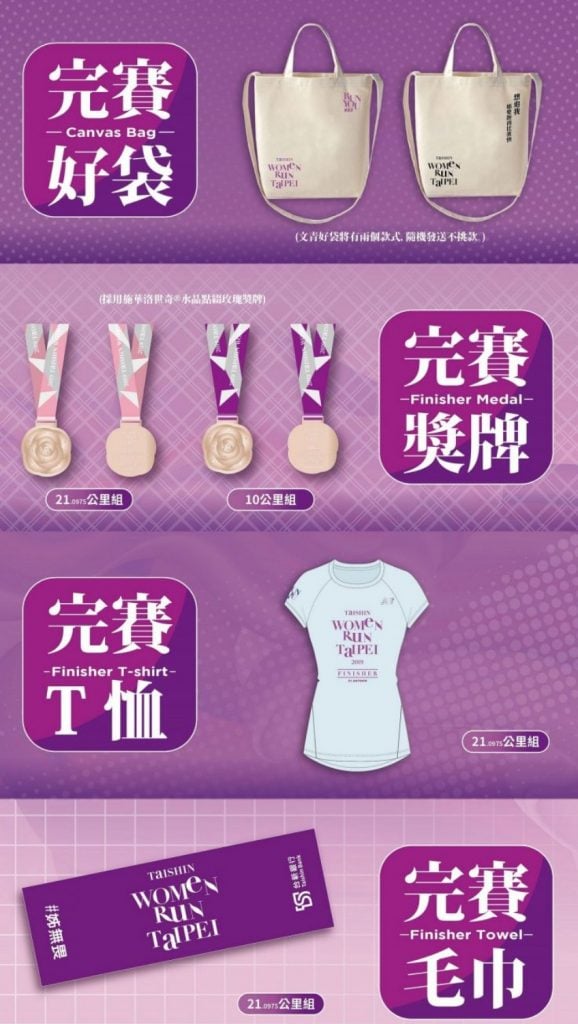 There's a bottle sparking water and a bottle of isotonic drinks and make small free sample gifts. What I love most is the finisher tee, medal and towel! It's all so nice! 😍 And it's Swarovski crystals on the finisher medal lah! 😍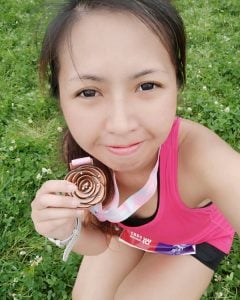 Race results were also uploaded fast, I received an email in the afternoon of race to checked my results and download the finisher certificate, super efficient.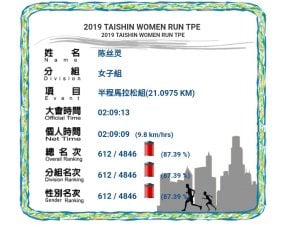 I'll definitely want to run this run again but there's so many hundreds of races all over in Taiwan to participate in and over countries as well. Let's see where else I would go next 😉😎😏