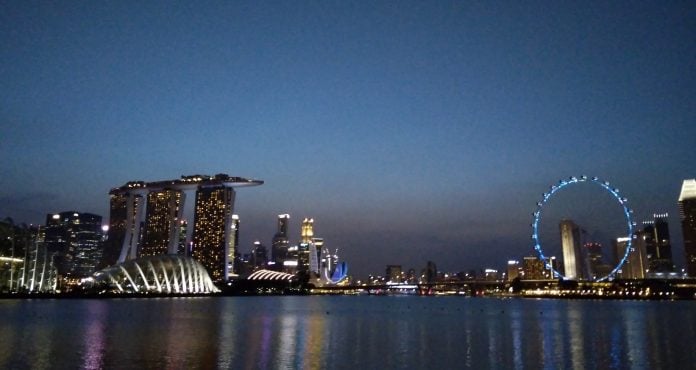 Run for Hope [10 Km]
Run For Hope is an annual run organised by Four Seasons Hotel Singapore and the National Cancer Centre Singapore to raise much-needed awareness and support for cancer research. There are mainly 2 categories: a 10 km non-competitive run and a 3.5 km run/walk. I participated in the 10 km run.
On 17 Feb race day, I took the Circle Line train and reached the Sports Hub at around 6.45 am. It was still quite dark in the early morning, but many runners were already mingling in the event site. I was pleasantly surprised by the relatively big turn-up, which I later read was close to 6,000 participants! The atmosphere was great! The first wave of runners was flagged off at 7.15 am. I joined the second wave 10 mins later.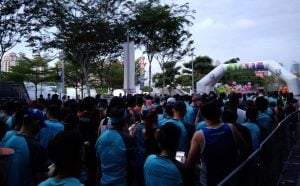 The 10 km route brought us to Nicoll Highway towards Suntec City. This must be my first run at Nicoll Highway towards the city direction, even though I had run here during last year's Income Eco Run. The city view before us is awesome. Many runners took this opportunity to take selfies.
After U-turn at Suntec, we headed straight and turned right into Republic Avenue. This is a good stretch of road to run, with great scenery across Kallang Basin. It was a good Sunday morning and many seniors were doing light exercises at the park. Some youngsters were doing preparations for their dragon boating.
There were hydration points for every 2.5 km and I noticed there were 2 ambulances apart on standby at the Republic Avenue.
It seemed runners, including myself, had really enjoyed themselves in this run, as I heard some lamented that they were reaching the Finishing Point.
At the OCBC Square, fitness instructors from 'Jumping Singapore' led the finishers through a series of spontaneous exercises. We were also treated to free vitagen, milo and HL milk – a first among the many races I participated (thank you)!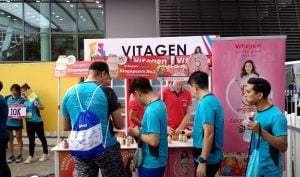 I have only 1 comment though, which is I feel that there should have been some screens to protect the privacy of runners who were seeking first aid treatment. I definitely will feel uncomfortable to have strangers looking at me being administered first aid!
Marina Run [10 km]
There are 4 categories to the Marina Run: 30 km, 21 km, 10 km competitive runs and a 5 km fun run. There are trophies for the top 3 finishers for all the categories except 5 km. I am participating in the 10 km run. It was held on the 23 Feb at the Gardens By The Bay East.
It was a very hot late afternoon on race day. I took the Circle Line to Sports Hub and walked approximately 20 mins to the race venue beside Passion Wave. This is the disadvantage of holding an event there as it is literally not very accessible unless you drive or take the shuttle service.
The 10 km runners were the last to be flagged off at 6.30 pm. The 5 km runners were flagged off earliest at 5.00 pm, which was a bit unusual as 5 km runners would usually run last so that runners in all categories would complete their races approximately within the same time to participate in post run events.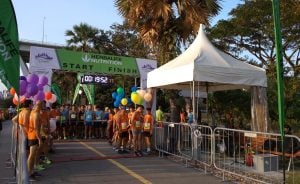 I commenced my run with the first wave of runners. My last run here was during last Oct's 2XU SG Run. In fact, there are many similarities between the 2 races at least in the 10 km route. One difference is the Marina route brings the runners up the rooftop garden at the Marina Barrage. The pathway here is pretty narrow. The only plus point is you get to part-take in the happy and relaxing moods of families having their picnics here or flying kites.
The other difference is this route does not bring the 10 km runners into East Coast Park but U-turn at the Tanjong Rhu Flyover. I guess the reason is probably that the distance has been covered at the Marina Barrage. Nevertheless, I am happy with this for a change.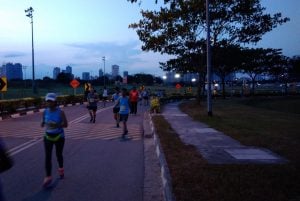 I had planned that for this run, I would relax along that stretch of Gardens By The Bay East during the return route to the Finish Point. For the past races, I would just head straight to the Finish Point and did not really get to enjoy much of the beautiful night scenery. I was glad this time I went slow and did as per my plan.
Hydration points were spaced out approximately every 2.5 km, with replenishment from Aquila and Herbalife.
There were not many post-run activities, apart from the giving out of trophies to the top runners. I lingered a while more before taking the shuttle bus to the Stadium MRT and made my way home.