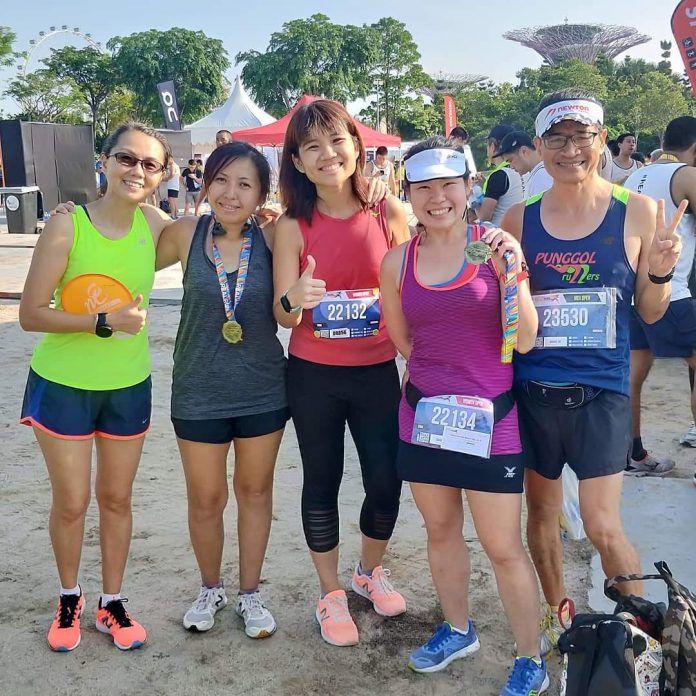 Like a zombie because I only had a little more than just an hour of sleep as I reached home late due to participating in Asics Relay full marathon category, that was held in Sentosa which ended just a mere few hours before Home TeamNS Real Run flagged off.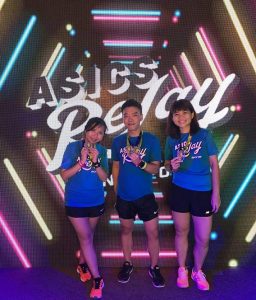 [Home TeamNS Real Run]
I think this is the only run in Singapore that is opened for Singaporeans and Permanent Residents only. There's 3 distance category, 21.1km category, 10km category and the 3km fun walk. And this is the first time they're organizing the 3km fun walk and half marathon category.
Initially, I wanted to participate in the 10km category as recently I have too many long distance races, I can hear my legs crying already and I still have another 3 half marathons before I end the year of 2018. I jio-ed Eleanor and Sabrina to run with me thanks to Just Run Lah! for the 3 slots for me and my two friends (start sharing your running experiences or write race reviews for the perks of having free race entries! 😍 Though I must say, blogging is sort of my hobby and I quite enjoyed it), I thought Sabrina will participate in the 10km category because she got pacing duty for the half marathon distance the previous day at CSC Run by the Bay. And I thought Eleanor would like to participate in 10km category as well because she was my team mate for the Asic's Relay but who am I kidding? I have hardcore friends 😆 They both wanted to run the half marathon category so might as well I'll do it too 😂
Flag off was at 5.30am at The Meadow of Gardens by The Bay. Eleanor and I stayed near by and we took Grab Hitch to the race venue and coincidently sharing the Hitch ride with Cindy, one of the podium runners for the 10km distance category! Congratulations! 😍
We reached at about 5am and deposited our bags with no queues at all and chop chop went to the start line for the flag off. The start line and finish line is at the same place and so the only nay side of feedback we've got for this run was that we thought the start/finish point was pretty far from the race village.
It's a scenic route that most runners will enjoy but I'm bored of it already as most of the runs I participated in very recently such as Great Eastern Women's Run and the Straits Times Run were also having similar routes, running by some of the same places 😵 The route starts from The Meadow at GBTB – Marina East Drive – East Coast Park – Gardens by the Bay East – Meadow at GBTB. Flag off was punctual with pacers fastest finishing at 1 hours 50 minutes and even the slowest pacing group finishes the half marathon in 2 hours and 20 minutes.
Honestly, my aim is at the minimum and that's to complete the race and I did. It's not easy running the crazy upslopes in Sentosa just 8 hours before this half marathon and I was exhausted with the lack of sleep.
I liked what the emcee said, we're halfway finishing the race as we had turned up at the start line. I was happy to see Kelvin at the start pen and I wanted to follow him for some companionship and motivation throughout the run. It's a super humid morning and worst thing happened. I felt giddy at the start pen. I thought hoseh liao and squatted down while waiting for flag off 😢 Felt better when I started running.
Thank you, volunteers, along the way and at hydration points! This is one of the many runs I've noticed with enthusiastic and cheerful volunteers as well as enough volunteers and road marshals along the route. There's plenty of hydration points and most of them have super chilled water and Pocari Sweat. Shiok to the max! 😍 Each hydration points have plenty of volunteers mending the hydration points, cheering and motivating runners and handing out the water to runners. Distance marker is well placed and accurate thoughout the route with motivational quotes.
It was super humid till we enter East Coast Park when I started to feel some breeze. The only thing I look forward at ECP was the u-turn point 😆 After 10km, I was sweating like I could make a swimming pool out of my sweat so I drank at almost every hydration point as well to keep myself hydrated. I felt super exhausted and complete the rest of the distance with many walking. At the last four km, I started to get annoyed by my left ear as it seems blocked, I could hear my own breathing as though someone is breathing into my ear. Then, even Kelvin's walking speed is too fast for me to catch up with, I was on my own for the last 2km.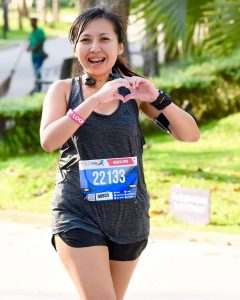 (Photo credits: Ang Chi Song)
The feeling of nauseous kicks in. Maybe it's because I drank to much isotonic drink along the way, maybe because of the lack of sleep, maybe because of the back to back runs, maybe because of the blazing sun. I'm nor made of steel and not everyone have a body thats as fit like Iron Man. I must've looked horrible as one of the volunteers saw me and asked if I was OK, I said I was fine and carry on for a while before I felt giddy and a little bit unbalance. I know I need to rest and I sat down on the floor for a while like a weird out of no where. I was just like 100m away from the finish line. The volunteers cheered for the runners to run the last stretch, but I just can't. I saw a wheelchair at the finish line and I was so close to sit down on it and beg to be push back to the race village but I thought I can still tahan. I start cursing when I need to walk back to that race village which was like at least 400m away.
I started to gag and wish I could vomit out because I knew I would feel better. It's just that few hundred metres to the race village but it seems so far away. Decided to sit down on a curb and rest. I almost want to cry, till I saw Chiuping zehzeh. I was super happy to see someone familiar and she immediately knew I wasn't alright and accompanied me back to the race village offered me her drink and fanning me all the way back to the race village though she was already on her way home ❤
Though its the first time they're having the half marathon category but it's very well organised. The medal and finisher tee looks gorgeous this year 😍 I pretty like the brand sponsor, The North Face of the race singlet and finisher Tee. And the bottled water and Pocari Sweat collected at the finisher entitlement was super cold as well 👍 I was too unwell to check out the race village but saw there's policemen and firefighters uniform for the kids and runners to try on! Left after resting a while and some photos with friends ❤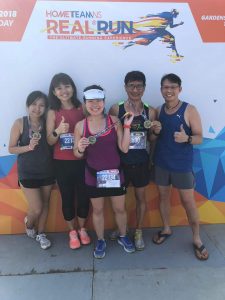 This was my third run with Home TeamNS Real Run and all these runs so far offered different experiences at different places. It was well organised and nothing to complain about, just that the weather can't be helped. Looking forward to what next year's run gotta offer already!