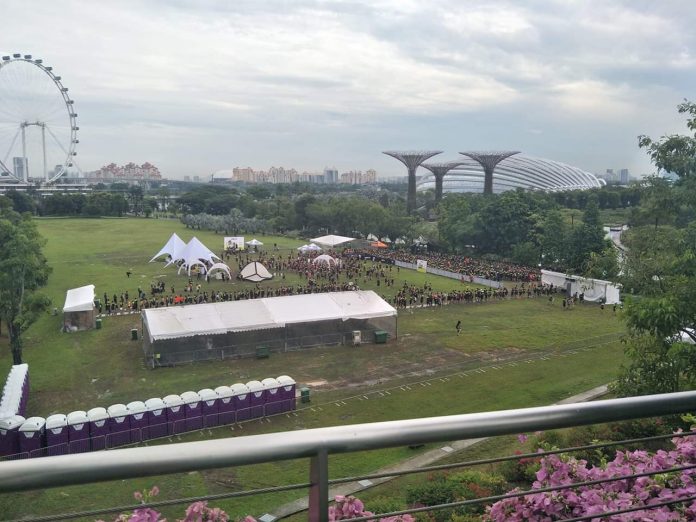 Anyway, it's not 10km but 9km. How can something so simple fail? 😕
I'm running because it's a free run as I'm their participants last year. Thank you Justina for collecting the participants entitlements for me 😘 Thought the run will not happen as race pack collection was just announced merely days before the race. And race pack collections was only from Wednesday to Friday 😕 People gotta work and I could only imagine long queues after working hours at the race pack collection 😓
It's funny that I almost give up this run thrice but still I turned up and finished the run. First thought of giving up the run was when I knew that next day would be Great Eastern Women's Run, 2nd when I told Justina I didn't want to run anymore 2 days prior to the race as I'm not feeling well, and third time while I was in Grab Hitch with another runner coincidentally hitching to the race site as well when it started to drizzle. The driver was on the way to pick up his wife from her night shift at work and I actually asked him: Will you be heading back after picking up your wife? I don't want to run anymore 😂 Well, he said he will be heading elsewhere so I got no choice but to alight 😅
It was 6am when we arrived at the race site as we were both unsure of the location and that's why we decided to be early. We planned to alight at the main entrance of Gardens by the Bay but somehow we manage to drop off just by the side of the race village. Route was the usual one from Gardens by the Bay with running up slopes at Marina Barrage to Gardens by the Bay East and u-turn, just that the flag off was at Bayfront Plaza which was an unusual flag off site. It was drizzling, official website indicated to be early for baggage deposit race village opened and yet it's still not ready. This time I didn't dare to bring any bags for deposit as I didn't really trust them that nothing would go wrong and I was indeed lucky. And The race village was not sheltered and it's muddy. Even before the run, our shoes were already wet 😂
Justina told me that the flag off would be delayed from 7am to 7.30am due category 1 status, which I think meant lightning warning. I was not feeling very well so I seek shelter found a place to sit down and enjoy an episode of Big Bang Theory and another one on the imperial palace the type of drama which the imperial consorts frame one another and kill childrens for reasons that would benefits them while waiting for flag off 😆
It's a free run for me so I didn't mind running. I only expected a bib actually but with a T-shirt as well was already a bonus and good enough I thought but some runners expect the same entitlements as new sign ups this year? 😂 It's not that bad of a run for me luckily because I wasn't stuck in queues and didn't deposit bag and thus avoided all the hassle.
Just a few hundred metres into the run, distance board showed 1km and I thought gg already. A little more than 6km was the 8km distance board as well. Though I didn't stop at water points,
I'm pretty sure it will jam and runners would need to wait for water as there were only 2 volunteers for more than 2 thousand of 10km runners at some water points. Just do the maths, one places cups, another pours water 🙈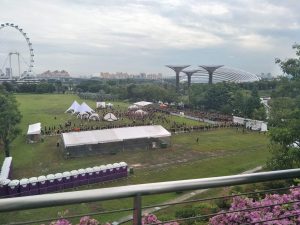 Just by beo-ing, I can see that runners who deposited bags would require a long time to deposit and retrieve their bags. Didn't know how long but seeing the queue it doesn't seem like a short wait. And those who returned back a little later would queue a long time even just to collect their finisher entitlements, it's so scary that it looks like a start pen 😨 I heard people queued for an hour to collect their finisher entitlements and there's problem with collecting the foam roller for the new sign ups as well 😯 I waited for about 10 minutes to collect my finisher entitlements but while waiting, we were standing in muddy grass patches soaked with rainwater and this guy behind me took off his shoes and socks and the "juice" from his socks "piak" on me 😵😖😨😂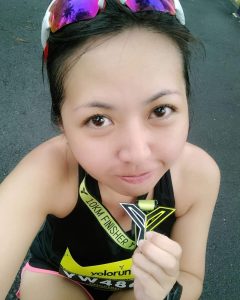 I would actually prefer a 9km medal 😬 My friends, Justina and Christine ran 10km ended up gotten a 5km medal, and Justina also missed the 2nd loop of Marina Barrage 😅 Route and cones were actually quite messy there at Barrage with many turns as well.
#RiseAgain? I thought they would do their best to regain some reputation, turns out still a disappointment for a majority of the runners.
There's also problem with their timing results 😵 You may find your results here. Some of my friends got no timing at all and I can get 15th in female position? 😎 I'm sure there's many more female runners ahead of me.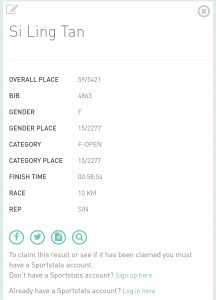 Register for any upcoming YOLO run is pretty risky. I wouldn't want to pay $40 $50 and end up torturing myself by queueing up to collect my personal belongings and finisher entitlements with a time longer than the run. I'm not a fast runner but luckily for me, last year and this year it's good enough to avoid the crowds coming back in after we run. Though I didn't suffer in the queues or have any issues with the run, I guess no more YOLO run for me next year as I felt we shouldn't encourage poor organisers and poor standard of a running event. If YOLO run will be organizing anymore future runs, they must really improve and stop disappointing and angrying the running community of Singapore and the various countries that they held their runs in.