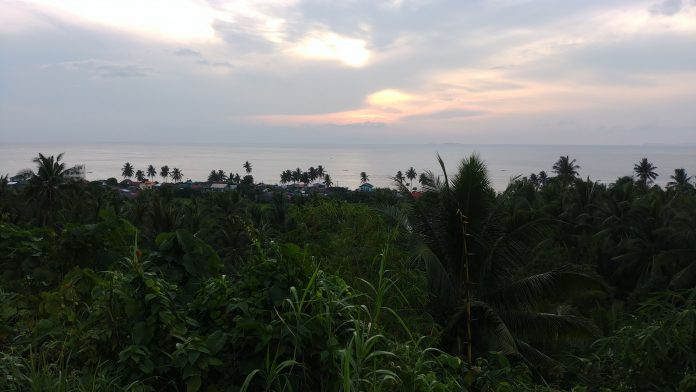 If you'd rather watch than read, well hit the Play button below.
Oh so you want to read? Well, here's the blah blah blah.
This is my first trail run outside of Singapore.  What happened?  Broken down below in sequence.
Flag off
Supposedly 630am but we started 650am.  Didn't really mind.  It helped there isn't much of a crowd (runners and audience) that can get antsy.  Very relaxed.
Downtown Central (4km)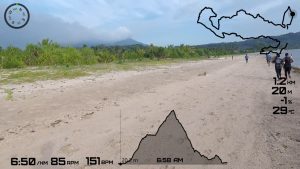 Flat and mostly on paved roads.  There was a segment on the sands of Dancalan Beach (less than 1km).
Went around the church compound whose walls were actually from the 18th century Spanish-era fort called Punta Diamante.  The stone watchtower which used to look out for real life Jack Sparrows now serves as a belfry.
Me, I always liked seeing the green rice paddies with Bulusan volcano in the background (which we would climb later).
Ran this leg too fast for my own pace & distance.  Rookie mistake and paid for it the rest of the way.
Uptown San Francisco  (2km, ascent to 130m)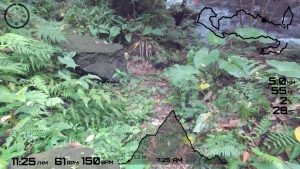 The fun started after crossing Dulipay (Bulusan River).  The trail mostly followed the river into the forest. Uneven terrain.  Rocks, boulders, and huge roots here and there.  More for the nimble, light footed, while I had to gingerly walk around to recover from my too-fast start.
The fleet-footed leader of the 21km, flagged of 15 mins after us had already overtaken me within this trail.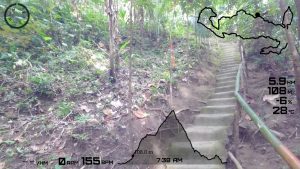 It climbed almost unnoticeably.  But after 2 river crossings, then came the definitely positive gradients leading to Bayugin Falls.  A series of stairs and a gorge crossing led out to the nearby village of San Francisco.
Run Forrest Run (3km, ascent to 340m)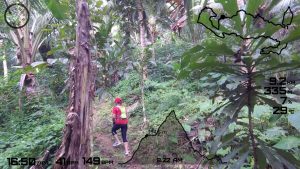 This community is living on a tilted plane. Through it on paved paths within the village and leading up to the forest trail, it kept going up, even the slightest gradient can be felt.  Yet I got overtaken by a young teener who just kept running up, and eventually learnt won the 21km female category.
The trail started to get more challenging with the spike in elevation the further I went in.  Had to stop twice midway through climbs to catch my breath.
Then it went down and clambered over boulders.  Through the forest I saw man-made structures and a lake.
Bulusan Lake (2km perimeter trail)
(Not part of the race, but if you find yourself visiting this place, be in the lake itself on a kayak.  Video below, click that Play button).
There's a 3+ km mostly paved hiking trail around this lake.
Its a lake with no inlet/outlet. Surrounded entirely by a slanted wall of forest.  It on the side of a mountain at 340m.  Sharp Peak and the volcano summit that's most of the time obscured by clouds looms in the horizon. It was so quiet, almost eeriely, though as anyone should have expected.
Not sure what single word can properly encapsulate what can be seen here.  What I am sure of is, they better not build hotels and condos here.
Jungle Hike (2km, ascent to 620m)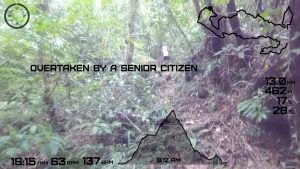 We went 3/4 around Bulusan Lake, toward the main entrance, then onto other side for the trailhead going to the summits.  This was more of jungle trek. Dense inside, steep route, fallen trees, big branches, hit my head and the GoPro a few times, and had to stop a few more times to recover.  Climbing never ends.
Saw skinks scurrying about, but no weird looking animals to spook you, nor make weird sounds.  Still very quiet that looking back now, that seemed abnormal.
What was weird was just out of nowhere suddenly seeing someone sitting 5m in front of you.  They had marshals in this sector every 250m or so, but because of the gradient and thick vegetation, you just don't see them from afar.
At the Ranger Station hut is a junction where a trail leads to the summits, and another going back down.  For this event, this was our peak.
Just before reaching that hut, I heard the marshal's radio cackle that the 28km winner is approaching the finish.  Whaaat???
"Banayad" downhill (3.5km, descent to 300m)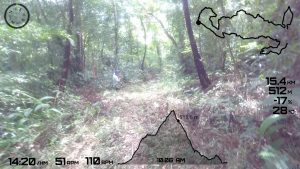 There was an initial steep downhill section.  Its the same as the steep trails going up but this time going down.  Not for anyone with vertigo.  Its green everywhere though, and somehow that seem to have helped flatten the visual depth a bit for me, but that also meant I had to ensure I'm not fooled my eyes and made sure I'm stepping on something secure.
Then its a long trail going down almost straight as an arrow and the marshal assured me, "banayad na" (gentle).
This was the place for anyone to make up for time, taking advantage of the negative gradient to run with less effort.  But my legs were already gone.  I had no more gels (seriously underestimated).
Its also at this stage that every water station were running low on supplies.
The trail exit was to the access road halfway between the lake and the main road. This was where I let gravity helped me run,  a lot lesser chance of tripping over something.  Unfortunately it lasted only 800m.
"Dropping" By The Springs (1.5km, descent to 160m)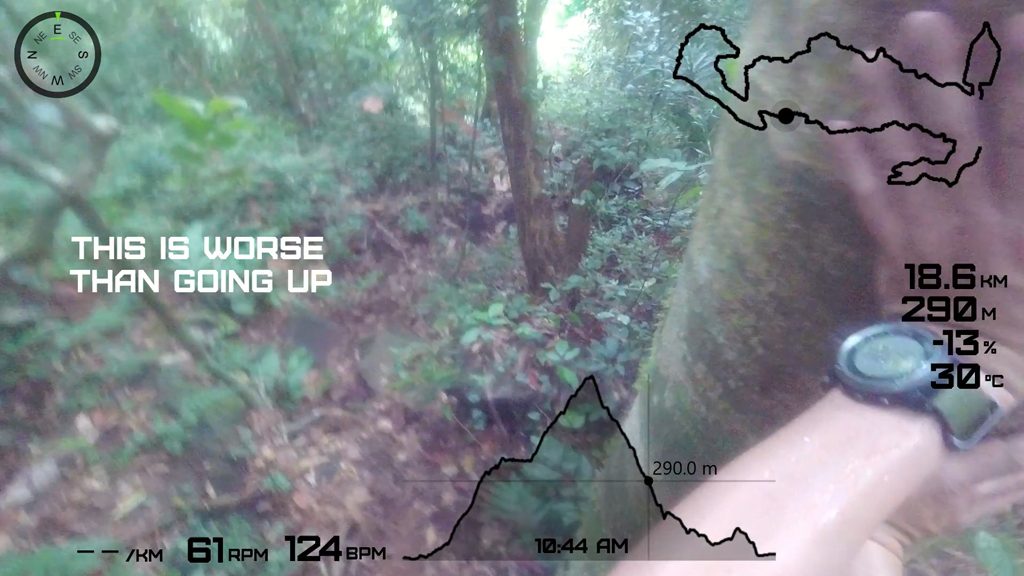 And we go off road again, and memorable because of a really steep descent.  Reminded me of those stairs going up temples at Angkor Wat except here, there are no stairs at all, no hand rails, no ropes, no poles.  Just grab on to whatever tree or vine you can lay hand on and pray it does snap, sit on a rock or a ledge to toe on the next ledge you can set your feet on. I remember asking a marshal if locals were actually using this path.  Probably and even just wearing flip flops.
This trail led to Nasipit Springs – water from the mountain coming out and cascading over some rocks and into a pool.  No time for a dip, but welcomed the same cool water piped through an elevated hose to cool down.
As it seems standard with all these natural water springs and waterfalls attractions in the middle of nowhere, the entry/exit points for this place from/to the main road (between Bulusan and Irosin towns) have long steep stairs.
The trail continues across the road in San Bernardo.
Upper San Bernardo Trails (3km, descent to 70m)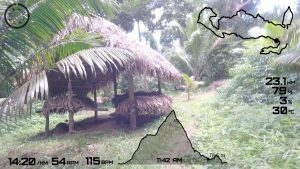 Very gentle slope and more of an open and inhabited forest.  People living there, I even interrupted someone's laundry to top up my soft flask.  Forced myself to run twice because a) there were many onlookers entering the trail, then b) someone was taking a video with her phone.  The rest of the time, its Johnny Walker – Keep Walking.
This part was also marshalled by a local cycling group.  Them mountain bikes are shiny and look pretty.  Should have borrowed one to shorten my suffering.
Cementing My Fate (3km, ascent 120m)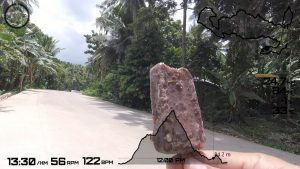 The worst part of the route.  New cement road and totally exposed with no shade. Surprisingly, I did not see any marshals at all, or they themselves probably took cover from the heat. No water station in sight, or the water all evaporated and their containers have melted.  Plus, the road also went up.
Yeah, the mountain bike would have helped.
Aside from temperatures going up, the road also went up.  Good I had cash on me when I saw a moto guy ice-cream vendor.
What Lies Beyond The Cliffs.. A Beach! (2km)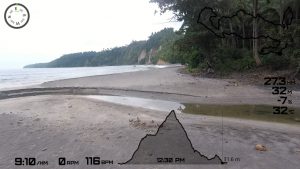 Still in San Bernardo but on the other side of the road. After a water top up by the side of the road, and no marshals again.  Probably everyone having lunch already.  Just ran into a local guy with 2 dogs the whole route.
Funny the approach to the beach, which is on high ground with a trail going down sharply.  A few times after I stepped, I noticed something rolling down.  Hermit crabs, some in shells as big as a fist, managed to go up the cliffs.  Got spooked by my footsteps, retreated inside their shells, lost hold and elevation they worked for.  I hope these guys don't remember me when I'm barefoot on the sand next time.
Return Leg (2km)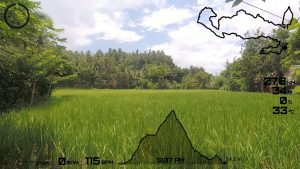 Open setting foot on the beach, its 12:30 and I have officially missed the cut-off time.  A marshal reported with base, tracking everyone else probably.  I told him that I saw at least one guy behind me running/walking on that cement road.
There's a paved walking path by the beach with rice paddies just beside it.  I didn't know they can be that close together.
Finish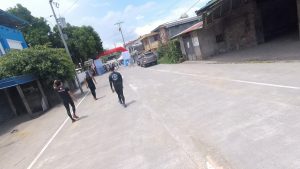 Saw a marshal talking on the radio, then told me to get on a stationed ambulance.  It was past cut off time anyway, and noticed then that my Fenix 3 had died already so nothing to track on anymore. I relented, and good of them to think of the welfare of participants.  Had I known then that it was just 800m to go to the finish, I would have just continued walking.
When I saw 3 guys still walking before the final turn to the finish, I told the guys in the ambulance that I'll just go down and walk with them.
Where in the world is Bulusan?
Its in the Philippines, almost at the southern most tip of the big island of Luzon in the province of Sorsogon, and a 623km drive of over 12-14 hours from Manila.  Or, a 1 hour flight to the next door province of Albay (where planes land just beside the more famous Mayon volcano), plus a 100km 2 hour drive.
Quite a small town.  How small?  Per Wikipedia entry, in 1939 the population was 10K.  The most recent census in 2015 says the population has grown to almost 22K.  And not everyone stay in the town centre.  Its spread all over the lower sides of the mountain.
Very laid back and everyone knows everybody.  They may stare because you're obviously from outside, but just smile and everything's fine.
Its great to see people actually line up outside of their houses to see the runners.  Passive though, but some kids do give high fives, or you have to encourage them.  Some actually set up their own water stations and even give bananas and bread, even high up in San Francisco where the trail is already leading to the forest.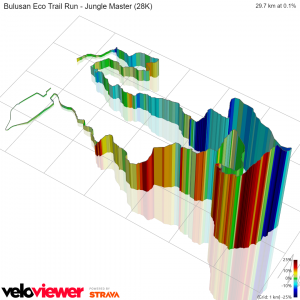 As mentioned, there's Bulusan volcano which we climbed but up to the Ranger Station only.  It was only recently after this event that they have lifted Alert Level 1 (due to low level unrest since last year).  So for hikers & mountaineers, this should be a good place to visit.  The 28km original route was to go up to Sharp Peak at 1200m elevation.  Reflecting now, I may have suffered much more had they opened the permanent danger zone earlier.
So there's waterfalls and springs.  You actually don't need to go so far up to have fun with water coming down the mountain.  After the event and had my late lunch, I headed back to Dulipay and did my post-recovery (on video!).