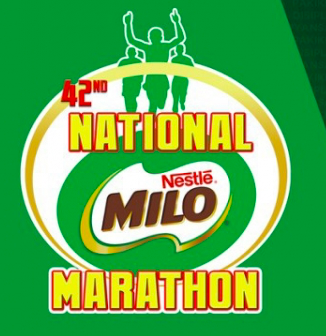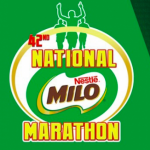 TARLAC CITY – A classic duel between two former champions highlighted the 42nd National MILO Marathon Tarlac City qualifying race last Sunday at the Maria Christina Park eventually won by Julius Sermona over Eduardo "Vertek" Buenavista.  The pair will also lead the city's qualifiers to the National Finals this December 9 in Laoag City to challenge current MILO King Jeorge Andrade.
Sermona, the 2006 MILO King, broke away from his chasers to finish the 21-kilometer course in 1:14:37.  Five-time winner Buenavista dropped five minutes behind to take runner-up honors at 1:19:03 while Third Place went to Reynel Cusipag (1:28:23).
In the distaff side, veteran trail running champion Sandi Menchi Abahan showed that she can also do well on paved roads in a winning time of 1:34:50.  Coming in Second Place was Valerie Taulie (1:49:13) followed by Brenda Balucas (1:50:44).
Sharing the spotlight with the qualifiers were the champions in the side events headed by Ace Joshua Hiponia (37:20) and Cindy Acosta (47:21) in the 10 kilometers.  Joana Marie Gagarin (11:38) clocked faster than boys champion Louise Jon Nazareth de Jesus (12:15) in the three-kilometer children's race while the five kilometers was won by Carmelo Bravo (17:00 and Merry Joy Trupa (21:06).
The final two Luzon legs of the MILO Marathon will take place in Batangas City on September 16 and Lucena City on September 30.  The races will then resume in the Visayas and Mindanao starting in Iloilo (October 7) followed by Cebu (October 14), General Santos (October 21), Butuan (November 11) and Cagayan de Oro (November 18).
Meanwhile, reigning MILO Queen Mary Joy Tabal finished in 11th Place in a field of 19 runners at the 2018 Asian Games Women's Marathon held in Jakarta, Indonesia simultaneous to the Tarlac race.  Tabal clocked 2:51:41 compared to podium finishers Rose Chelimo of Bahrain (Gold, 2:34:51), Keiko Nogami of Japan (Silver, 2:36:27) and Kim Hye Song of North Korea (Bronze, 2:37:20).
Despite the debacle, Tabal remained on pace to defend her title this December and stretch her reign to six years.  A sixth title would also make her the undisputed most successful female runner in MILO Marathon history, a record she currently shares with the legendary Arsenia Sagaray who won five times but in non-consecutive fashion from 1992 to 1994 and 1996 and 1997.