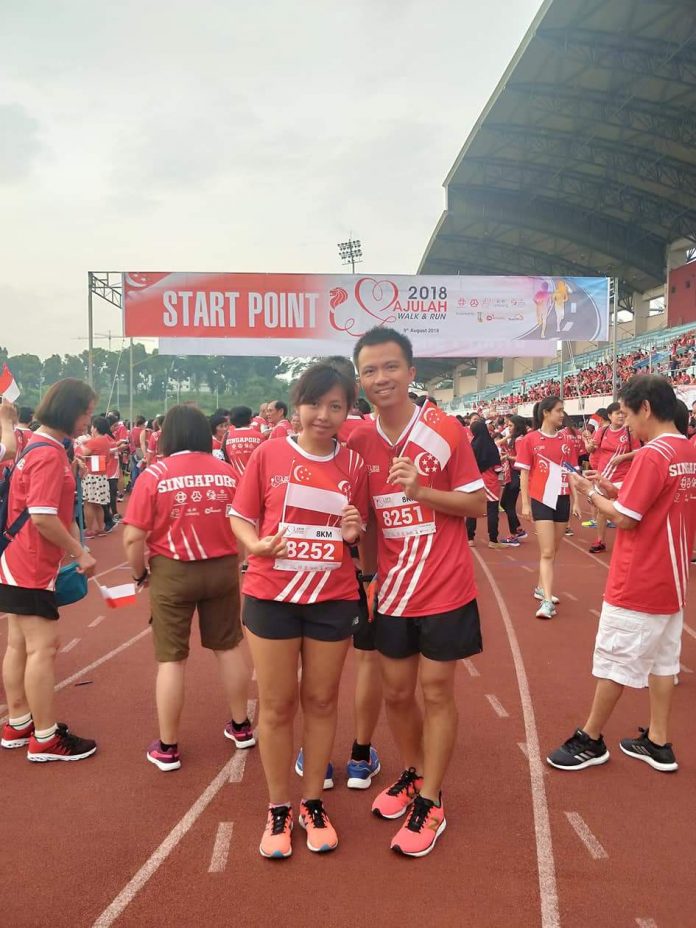 It's a run that celebrates Singapore's birthday, organised by Yew Tee and Limbang Grassroots organisations and supported by Gain City. It was a good running event that's why I'm back this year after participating in it last year! Probably will be back again next year too! 😍
There were the 3km Walk category and 8km Run category, Willis and I participated in the 8km run category. The fee for the registration was super low! The cheapest running event I'd participated so far this year 😍 The 3km category only cost $3 and the 8km category only cost $12 and it's inclusive of T-shirt, medal plus lucky draw chances and can participate in their carnival games and activities 😍
Flag off was at Choa Chu Kang stadium and it was very packed with participants and also residents from the area for the National Day Observance Ceremony. Noticed many secondary school students from the region and residents also participated in the run. There was a slight delay for the 8km category flag off and before the flag off, we sung the National anthem and recites the National pledge. Makes me really reminising back to those days while I was still schooling. There was also a parade by the students of 3 different secondary schools with Red Cross, Girl Guides, NCC etc and shortly after the march off, the ministers flagged us off.
The pavements were pretty narrow as soon as we exit the stadium. Many participants including me ran on the grass patches by the pavements to avoid the human jam but shortly we run into the Pang Sua park connector and it was spacious and more comfortable to run in. We also ran a small part of the rail corridor enjoying a part of the greenery. There were also a quite few water points a long the way.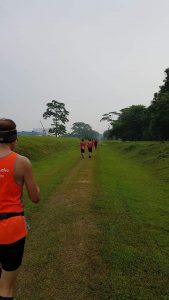 There was many volunteers along the way, almost stationed every few metres away along the route and all of the volunteers were so joyful and cheerful 😊 It was truly a nice route and an enjoyable run. And I'm in a superb mood and feeling patriotic to the maximum by holding my National flag and run and at times sung some National songs 😆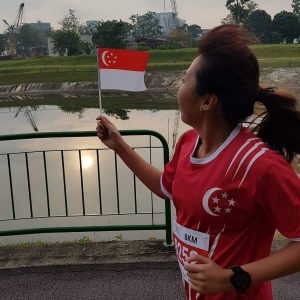 The end point was at Gain City Megastore at Sungei Kadut, though it seems quite inconvenient to get out of there but shuttle bus services were provided to get runners to the MRT station 👍
I'm giving a hundred likes for this run for as soon as we finished the run, immediately my eyes gone bling bling with hearts 😍 It was my all time number 1 favourite Milo van with my favourite drink, Milo 😍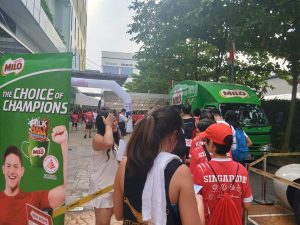 The carnival was funfilled with many games and actvities and there was even a mini vertical challenge by Gain City to climb up the top of the building which I think is 7 storeys if I didn't remember wrongly.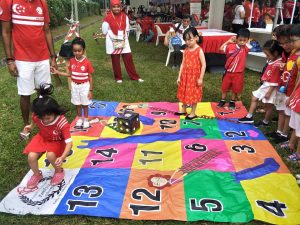 Willis and I went to play basketball and gotten towels for the participation, the queue was long but fast moving. It was fun and sort of bring awareness to participants of all ages to stay active.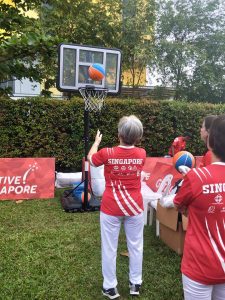 There was also work out and performances on stage but I'm more interested in getting a foot massage. The masseuses were visually impaired, it was $4 for 10 minutes of foot massage and all the proceeds goes directly to them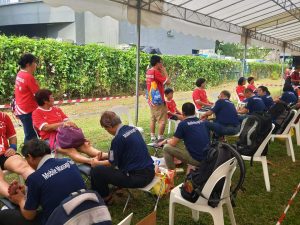 It was a well organised event, cheap and many goodies and items were given such as red bean bread, banana and bottled drinks. And for me especially, got Milo they win already 😁 Looking forward to celebrating Singapore's 54th birthday with them already! 😍