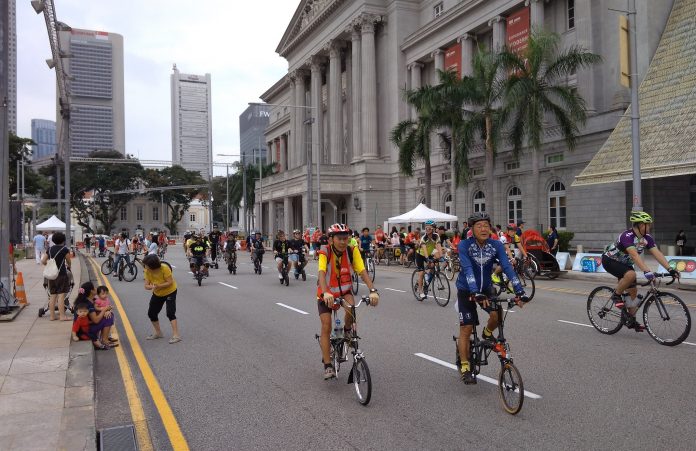 Car-Free Sunday SG is an initiative that involves the closure of roads around the Civic District and Central Business District, including the Telok Ayer Conservation Area, to create a car-free experience for pedestrians and cyclists to enjoy.
It was first introduced in 2016, a community initiative by the URA, Land Transport Authority, National Parks Board, National Arts Council, Health Promotion Board, Sport Singapore and Singapore Land Authority. There are various programs catered for all age groups, and many of these programs are family-friendly.
The next editions of Car-Free Sunday will run in October and December and is usually held on the last weekend of the month.
More info can be found here.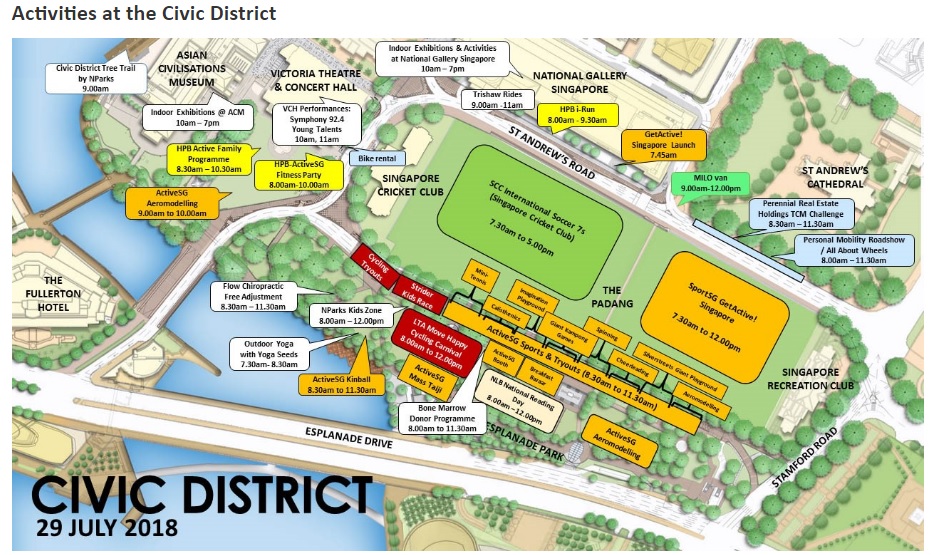 My Car-Free Sunday
My first participation in a Car-Free Sunday was in July last year, exactly one year ago. In that edition, I had catered transport to bring my family and our bicycles to cycle in the event. Apart from OCBC Cycle, I believe this is the other only event where we can walk, jog, roller blade or cycle in the CBD main roads without fear of being hit by cars!
On 29th July morning last sunday, I took a Grab to Raffles City with my foldie. Note that there will be some road closures and bus diversions in order to facilitate this event. Hence, the most convenient mode of transport is actually by train, where you can choose to alight at City Hall, Raffles Place and Tanjong Pagar, areas whereby some of the activities were being held.
The event had officially commenced at 8 am. I arrived at 8.30 am and immediately joined the ranks of cyclists plying the road. It was great cycling in the CBD, where the roads are wide and the tall buildings block out the direct heat of the sun. There were marshals helping to direct the cyclists and clear signage to urge users to share the roads. Wheelers were reminded to keep at a speed of no more than 15 km/h.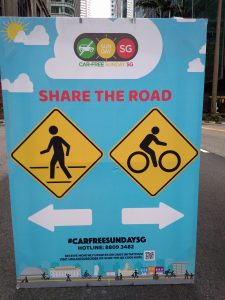 There were also groups of students and participants from the community centres, who chose to walk the closed roads and many of them were wearing red, as it is relatively near to National Day.
Most activities were concentrated around the Padang area. There were trishaw rides, kids zone and yoga or fitness workouts. There were also booths for rental of bikes and e-scooters. Isotonic drinks such as pocari sweat and 100 plus were provided.
There were other activities scattered at the Telok Ayer district as well. The advantage of riding a bike means I was able to easily access these areas. It must have been quite some time I last visited here, and I certainly missed the cultural scene and of course, the many good food at the Amoy Street Hawker Centre.
I stayed till 1030 am, before cycling back to Bedok via East Coast Park. This is one of the favourite route for cyclists, as it brings you past the Gardens By the Bay, Marina Barrage, Gardens By the Bay East and East Coast Park. Some even cycle all the way to Changi Village through this route. As for myself, I exited to upper east coast road to treat myself a well deserved katong laksa for lunch!
Comments
Car-Free Sunday is a great event where families and friends can come and bond, spending quality time together. It is my annual 'pilgrimage' I won't want to miss!