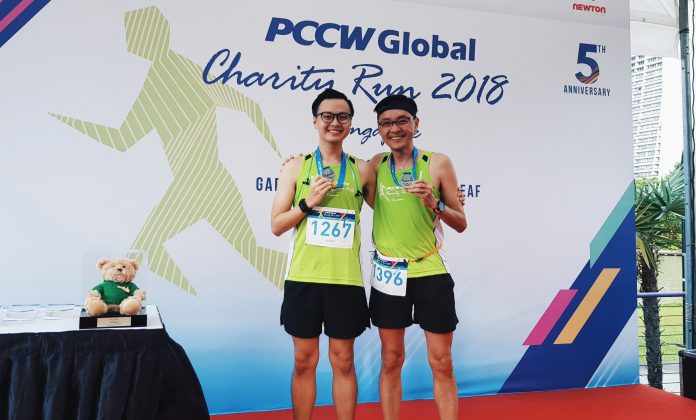 Run for A Wish
All too often, we wish for a run – for wanting that dose of endorphins; for keeping in that shape you always desired, for training to achieve your PB. But would you run for a wish?
The annual PCCW Global Charity Run was back again for their 5th anniversary on Wednesday, 27 June.  This was a charity race, where all proceeds contributed from this race were to be donated to Make-A-Wish Singapore, a foundation dedicated to granting the wishes of children with life-threatening conditions.
I knew that this was my chance to try something different from the usual – running for a wish. It was going to be my first week-day race, as the race date fell during my university summer break. Therefore, I decided to join in the effort this year to raise funds to grant the wishes of children, in a way where I can contribute: by running. My Dad, SY, concurred and we registered for the race together.
However, things did not go as smoothly as I had anticipated. Just prior to race day, I was down with a period of stomach flu, which made me reconsider running or even going for the race. However, I was confident to at least finish the race (despite the minor discomfort) as this was for charity and not for myself after all. Besides, I could walk for the entire 5 km at the very least.
Race Entry Pack Collection (REPC) – 22 to 23 June 2018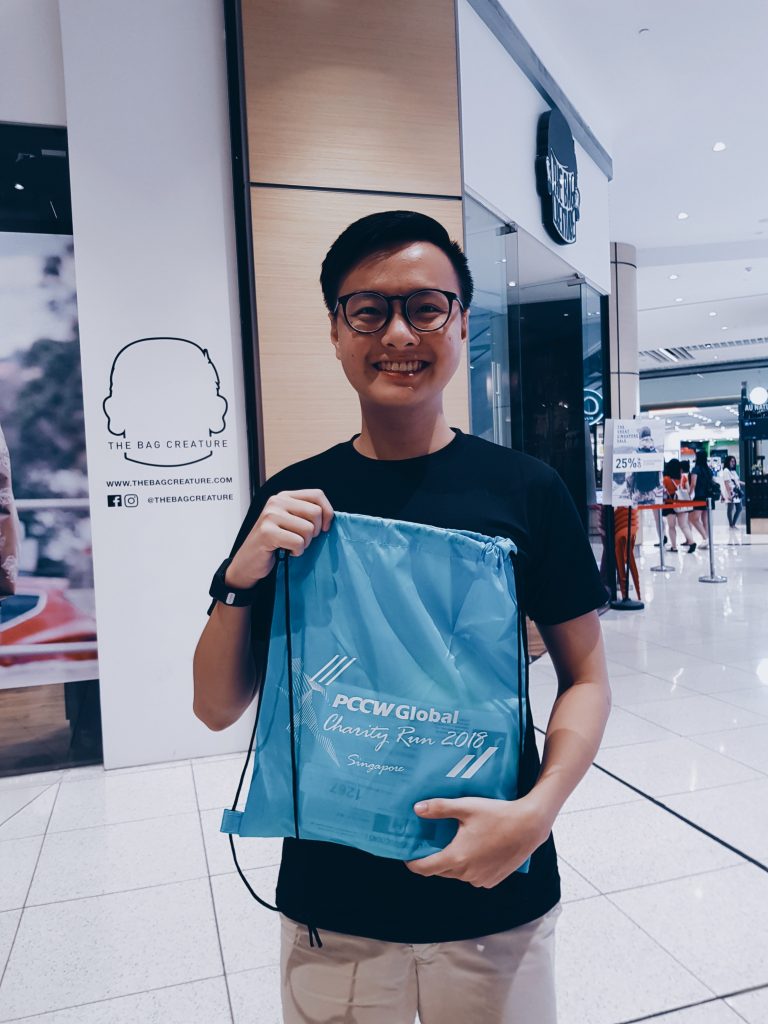 The REPC for this race was held on a smaller scale at the 2XU Performance Centre in Suntec City. There was only one booth with a few staff working at the race pack giveaway stations. It was, however, appropriate as there was a smaller crowd expected, due to the weekday race date. Despite having only one booth, there were no issues throughout the collection process. It was smooth, without having to queue at all. I received a simple race entry pack that included a drawstring bag, a running singlet, a race pouch and a magazine.
Race Day – 27 June 2018
Race day began on a cool Wednesday morning at Gardens by the Bay, Silver Leaf and I arrived at the race venue at around 6.45 am while the sky was still dark. As my Dad and I approached the start pen, we were greeted by a lively race carnival that included a photo-booth and hydration booths. The start pen was smaller than usual, to suit the smaller crowd of race participants. Nonetheless, everyone was excited; some were running with colleagues; others were looking to compete for the top places.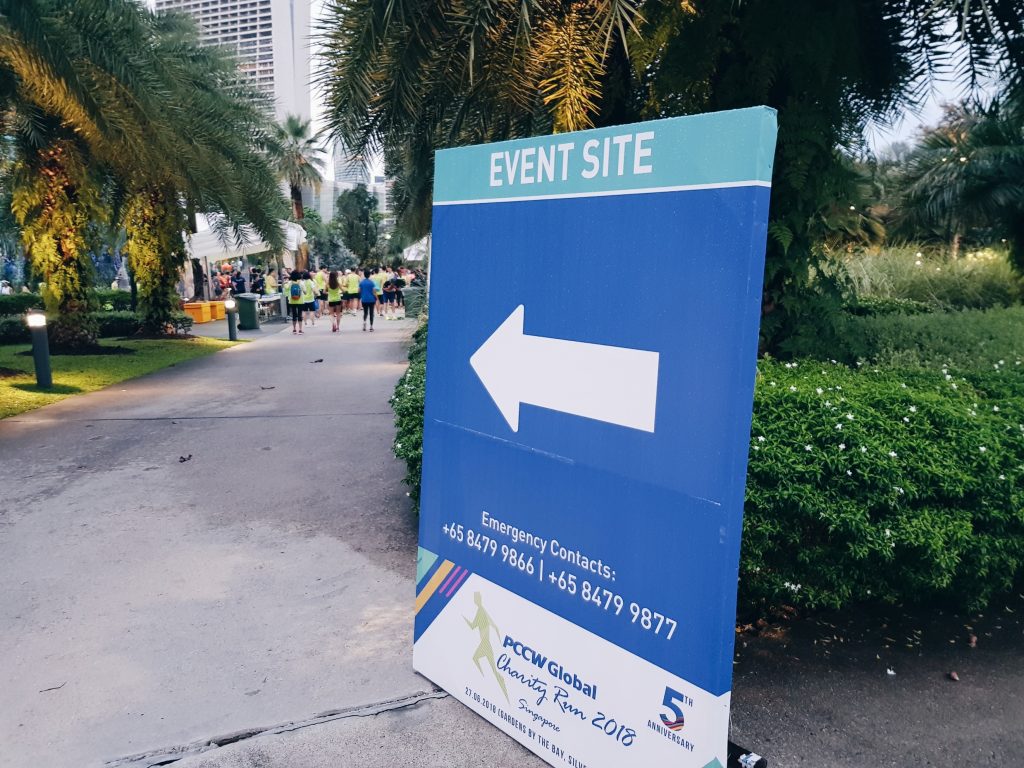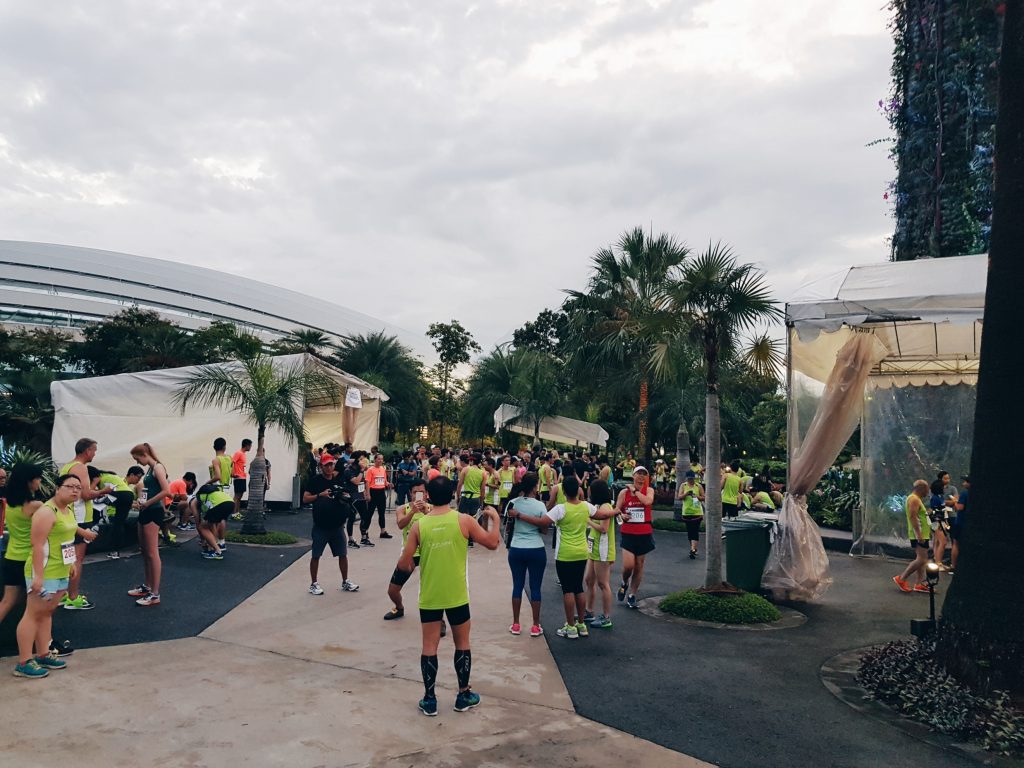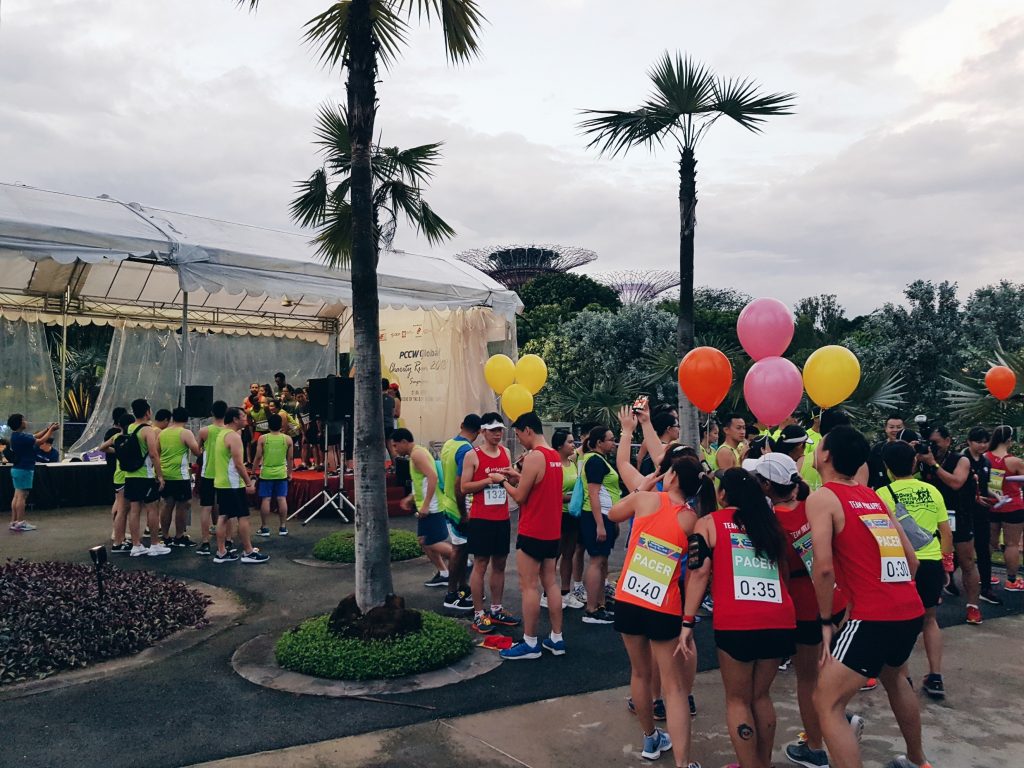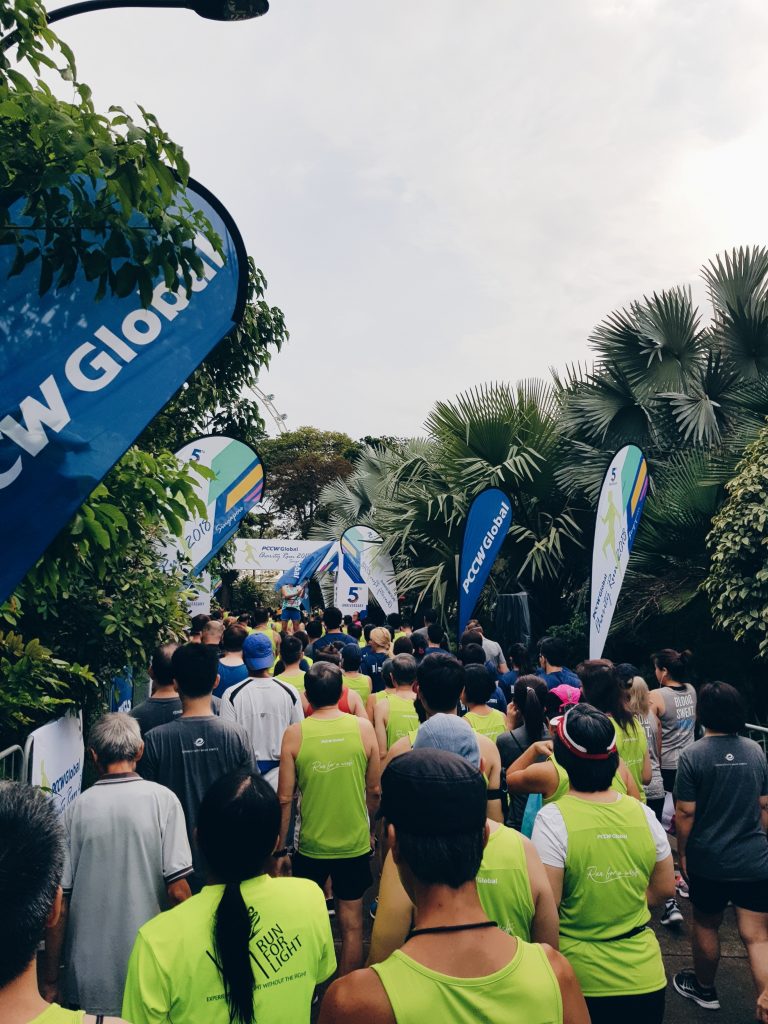 Before long, 7 am came and that familiar blast of air horn sounded and everyone took off. I plugged in my earphones, tuned in to my running playlist and joined in the race. There was sufficient space to overtake the walking participants at the beginning, which was quite rare.
I spotted some pacers as well, with the unmistakable coloured balloons and timing bibs on their backs, each indicating the different paces. There were sufficient hydration stations, one each at the 2 km mark and the 4 km mark. The race proceeded smoothly and I ran at a pace that matched my comfort level, being careful not to overexert after recovering from my flu. I took the opportunity to instead enjoy the cool morning air while people-watching. Having a week-day race was hard to come by and it was a chance to see how the usually-tourist-frequented town area was like on a less crowded day. At least half of the participants were representing their companies and running alongside their colleagues, which was an uncommon sight. For a shorter distance run, there was also a surprisingly small number or even no children or teenagers around.
As the race route approached the end, I felt the urge to speed up to finish with that last burst of energy. Thanking my stomach for being cooperative with me throughout, I decided against holding back and lurched towards the finish with my remaining energy. Somehow, it was always an invigorating and encouraging feeling having to sprint alongside others as we complete a race. I collected my entitled can of 100 PLUS drink and finisher t-shirt before returning to the race carnival.
Post-race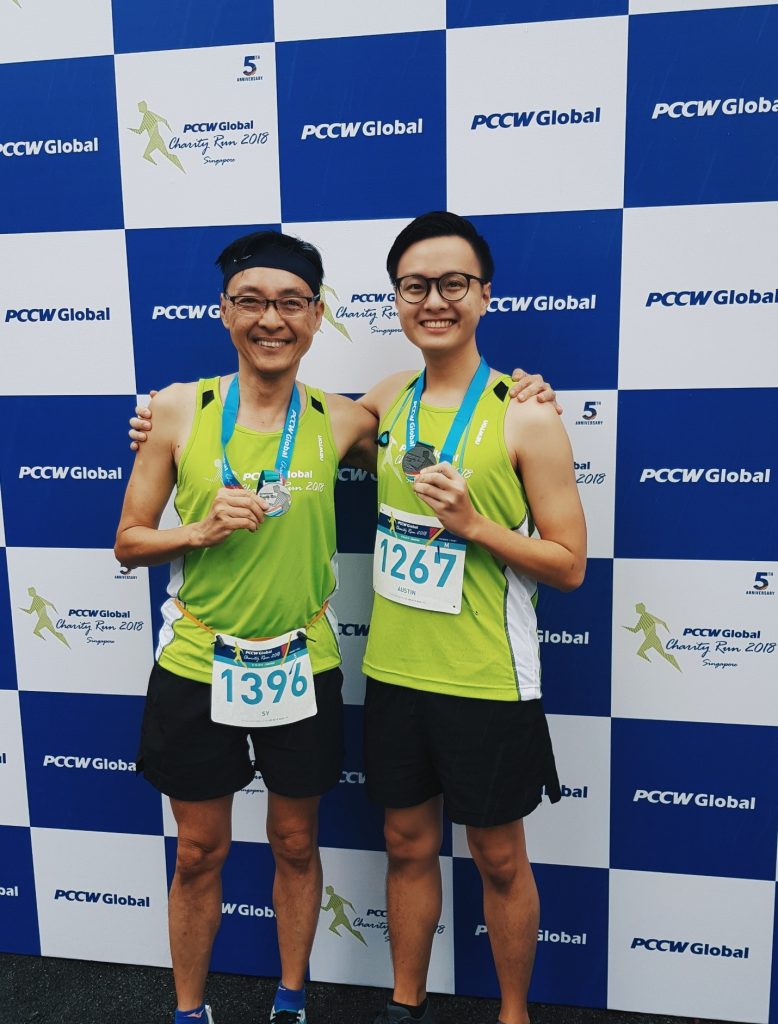 Rehydrated after gulping down my can of 100 PLUS, I was ready to take in all the happenings at the carnival. I met up with Dad again and snapped the usual post-race photos at the carnival stage. We decided to try out the photo-booth to get our photo taken and printed by a special GIF machine. Apparently, the photo should show multiple poses of photos when seen from different angles – just like in a GIF. Unfortunately, the rain started to pour just after we took our photos and the photo-booth had to be closed. Our photos ended up not being printed and we had to leave empty-handed. This was the most disappointing point of the carnival as we queued for the photos for at least 30 minutes.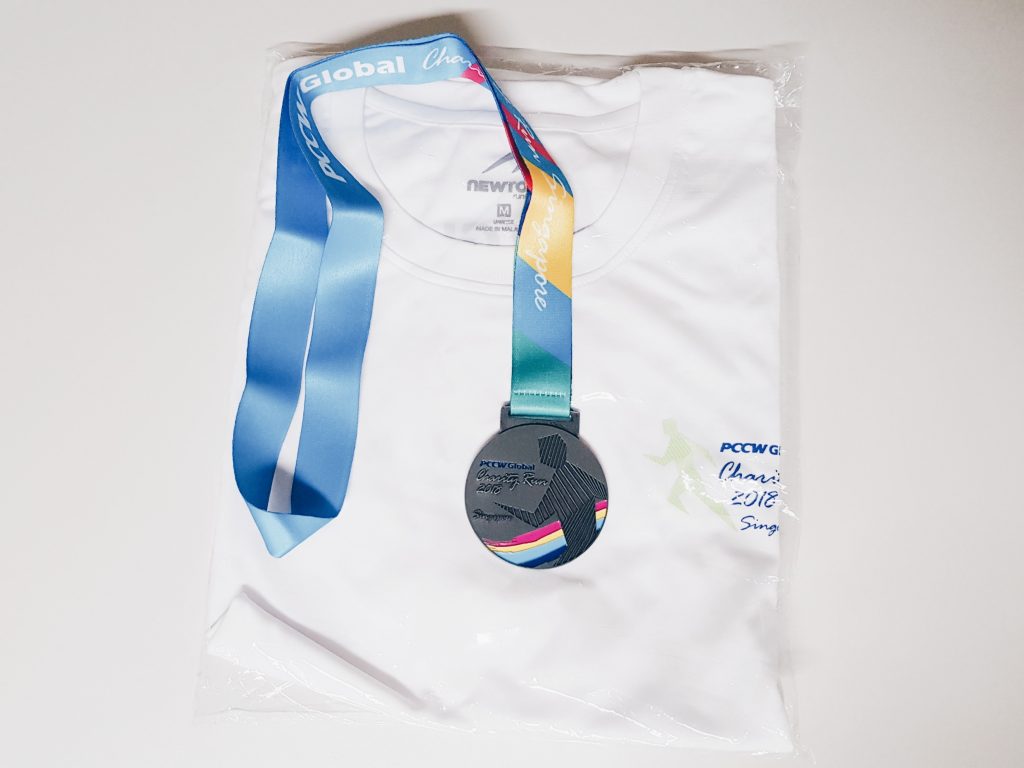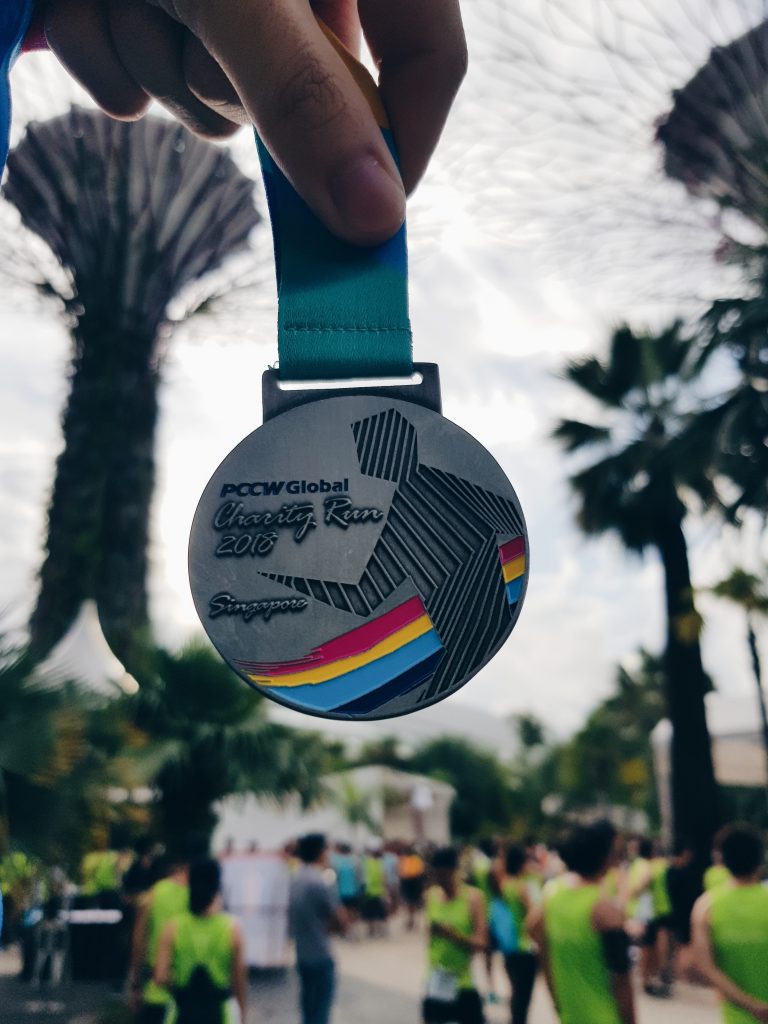 As a whole, regardless of the letdown from the photo-booth, the race was a rather pleasant and well-organised one. There was no delay in the flag-off timing or any congestion along the entire race route, which was commendable. If you are looking for a smaller running event and available on a weekday, this run is for you.
Final Thoughts
This race taught had taught me much more than I could imagine. Being sick to the point of being (almost) bed-ridden for several days prior to the race taught me the privilege of having the choice to choose when my runs were. This was (unintendedly) similar to my purpose for joining this race: I wanted to contribute to the awareness of children who were stricken with medical conditions even at a young age. Through this race, I was humbled and could now begin to better understand the perspective of those who were less fortunate (albeit how little) to even exercise.
I had learnt more than I hoped for from this race, which aligned with my goal for this year to experience and learn more. Therefore, I would like to encourage YOU to join me on this challenge as well, to chase after new experiences.
Who knows? You might even learn something no school or institution could ever teach.
Thanks for reading and till my next write-up, continue chasing after new experiences, God bless and have a great day ahead!