"It's a PB race!"
"Flat and beautiful race course plus great weather!"
"Awesome atmosphere and vibes!"
Really? Then I guess I've got to race it to see for myself.
And that was how I finally crawled out of my work-more-run-less hibernation mode and booked my race slot, flight and accommodation for my 2nd run-cation of my life at the 40th Gold Coast Marathon, on 1 July 2018.
About the Gold Coast Marathon (GCM)
The GCM has been well-received by many runners all over the world for the past 39 years, with this year's edition attracting over 25,000 participants inclusive of the 8 race categories. Aside from the beautiful race route that runs along the coastline of Gold Coast's pristine beaches and attractions such as Surfers Paradise, the GCM has been lauded as one of the most prestigious marathon events of the world, having earned its outstanding reputation as an IAAF Gold Label Road Race back in 2014.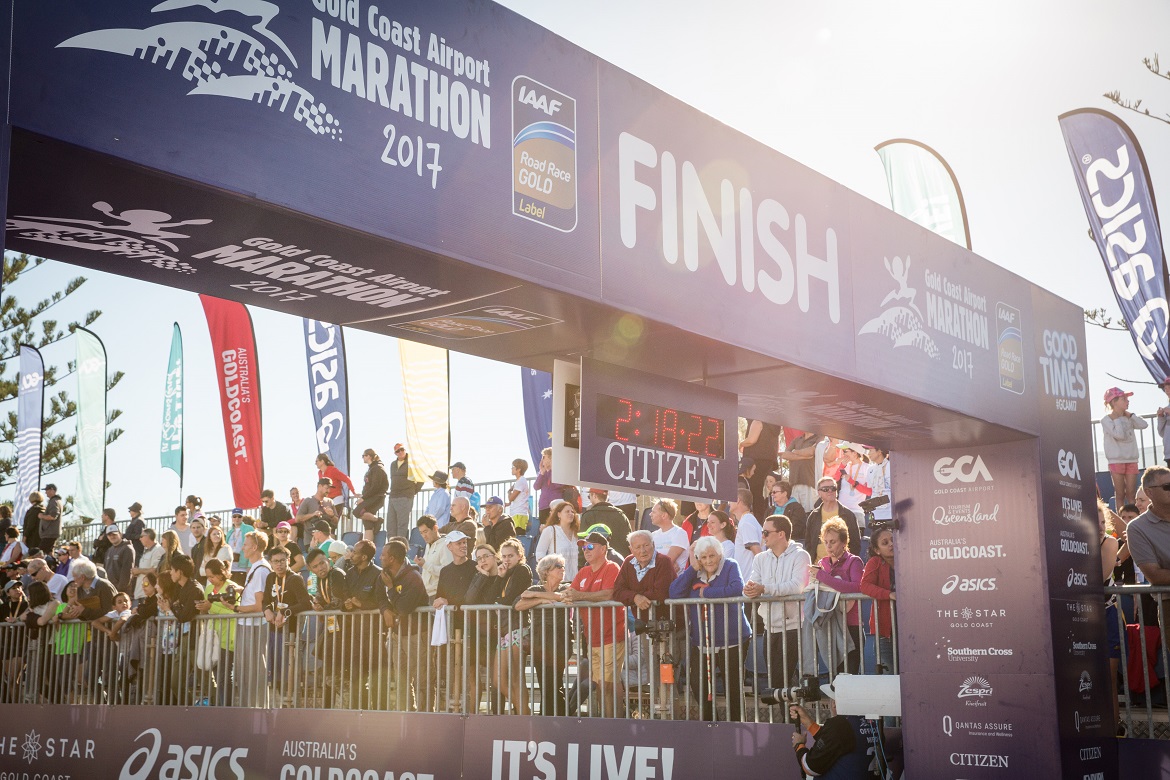 The GCM is also a global sports event where elites, newbies and fun runners congregate because there is simply something for everyone: elites and amateurs would fly in to put their best foot in for their Boston Qualifiers; running enthusiasts would use the optimal race conditions to aim for a Personal Best (PB); families would participate in family runs and join in the festive spectator crowds to cheer on the runners.
Ah Girl's Experience – Race Pack Expo
After depositing my baggage at the Airbnb, my running buddy and I went straight to the ASICS Sport & Leisure Expo held at the Gold Coast Convention & Exhibition Centre. For 3 days, this expo hosted over 50 exhibitors, ranging from fitness merchandise to nutrition and upcoming race events; basically everything that a runner would be and should be interested in! What attracted me most were the exhibitors for running gels and nutrition – there were simply so many different varieties and brands as compared to those back at home.
For instance, my personal favourite GU Gel sold interesting sports gel flavours such as S'mores and Birthday cake; Injinji socks showcased designs and colors that were so eye-catching and trendy; Endura (see above), the official GCM Sports nutrition brand, had sports gel and nutrition bars for tasting before purchase, hydration tubs for runners to fill up using their bottles at a fee (hooray in saving the earth!); and not forgetting Australia's most popular running sports brand and official race partner, ASICS, displaying their latest and popular running shoes and apparels for some last minute race shopping!
Pre-race things
New race, new stuff? I admit, the temptation to get new shoes and wearing it like an armour on race day was real, but highly not advisable. Not only will that likely give you horrible blisters and black toe nails, your PB dreams might be hard to obtain by housing your feet in a pair of unseasoned, stiff and unfamiliar new running friend (or foe)
Get hyped, not get 害怕 (Hàipà)! Feeling nervous and jittery before race day is perfectly normal. Being mentally prepared for the worst case scenarios: hitting the wall; cramps; devices running out of battery; nature's call etc is good, because we always need Plan Bs. But don't get too overboard with being pessimistic as it can really dampen your race excitement. My buddy and I decided to check out the race site a day before the marathon to alleviate our pre-race emotions and it helped us to familiarise the entry pens, toilets, baggage deposit for race day too! We did an easy 2km run around Broadwater Parklands (race site) and found a breakfast spot to treat ourselves too, because it's all part of the carbo-loading plan… which brings me to my next point.
Carbo-load until carbo-bloat? I'm no expert in advising on sports nutrition but common sense tells me that I should avoid eating 'exciting' foods that are high in spice, grease and exotic flavours; it also tells me that I should eat enough to be full and not overly-full. I was initially thinking of heading for a seafood buffet to enjoy Gold Coast's fresh catches of the day. However, knowing that I don't share the most amicable relationships with raw and shell friends, I aborted that delicious plan and chose the more conservative sugars and carbs – slices of pizza, baked sweet potato chips and fruits.
Sleep is not for the weak. The cooling weather of Gold Coast (15-20 deg C) and early sunsets (local time 5-6PM) made us really sleepy and cut-off our activities really quick. I slept at 1030PM and woke at 6AM for the 720AM flag-off – that's much more compared to my SG average of 4-5h of sleep. It definitely contributed to my plan of obtaining my 4:30h goal 🙂
Be optimistic AND realistic. My first full marathon (42.195km) was in 2016, where I whacked a PB at first try at the Sydney Blackmores with a 4:23h, but I was basically bed-ridden the next day. Last year, I did SCSM, got injured halfway (sigh, sprained ankle) and walked-jogged to the finishing line with a 5:02h. For this GCM, I decided to be patient, conscientious and easy on myself. I clocked a max mileage of 20km (yes, Ah Girl is lazy), still am suffering from slight ankle discomfort and had lower fitness level than before. A sub 5h might be abit too easy on myself; a 4:30h sounds possible and with the right amount of challenge after hiatus.
Race Day
At 7:20am sharp, we full marathoners were unleashed from our respective pens and onto the roads of the glorious Gold Coast. Unlike some races that I've encountered in Singapore, GCM race pens were spacious, well-organised and not a single minute was delayed from the race start. I was in Pen C, and tried as much as possible to follow my race band which I printed for free at the race expo for a 4:30h finish and followed the pacer pack diligently. Check out what we conquered in 42km from the race course video below!
As you've seen, there were 2 U-turns, 1 at the 16km mark and another at the 37km+ mark. So basically, we ran past the start/finish point more than once – that was really painful D:
The first 10k felt like a breeze really, thanks to the low humidity, cooling temperature and changing landscapes of the route where we crossed bridges and explored neighbourhoods. Elites (including our local athlete, Ashley Liew) started on their 1st U-turn and passed my pack as I took my first gel. I joined fellow runners in gesturing thumbs-up hand signs and mini applause for them as we struggle to make our way there too.
The halfway mark was nested amidst a landed housing estate, where all the residents set up makeshift spectator stands to cheer on runners and offer sweet treats like gummies and gels. One house even blasted music to pump up the race atmosphere! Race hydration was ample, however, there was only 1 station with gels – at the 30km mark.
I hit the wall at 30km (see below for my race splits) – this is where the so-called REAL marathon starts. My ankles and toe nails were throbbing, along with the increasing heat and sunrays as the remaining route stretched across the less-sheltered coastal area. I took opportunity to grab the race gel and a short jog before gradually increasing my pace once more. The race course isn't 100% flat, but it is a race with the least elevation I've encountered in my limited marathon experience. Also, don't be surprised if you see a full-dressed hulk, spiderman or fairy with wings running next to you because I certainly did!
After mustering whatever remaining effort I had and boost from never-ending cheers (literally, every point there were people cheering you on; calling out your names, handing you hydration, waving hand-made pom poms and banners of motivational messages and unique Aussie humor and wit), I finally made it to the end point with a mini sprint and achieved a borderline sub 4:30 time which I'm very satisfied with 🙂
Also, it was heartening to witness SEA and local athletes including Ashley Liew, Soh Rui Yong and Dr William Tan shine in overseas sport events with awesome results! Of which, Dr William Tan achieved an honorable 3rd place for the Wheelchair Marathon. (see results here) Congratulations once again to all finishers and a huge thank you to all supporters and organisers for a mega successful event.
Every race is a reflection of what you can, you could and you will do as a runner. I did not leave GCM18 with a PB, but with a re-ignited love and passion for this endurance sport. And that to me, was what mattered most. Oh, and not forgetting the awesome post-marathon vacation I had in Gold Coast for a week!
Till then, next race adventure to come….
REVIEW OVERVIEW

Overall

SUMMARY