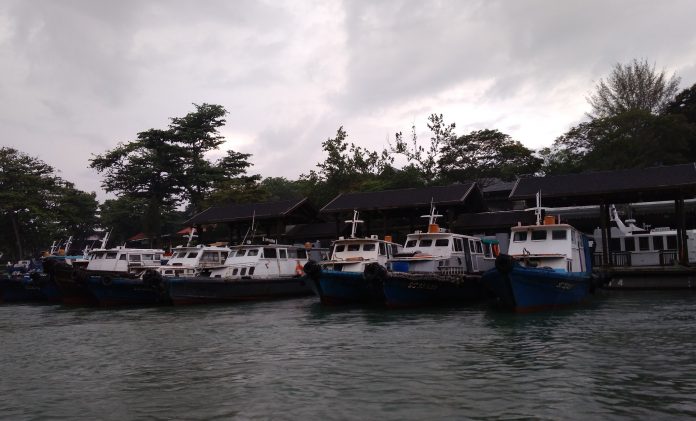 Pulau Ubin must be the last place in Singapore that still retains its charming, rustic environment. Time seemingly stands still here, even though most residents had already moved to mainland Singapore many years ago. This island, which is just a 10 mins boat ride from Changi Village, welcomes many visitors during weekends; all who want to escape from the bustling mainland to enjoy cycling, hiking, fishing or even kayaking.
I had been to Ubin several times throughout the years, either cycling or visiting chek jawa. But it had never crossed my mind that one day I would take part in a run event there.
The Event
Held on 27 May, Pesta Ubin was jointly organized by Community Sports Clubs from Tanjong Pagar-Tiong Bahru, Queenstown, Buona Vista, Henderson-Dawson and Coffee Tea Runners. It was supported by Nparks and Esprimo.
There were 3 categories: 2 km walk, 6 km run and 6 km biking. I took part in the 6 km run and was entitled to a 10% discount since I am a passion card holder.
Event Day
There was light drizzling on the Sunday morning, but the weather was cooling. I had hoped for clear skies since it had already rained on Saturday. I took a bus ride from my home to Changi Village to take the bum boat to Ubin. A single trip now costs $3.
There were already many brisk walkers at the waiting area. They were mostly elderly and had signed up for the event at their community centres. Kudos to them for leading a healthy lifestyle and don't mind travelling 'overseas' for this event!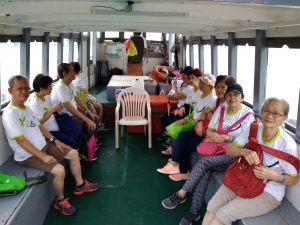 The assembly area was at the former basketball court, opposite the Volunteer Hub. I reached there around 8.45 am. Perhaps due to the rainy weather or that it was still early, there wasn't many other visitors in Ubin. I felt we had the whole Ubin literally to ourselves for this event!
I went to register in and was given a green wristband (runner's color) and deposited my bag. Some runners were already doing their warm-up exercises and bikers proceeding to their flag off area near the public washrooms.
The bikers were flagged off first at 9.15 am, followed by the brisk walkers 15 mins later. The runners were in the last leg and had the privilege of being flagged off by ultra-marathoner Mr. Lim Nghee Huat and former olympian Mr. C Kunalan, who held the 100 m national record for over 30 years. I was honoured to have a photo taken with him!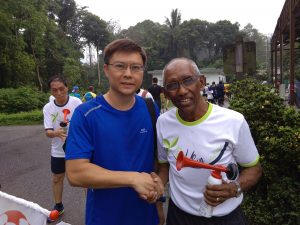 The run took us past some scenic Ubin landmarks. There were kampong houses and coconuts trees residing along the roadside. There was mention of durian trees too though I couldn't recognise them. It was a fun run, so I was not expecting a technically challenging trail. But again, it was a nice departure from Macritchie. Macritchie's trails can be unforgiving and it can be real hot running in the dense forest there. Unlike here in Ubin where space is generous. The only issue here is the mosquitoes!
There was lucky draw at the close of the event. But as usual, luck wasn't on my side. I collected my event tee, $5 toast box voucher and some snacks. The event ended at 10.50 am and I proceed to meet my family at the nearby chinese restaurant. They had come at a later time and did not participate in the event.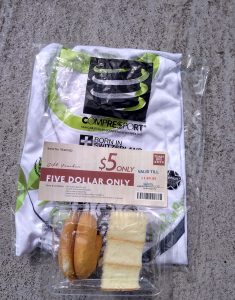 We had a light lunch and embarked on my 2nd activity of the day – cycling.
Post Run Cycling
My cycling has always confined to the eastern part of Ubin. Today I decided to venture to the western side towards the Outward Bound. It was quite a different scenery and I passed by interesting places, which I had heard of but never visited before: the German Girl Shrine, Ah Ma Drink Stall and Ketam Quarry.
And certainly, we also crossed path with Ubin's other inhabitants – the monkeys and wild boars, which scurried into the bushes when saw me approaching them.
The cycling ended almost 2.5 hrs later and we took the bum boat back to mainland Singapore for a late lunch at Changi Village.
Comments
1) I would personally prefer to retrieve the event tee before the event, just like the brisk walkers, so that I can wear it for the event. It is not supposed to be a finisher's tee.
2) Perhaps I have missed it, but I think information on collection of event tee could have been placed in the website. I was still thinking when to collect it until I received email, days before the event, notifying me it is to be collected only after completing the run.
3) Although it was a fun run, but I think a simple map highlighting the route to be run would be useful.
4) I think it was really wonderful to have Mr. Lim and Mr. Kunalan to grace this event. It does feel good to be flagged off by a personality who had achieved, excelled and proven himself in the same sports (running).
Overall, I feel the event was well organized and kudos to the organizers for managing and giving us 3 options of either walking, running or biking!