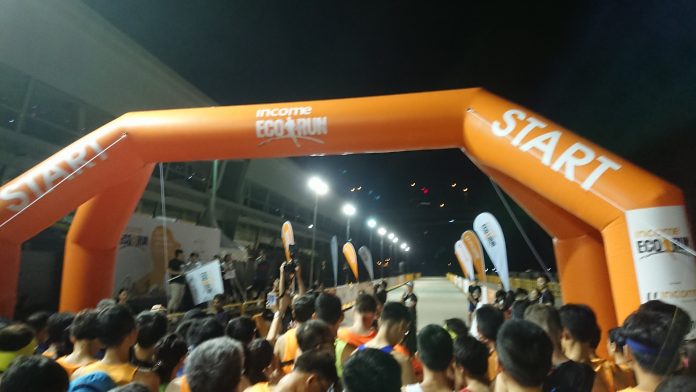 This year's NTUC Income Eco Run aims to cut down waste from the manufacturing of texties for clothes, metals for medals by introducing the "zero waste" option during registration. Discount of race fees were given for zero waste runners. Producing absolutely no waste or zero waste is impossible though. We humans will inevitably produce waste even by breathing out CO2 (carbon dioxide) 😂. The organiser even encouraged runners to bring their own water bottles to run (which I did). For this race, there were 3 adult categories offered: 5km, 10km, and 21.1km. In addition to 1.2km and 0.8km categories for kids. I chose the 21.1km half-marathon category even though I had a previous 2xu half-marathon just 3 weeks before this race. I felt that the race fees was really cheap. I paid 42 SGD under early bird and income policyholder rate in addition to a 7 SGD shuttle bus ticket which was the cheapest run I ever ran and it's worth it.
Race entry pack collection (REPC).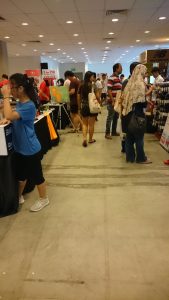 Upon arrival to the REPC, I collected my race pack. Waiting time was fast and queues were short. There were booths that sells products related to running and other merchandise. Even NTUC Income sells their insurance policies there. There were recycling bins provided by Tzu Chi foundation during race pack collection as well as in the race village. Runners can recycle stuffs like plastics, paper, and aluminum cans. There were names printed on a structure that reads "ECO RUN".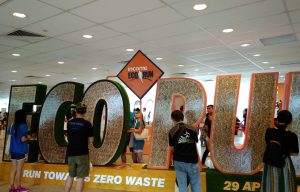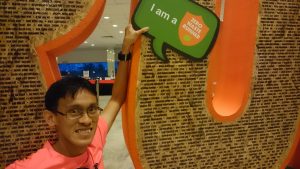 Before the race
I woke up at 2:30am on race day to board the shuttle bus that was scheduled to arrive at 3:35am. It's a 10 minutes walk to the bus pickup point. Arrived the race village at around 4:20am. The process of bag deposit was fast and the queue was short. After I deposited my bag, the queue became increasingly longer.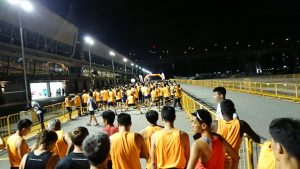 During the run
I was flagged off in the 2nd wave. Shortly after flag off, I met some runners from running department. So they said that if you meet up with the 2:45 pacers, you will aim for 2 hours 30 minutes timing, so follow us. After running for 7km, I met the 2:45 pacers while running pass stadium MRT station. Then I heard a song titled "you raise me up" playing from one of the pacer's speakers. After the song ended, I overtook them, still having a 2 hour 30 minutes finish goal in mind. This time round I ran with my water bottle. So I skipped some hydration points along the way as I brought water bottle to drink at any point of the way.
Something unexpected happened. After running for 14.5km, I vomited 3 times 🤮. I puked out everything I drank including the energy gels😫. There was a man who attended to me and offered to walk me to the nearest medical point but I declined. So I said I would take my time to finish the race. He replied and asked me to take it slow. I don't want to make this my first DNF (did not finish), I'm still determined to finish. Besides, I have my water bottle filled with 100 plus with me. After running for 18km, I felt like I was running on empty, like a battery that lacks electrolyte/juice and still running towards zero voltage 😂. My legs began to cramp badly. Maybe it was me who didn't drink more 100 plus than I ought to for the fear of vomiting some more. So my legs began to hurt with painful cramps😫, but stamina still ok, not completely breathless. Then I saw a runner with text printed on the back stating, "Jesus loves you, run to Him" which meant to be encouragement for me to preserve. After running for 19km, the 2:45 pacers oveovertook me. From there, I walked all the way to the finish line because my leg could no longer run.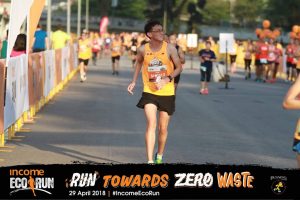 After the race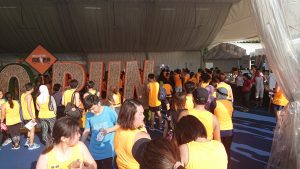 I'm glad 😁to be able to finish this race but also disappointed 😥 at the same ttime because I felt that I didn't finish the race strong. My legs were cramping very badly that I had so much difficulty to relieve the cramp. It took me more than 30 minutes of random standing, squatting, and stretching just to relieve the cramp. I experienced random muscle spasms in my legs, it was so terrible that I began to worry. Thank God my legs recovered in a few days. I was amazed that I finished in 2 hours and 36 minutes despite of all the difficulties I had faced. I wished how I could finish this race stronger, but this race had passed already. I hope I would be able to finish strong in future half-marathon races without injuries.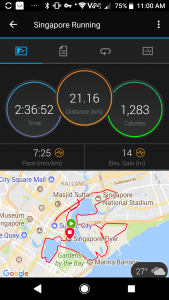 The race results are out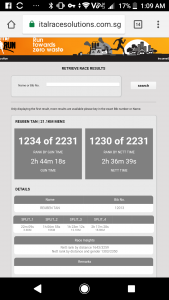 Even running a half-marathon could prove to be very challenging. Congratulations to all runners who finished the half-marathon!