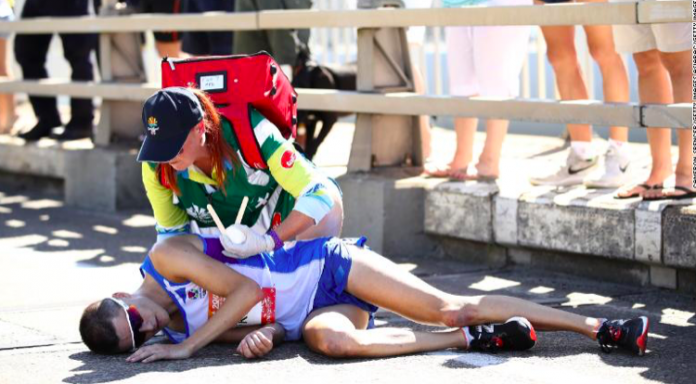 In dramatic style, race leader Callum Hawkins from Scotland collapses just with a little more than 2 kilometers remaining in the Gold Coast Commonwealth Games Marathon.
Callum Hawkins has the gold medal within his grasp – leading way ahead of the men elite field. He had a 2-minute lead, and with just over 2 kilometers to go, it looked like the Gold was his. But nothing is for certain in the marathon distance. He began weaving and falling over. He tried to get up to continue and persevere on but to his dismay, he collapsed once more. This was caused by the sweltering heat on the morning of the marathon.
"Callum has been taken to hospital for medical review following his collapse as is standard procedure. We are pleased to report he is sitting up and speaking with his dad and Team Scotland medical staff. He is undergoing further tests as a precaution and we all wish him a speedy recovery."
-Team Scotland-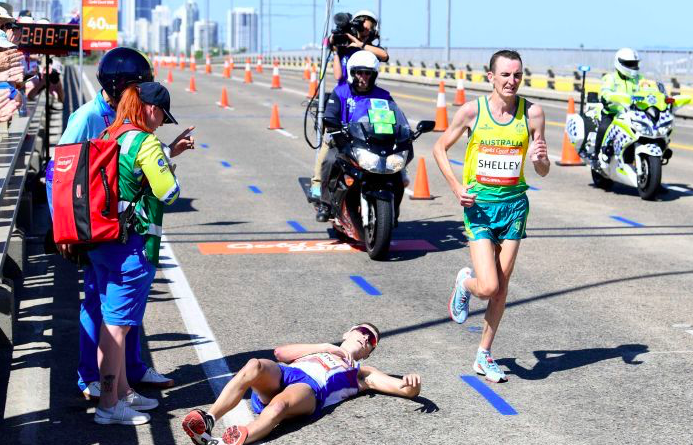 Photo Credits: abc net
The defending champion Michael Shelley took the gold with a time of 2:16:46. Uganda's Munyo Solomon Mutai came in second, and fellow compatriot Robbie Simpson took bronze.
In the women's marathon, the race was won by Helalia Johannes of Namibia with a time of 2:32:40. Australian duo took the Silver and Bronze medals, with Lisa Weightman clocking in 2:33:23 and Jessica Trengove coming in 2:34:09.
Congratulations to all winners!
Source & Cover Photo Credits: CNN