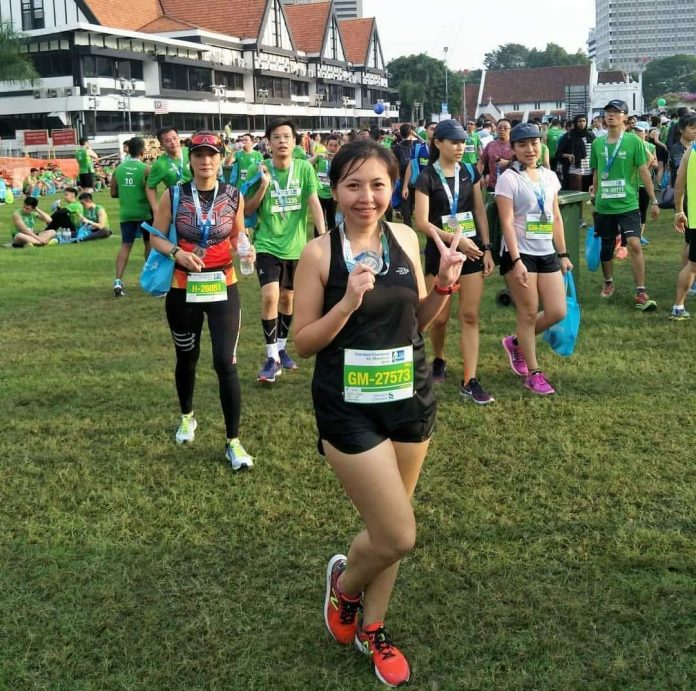 This is my third SCKLM, just when I thought I remembered myself saying no more SCKLM last year and taadaa I'm back again! I can't be trusted when I say no more signing up for runs! 😂 (I also don't believe many of my running friends when they say no more races because exactly at the next moment we are looking up what's up for races and registering again 😆) Since past year runners have the privilege to register again for the run so why not? 😁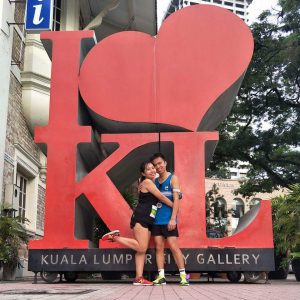 Last year, Willis and I ran the 42.195km marathon category when I was having a terrible flu, which now I thought I was crazy to show up and run. This year, we ran the half marathon and the consideration of no show even crossed my mind because I didn't have enough sleep 😆 It's easy to find excuses not to run but told myself it's silly to DNS just because of lack of sleep and we traveled all the way from Singapore, took a flight then Grab from KLIA to REPC at KLCC. I slept around 10pm the night before the run but woke up around 2am and couldn't sleep though I set my alarm to 4.40am. Flag off was at 5.30am and this 4.40am was good enough timing for us to get prepared and get to the event venue but I was awake and couldn't get back to sleep. We stayed at Pacific Express Hotel which is about 5 minutes walk to the start point at Merdeka Square and the whole hotel is full of runners running SCKLM from all over the world and runners from all over Malaysia as well (runners is pretty easy to identify with the watch, shoes and tee shirts 😆).
Though I've stayed there two years ago but it didn't seem so bad last time. Shall try out other hotel next time as there's plenty of hotels nearby the start as well. We spotted cockroach in the room and hoped that we won't take it back home with us accidentally 😂 I also woke up with both my hands and legs itchy with what seems like insects bites, which we thought might be bed bugs 😣 Still got many things for me to rant on about the hotel such as the lift is super slow waited super long and etc but well, I'll just try other place next time.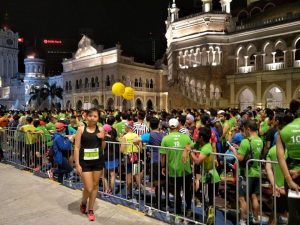 Flag off was on time and we reached the race site just minutes before flag off. What I like about these major races is that you're already assigned to a pen based on your estimated finishing time, so there's not a need to go to the start pen early 😁
SCKLM route is well known for its many killer upslopes but luckily I have Willis. He had been accompanying me, running by my side from start to finish for all the runs that we're participating in together, supporting me and motivating me 😄 Thanks to him the 21km was easier because he literally support me by giving me a slight push at all the upslopes which had made the slopes so much easier to beat 😆 Is that considered "cheating"? 😏 Well.. After my last 42.195km in SCHKM, I'm on battery low mode, like I'm in the "red bar blinking" zone that the battery will be flat any moment, I simply have no energy and motivation to do long runs and only runs like 5kms and 10kms at most and attempted a 14km which is my longest distance since SCHKM, just 2 weeks prior to SCKLM. So I'm actually quite worried I would get puncture and walk a lot. It's like that SCHKM in January had took away all my energy, passion and motivation to run. I'm even using SCKLM and the upcomings half marathons such as the Iskandar Puteri Night Marathon (MY) and Income Eco Run (SG) as LSD for the upcoming Gold Coast Marathon. Honestly, to me it's scary and not easy to run a 42.195km 😖 But like I said, next moment I may be signing up another marathon again because I have that very contradicting love hate relationship with running 😂 Really hands, knees and head down to those Supermans and Wonderwomans who do countless of marathons and ultras a year.
The temperature was considered cooling to me at 25 degrees when we were flagged off and this 21km is a just nice distance category for me, not too long, not too short. What's best was when we completed the run, the sun isn't out yet to BBQ us. But I was sweaty and I really enjoyed the sponges given out at the hydration points. I think I was holding sponges for more than half the distance throughout. It's simply awesome! Dabbing it on my neck and face is super shiok and refreshing 😍 If it's soaked in iced water it would be even more perfect 😆
Other than the hilly route, I think it's time the roads got to do some repairs 😅 Many big holes and road is pretty uneven eh 😂 Hope everyone eyes got open big big and had a safe run and no runners trip and fall. I must say that I really love the support along the route, hydration points loaded with cold water and Lucozade, bananas and cold sponges and volunteers and supporters are so full of energy and they are so supportive. Love the live bands along the way too! 😍 Like always, the last 1km is just great, with many supporters just cheering and holding signboards with motivational words for runners to go all out for the last distance to the finishing line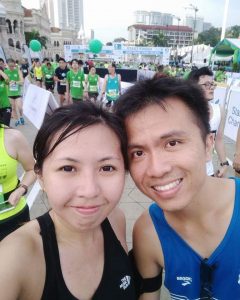 A gesture that I always appreciates at end of the run is that the medals is hanged on the runners neck and not passed to wrapped in a plastic bag. Thank you volunteers! 😁 This year's medal design is very nice! A new addition added to my collection 😊 It can spin and the lanyard have pretty floral design! 😍 Makes me wonder should I head back SCHKM again next year for their pretty running human pendant on their finished medal?
😆 Conclusion: Pretty medals is one of my motivation to show up and run 😆 This is my run for a reason 😂