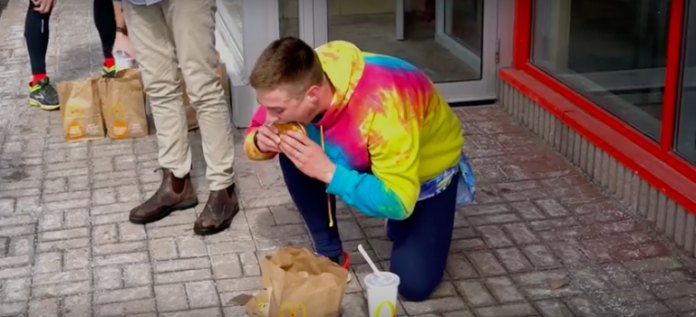 The game is simple – run 4km, consume a Double Big Mac large meal, and run the 4 km back to the starting/finishing point. That's the gist of the game hosted by runners at Queen's University in Kingston, Ontario.
"Some sorta eating based, running involved, test of endurance, featuring food that is process and shipped, trying not to vomit, no chin up necessary type thing!"
"Each contestant must make their way to and from McDonald's under their own power. Each contestant must independently consume a meal consisting of one large fries, one large coke (or sprite), and a Double Big Mac. Meals will be pre-ordered. The food must be consumed at the tables outside, and contestants cannot leave until approved by race officials. Any competitor who pukes at any point during the race must run a penalty lap. No external help is allowed for athletes at any point during the competition."
The Course Records
So far, the course records for this challenge is 28:10 for men (Tyson Loney, 2015) and 34:50 for women (Jenn Dowling-Medley, 2014). Running 8 km in 28:10 is already amazing it itself – meaning one would be running at a 3:31 min per km speed. Running 8 km and consuming a large McD meal in 28:10 is just unbelievable. That's some crazy speed.
Source: Canadian Running Magazine