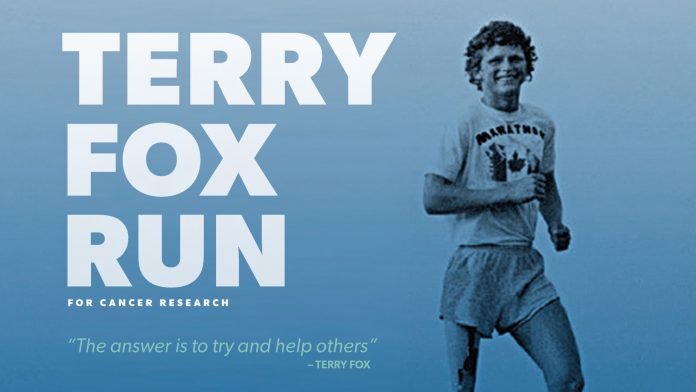 The Terry Fox Run was held annually in many countries to raise funds for cancer research. More than 30 years ago, Terry was diagnosed with cancer, which resulted in his right leg being amputated. However, he did not wallow in despair. Instead, he embarked on a Marathon of Hope, running across Canada (east to west) in a bid to raise awareness and funds for the purpose of cancer research.
He was halfway through his self-declared mission when he suffered a relapse and passed away at age 22. By then he had run 5,373 km, literally a marathon a day, for 143 days.
Today, Terry's legacy lives on and continues to inspire us.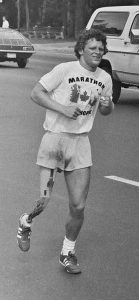 Photo credit: Jeremy Gilbert
Why I Ran?
Terry Fox Run was one of the earliest run in Singapore. It is a meaningful, not for profit run and according to what was mentioned in its official website (https://www.terryfoxrunsg.com/),  approx 82 cents out of every dollar goes to cancer research.
I have always wanted to take part in this run ever since I started to go for races last year. So this year I decided to sign up to fulfill one of my wish.
Race Details
The event was held at the Angsana Green, East Coast Parkway, at 7.30 am on 18th March. The run was non-competitive and categorized into 5 km and 10 km runs. There was no race pack. But participants can opt to purchase the event shirt, where collection was at Fairmont Hotel, ORD Room.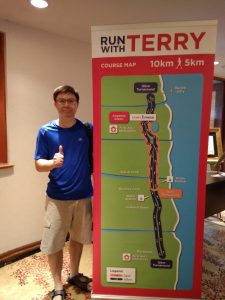 Race Day
East Coast Parkway is not very accessible by public transport. The only bus that goes there is SBS Bus Service 401, which only operates from 10 am onward on Sundays. As it was too early, I took another Bus (# 31) near Bedok Interchange and alighted outside Laguna Green Condo. I met several runners heading to the same event and together, we made our way there via the underpass outside Bayshore Park Condo.
By 7 am, the sky had brightened considerably. There was a healthy turnout of runners, which I estimated between 300 – 400. The organizers led us for warm up exercises and thereafter, the race commenced at 7.30 am. The 10 km runners were flagged off first, followed by the 5 km runners.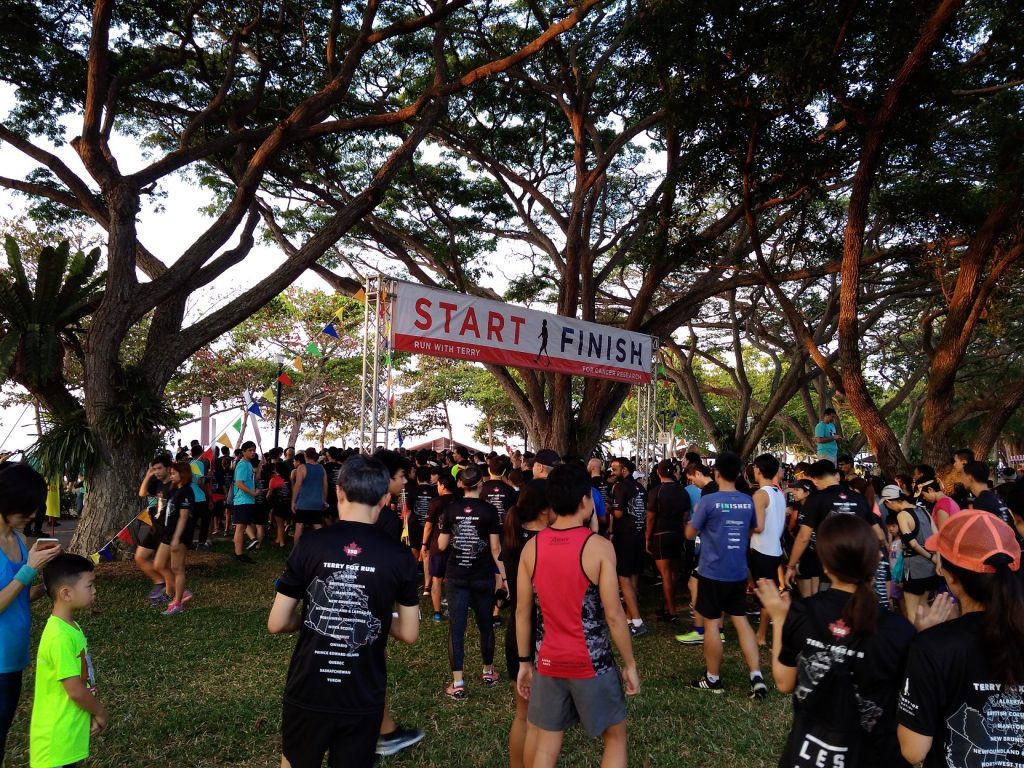 The first leg of the run was on one lane of the cycling paths. Although relatively safe as we are mass running within our lane, there was still risk of being knocked by cyclists in the adjacent lane. There was one hydration point at the 2.5 km mark, which was also the turn around for the 5 km runners. Volunteers handed out bottled water to the runners. I didn't take any as I prefer to run with with hands free.
The medical point (and ambulance) was stationed at the 5 km mark, turn around point for the 10 km runners. The return leg was run on the 'padestrian' pavement.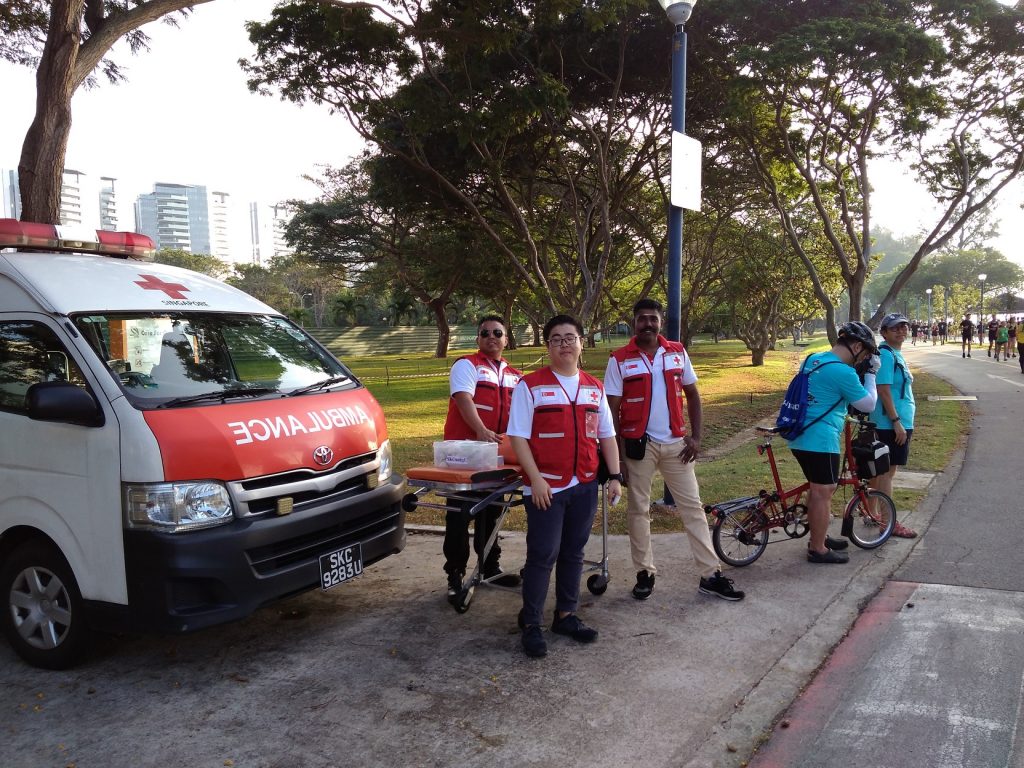 By this time, activities at East Coast had increased and with more park goers, running wasn't always smooth sailing as you need to navigate through both runners and the general public. At the finishing line, runners were given bottled water, bananas and cookies (which were delicious!).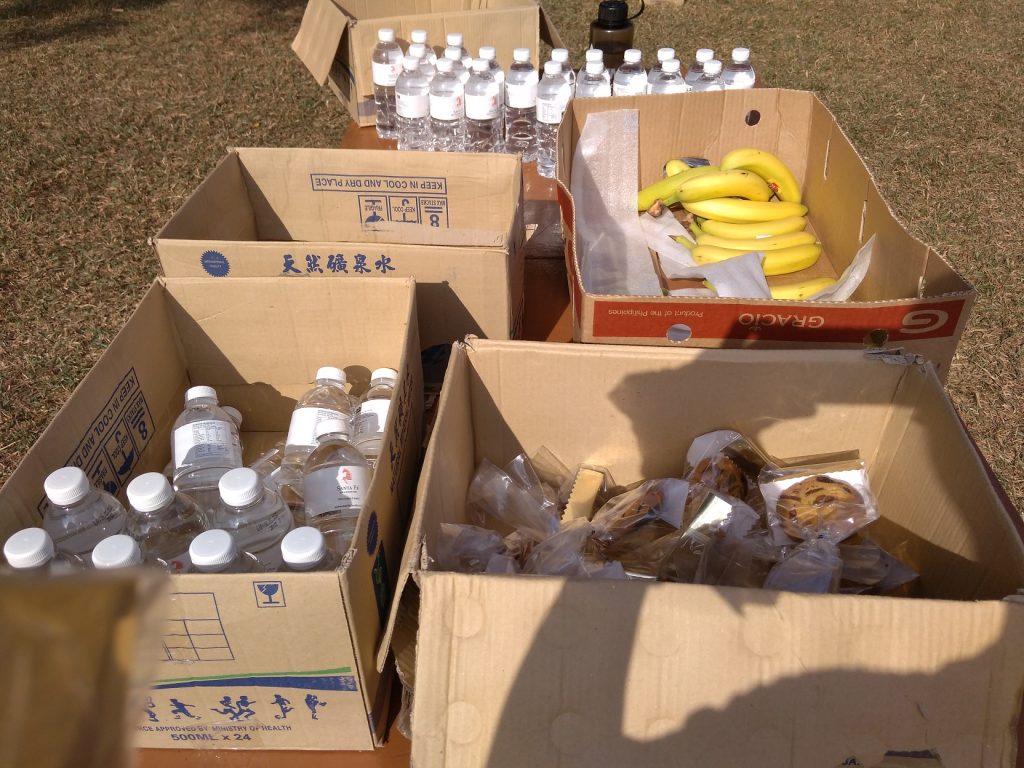 There was no cool down exercises, perhaps because the day was getting hot and the sun had set in the open field.
Post Race Comments
I think there was a good support of volunteers, who were a mixed of locals and foreigners (many young students). There were also road marshals helping to direct runners to ensure we did not stray into the cyclists path.
Frankly, I had never run at East Coast, though had cycled many times during weekdays or school holidays. Weekend crowds can cause both running and cycling 'challenging'.
But, this is the Terry Fox Run! We were running for a good cause. We were running in his legacy. These were sufficient motivation factors for me to wake up early to run at East Coast!