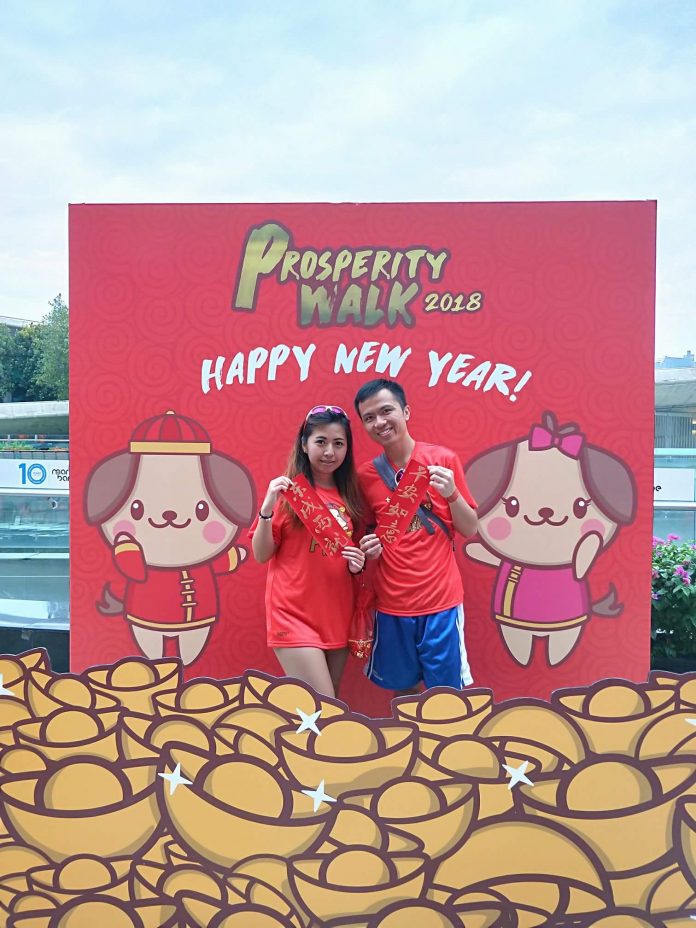 The Prosperity Walk 2018 was organised by Pink Apple to celebrate the Lunar New Year. Flag off was 8.30am on 25 February 2018 at Marina Barrage. There is only one distance category of 3.8km at $38 for the early bird registration and the child rate was $28.
Woke up earlier on event day so Willis and I could enjoy some morning walk and scenery as we stroll from The Float to Marina Barrage through Helix Bridge and Gardens by the Bay. This was the shortest distance I've ever participated for a run or a walk that I've ever participated. Though I think as already walked at least about this same distance as well to and fro from event site and bus stop 😂
We reached the event site just a little bit earlier and joined the queue for the free Chinese calligraphy. There's a list of auspicious words we can use as a reference to asked the calligraphy master to write for us. On the dot we were flagged off with a lion dance performance 😍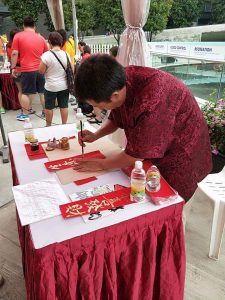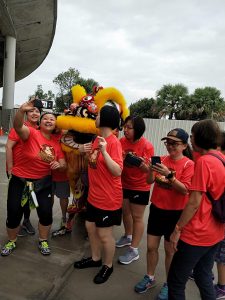 There wasn't any baggage deposit available but it's a walk so it's fine actually to carry our baggage along. There were cute distance markers and road marshals to guide us directions along the route. There was no hydration points at all along the route which I feel that if there's one hydration point at mid point it will be great. At the Marina Bay Sands where we reached the mid point for u-turn back, there's a God Of Fortune mascot giving away chocolates in gold coins packaging 😍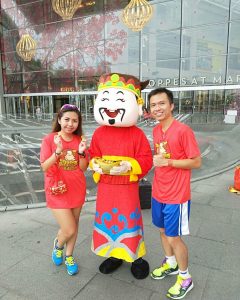 Though its a walk but we still ran a little as the kiasu and auntie me wants to get back earlier so we didn't need to queue too long for the free candy floss and popcorn while the rest is still walking 😝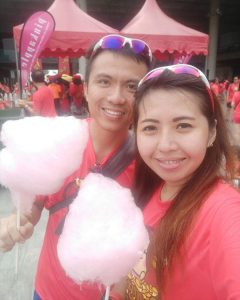 It's a small event with a few hundreds of participants as I guess the rest of the running community were mostly at other running events that were also held on this very same day as well. It's great to see Eugene, a passionate runner and photographer along the way and very kind of him to help Willis and me take some super pretty photos for us to keep as treasure 😁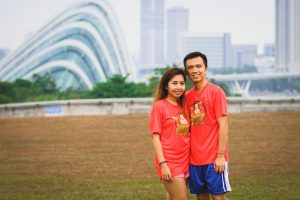 (Photo credits: Eugene Tan)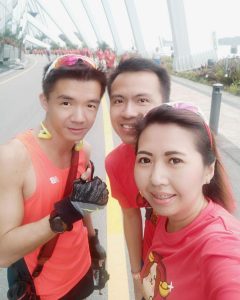 Once we completed the distance, we were given a super cute doggy medal, 2 mandarin oranges, a bottle of new water and a red packet which consist of vouchers.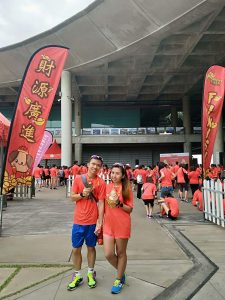 So while waiting for the lucky draw of a Grand Prize of $1888 which we don't have the luck of winning at 10am, we queued for the candy floss and popcorn which is not a very long wait 😁 And enjoyed the performance at the stage by the mascots. There's a fortune master on stage giving advices for the different zodiac and I've seen the emcee at many running events before and he is by far the best emcee ever, he's really funny and entertaining 👍