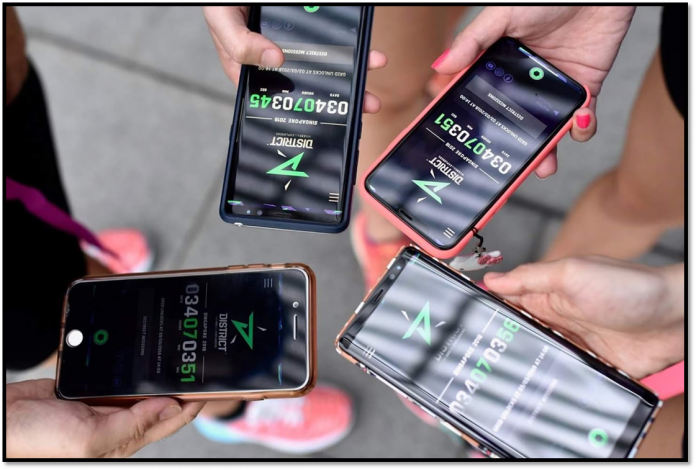 Exploring places on foot is a great way to see a place! This is what District; the first urban exploration race allows you to do! Running and exploring a city and collecting points when passing a check point within a set timing. Powered by cutting edge technology, the upcoming District Race is set out to be the world's greatest urban exploration race. Singapore is the first of twelve stops around the world and this event takes place on the 3 March 2018.
MISSION WEEK #01 DETAILS
As this was a new racing concept, District had organised an event called Mission Week #01 from 22-28 January 2018. I love how the organisers had prepared this race preview as it gives potential participants like me a idea of what the real race would be like. Mission Week #01 was opened to anyone who had downloaded and installed the District App. The rules of the Mission Week was simple, to collect as many points within an hour.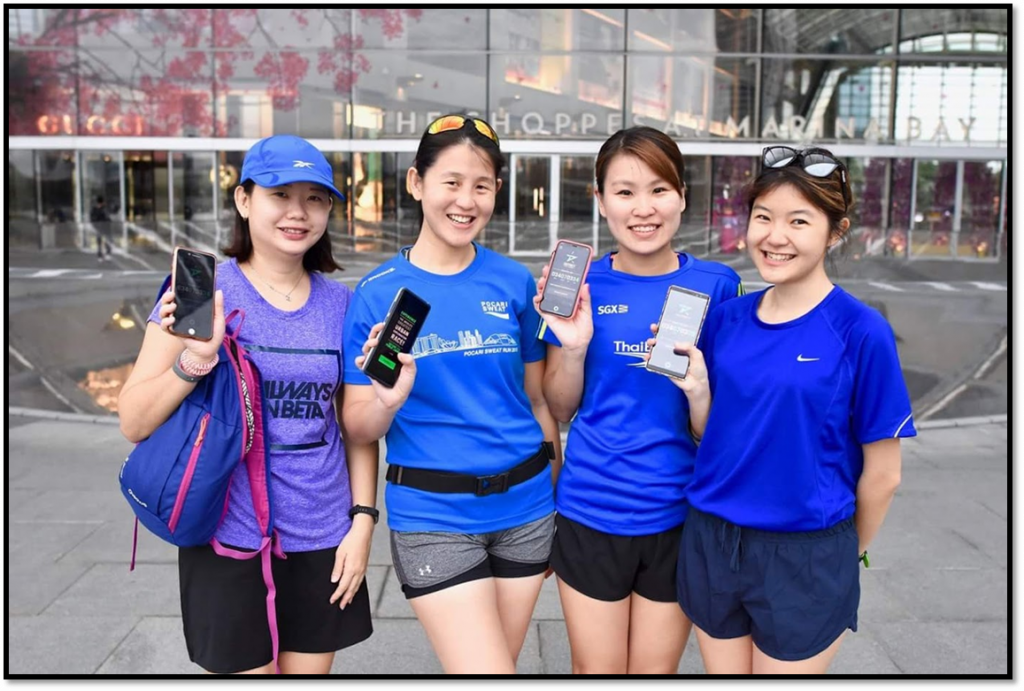 I thought Mission Week sounded pretty interesting and decided to give it a try before signing up for the actual race. The information for Mission Week was the following:
Start Point: Rain Oculus, MBS
Grid Live: 00:00 22 Jan – 23:59 28 Jan
Race Duration: 1 hour
District: Marina Bay
Checkpoints: 44
Challenges: 6
There were prizes for the daily top scorer which includes the following:
Pure Fitness and Pure Yoga Power Pack (valued at S$250) and
MasterCard pre-paid card (valued at S$80)
And for participants who score 1000 points, a Pure Fitness and Pure Yoga 1-week trial membership awaits them.
You can choose to explore individually or as a team but scores would be calculated individually. I thought it would be more fun to explore as a group and so I gathered some friends to try out Mission Week #1 together. We all met bright and early on a Sunday morning at 07:30hrs in the heart of the CBD. I love early mornings in the CBD as its always quiet and peaceful, really different from the normal weekdays. After depositing our bags, we made our way to the start point at MBS, it was a relaxed walk and along the way we took some photos.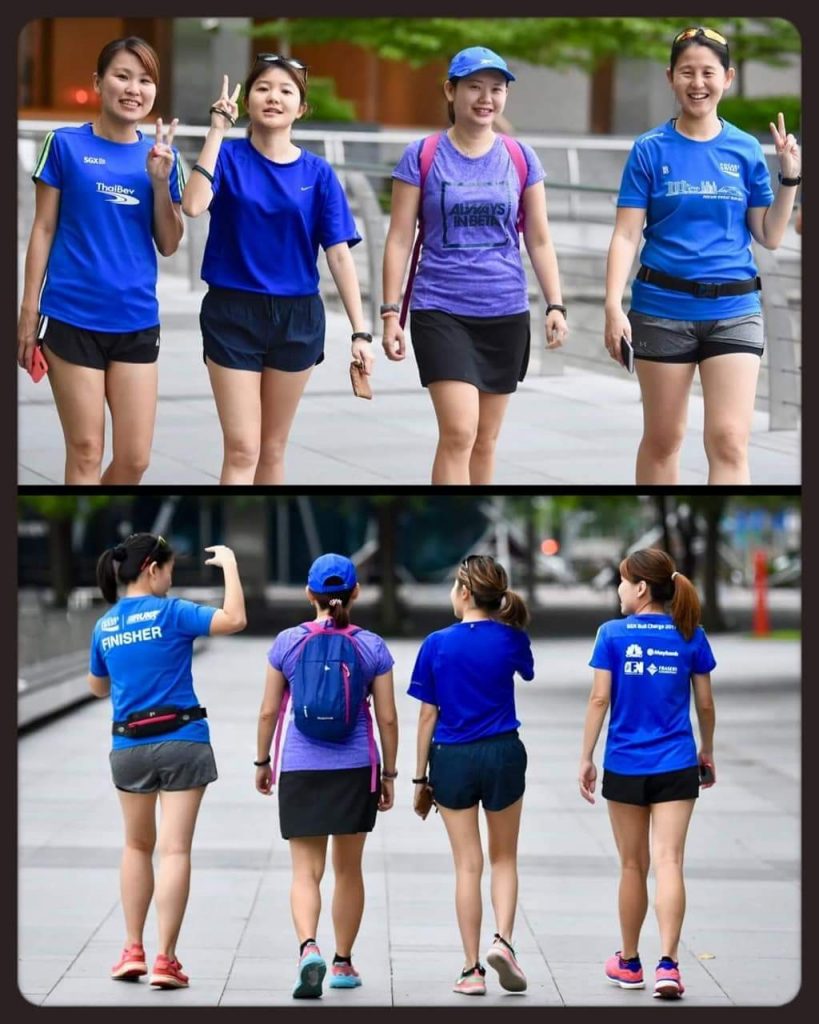 REMEMBER TO TURN ON GPS
Once we reached, the Rain Oculus, we all took out our phones and launched the app. All of us managed to login successfully. The only issue was when we press START mission; my app didn't start whereas the rest were okay. My friends quickly took off but I was there still figuring out what went wrong. There were no prompts about why it didn't start. I decided to just head off to the first checkpoint with while I restarted my phone. To no avail when I press the START mission it still didn't start… It then occurred to me that I needed to turn ON my GPS function on my phone. Thankfully I was just passing the Rain Oculus again and I headed off with my friend to the second check point. A feedback for District would be to prompt users to turn ON their GPS when before they press the START mission button.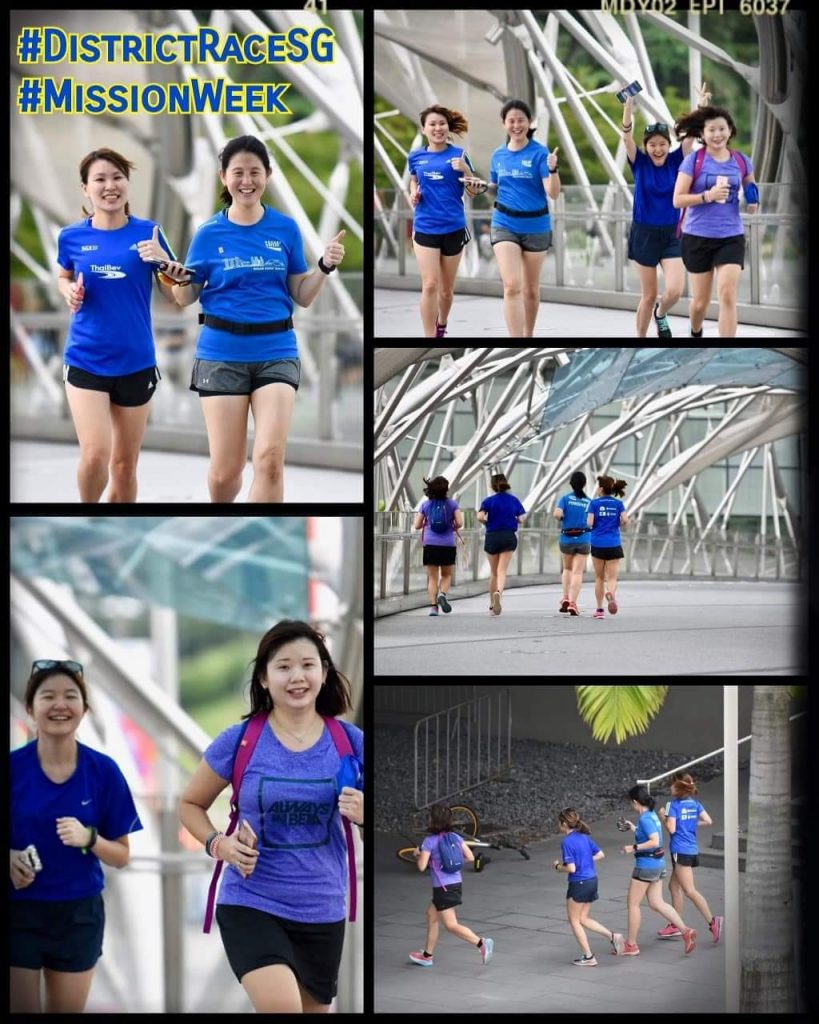 It was hectic mission for the four of us as we raced through the different check points to gain as many points and answer the questions at the challenge station. It was the fastest that we have ever run in our entire lives!!
The route to the different checkpoints were all decided by us. There was no set route like other run events. We had pre-planned our route a few days before as the Mission Week #01 grid was released on the 22 January 2018. We ran past some of Singapore iconic landmarks like the Double Helix Bridge, the Float at Marina Bay, Gardens By the Bay and the Marina Barrage.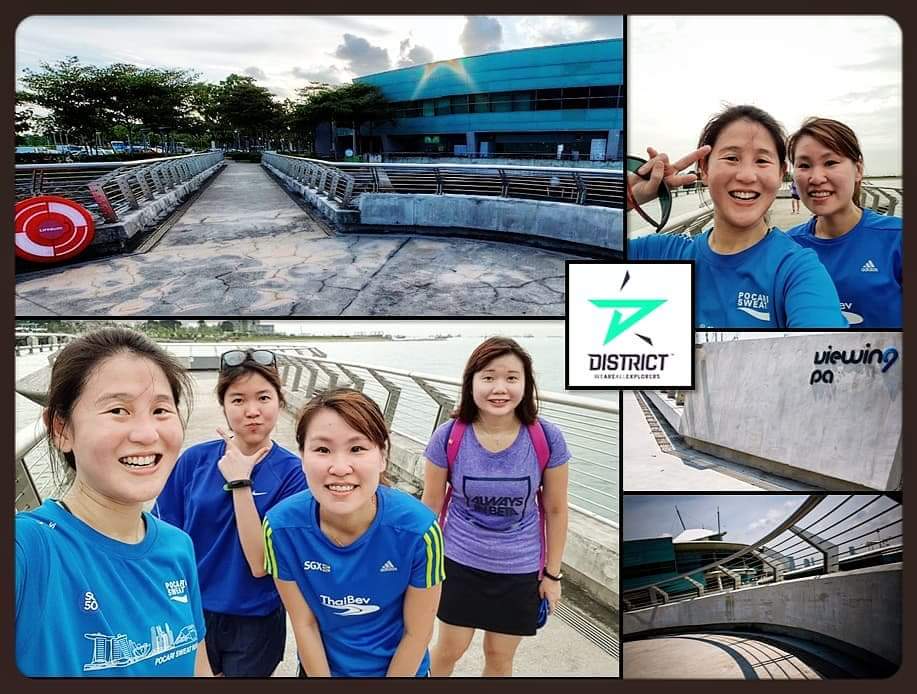 Photo Above by Me: Us taking a breather at the Marina Barrage Viewing Pad. 
The one hour time limit really put the pressure on all of us as were aiming to be at the top of the leader board. I completed the Mission Week #01 with a total of 2400 points by covering a total of 8 checkpoints and 3 challenge stations. We were extremely tired after the race and we knew we did well but noticed that people had scored higher than us and not ended at the START point. We had followed the rules on the website for actual race day to start and end at the same point. Unfortunately, that rules did not apply as clarified with the organisers when I messaged them a few days later. If we did not return to base, we could have carried on scoring more points. My feedback to District was that for future Mission Week Races, if they are awarding prizes to the scorer, they should state the rules clearly.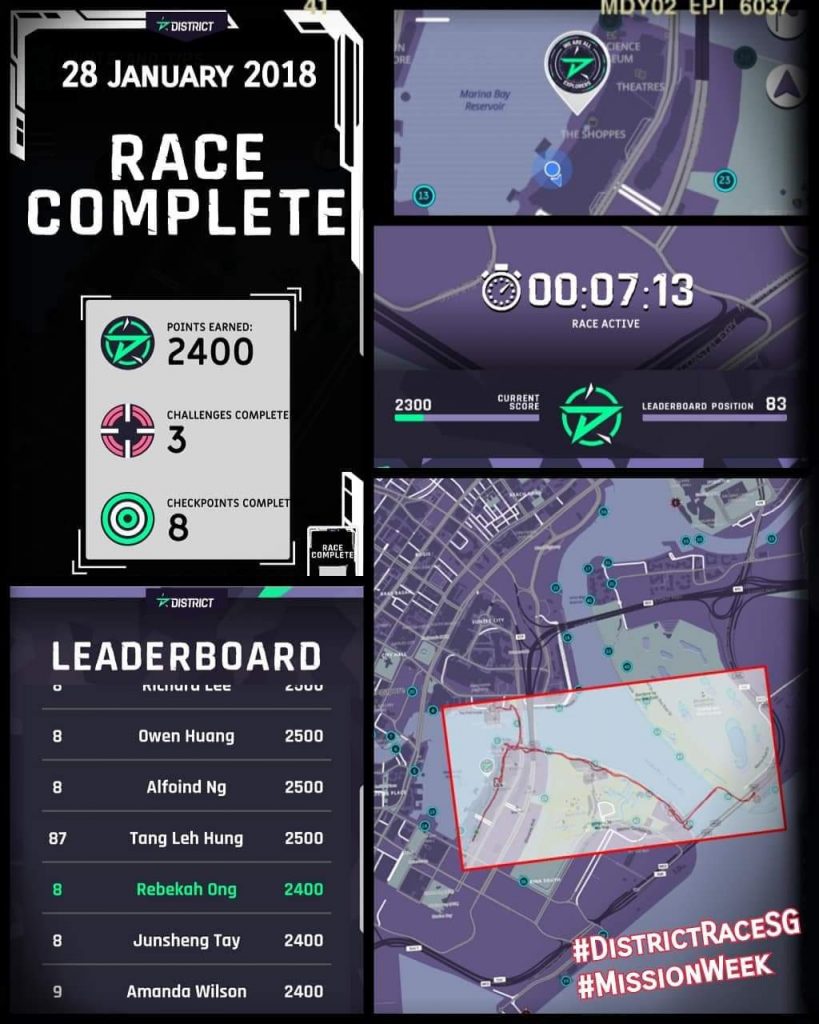 Above: Screenshots from District's App.
Anyway, we still had a really fun Sunday exploring the Marina Bay area despite that little 'hiccup' on the rules. We did have a good Sunday workout and rewarded ourselves with a good breakfast thereafter!
In conjunction with Mission Week #01, District also organised an Instagram contest where participants of Mission Week #01 had to post a photo of themselves participating in the event and share their race experience. Five lucky winners of that Instagram contest would walk away with a pair of Adidas shoes! One of those winners was my dear friend, Rachel! Congratulations gal!!! Can't wait to see that pair of new shoes!!!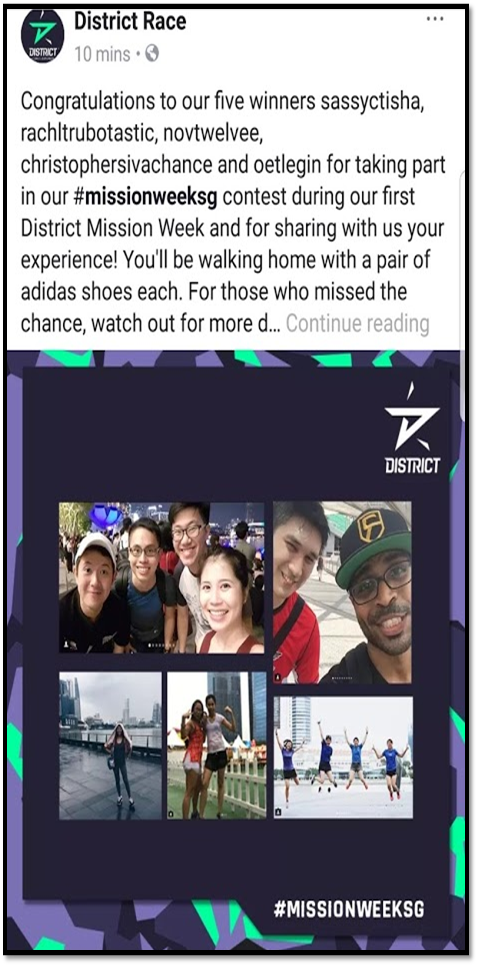 Overall, I had an AWESOME time taking part in Mission Week #01! I would definitely recommend anybody reading this to sign up as it's an interesting but challenging event which promises loads of fun! Go challenge yourselves and have fun exploring! If you are still unsure on sure about signing up, you can take part in Mission Week #02 for a taste of what's to come on the actual day.
MISSION WEEK #02 DETAILS
Mission Week #02 is launch from 5-11 February 2018. Details are as shown below. For more information, you can visit their website https://districtrace.com/events/singapore.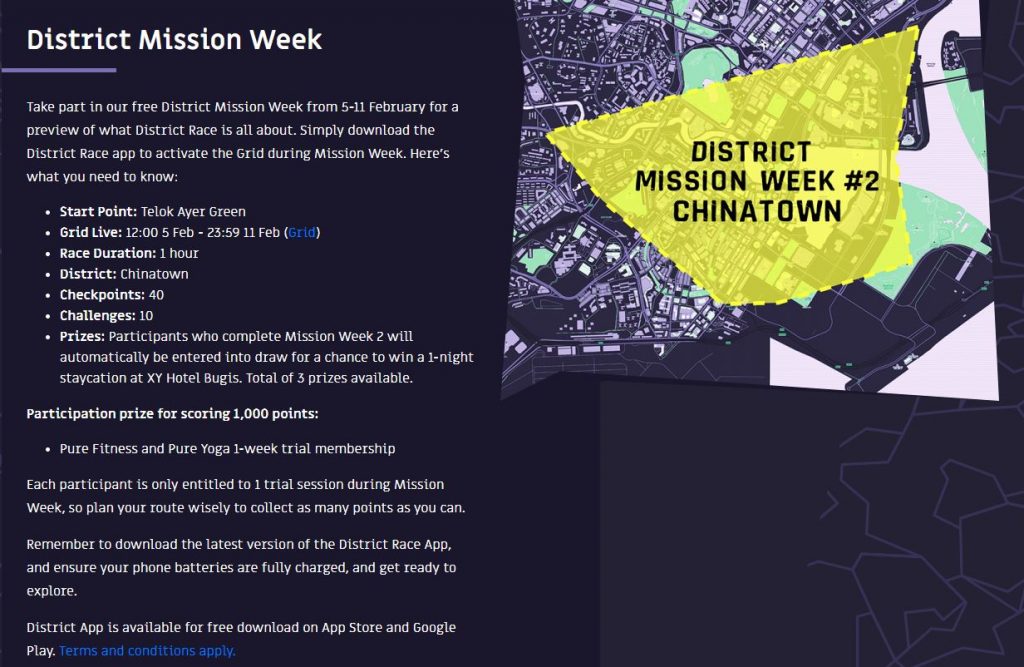 Till my next write-up, have fun exploring our beautiful Singapore!
Photo credits: Terence Ang Chi Song (unless specified)
BTW, thanks for the awesome photo memories!
REVIEW OVERVIEW

District Mobile App
Fun Factor

SUMMARY