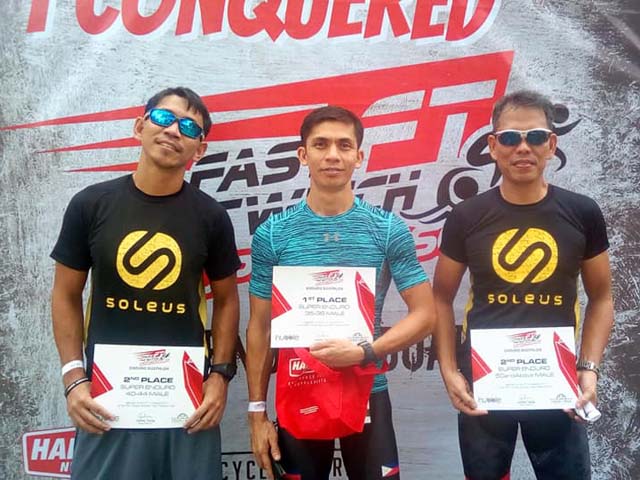 ANGELES CITY – L Time Studio began the 2018 multisport season with a rich harvest in the opening leg of the FastTwitch Super Tri Series last Sunday (January 21) at the Clark Parade Grounds.  Edgar Puruganan was hailed as the fastest overall finisher in the Super Enduro Duathlon while teammates Aver Sister and Nelson Villamayor went home with silvers in their respective age groups.
Puruganan finished the unique race in a time of 2:10:20 in the process also earning top honors in the Men's 35-39 category.  He was followed by Oscar Miguel Mapalo of Tri At Law (2:11:42) and Albert Ong of Baguio 2600 (2:12:17).
The Super Enduro Duathlon was composed of four separate 2.5-kilometer runs around the Parade Grounds and three 15-kilometer bike rides that passed by the steepest roads of the former United States military base.  Mapalo held a minute and eight-second lead after the final bike leg but he was eventually overtaken by Purugunan in a furious exchange of strides together with Ong.
Sister placed runner-up to Dan Brown of Active Health in the 40-44 category.  Brown banked on his superior bike rides and clocked 2:14:52 compared to the 2:15:08 of Sister while Roni Turla of Tri Force was a far Third Place at 2:37:28.
In the 50 and above category, the top prize went to Crisanto Cabrera of Team Bro in 2:36:53 while Villamayor settled for Second Place in 2:42:31.  Third Place went to Demosthenes Ydia in 2:59:29.
The FastTwitch Super Tri Series is organized by Hubble Multisport and will be followed by the Clark Duathlon Classic on April 8, 2018 featuring the Standard Distance of a 10-kilometer run followed by a 40-kilometer bike ride and concluded with a five-kilometer run.  Registration is ongoing at www.raceyaya.com or at Cycles and Brew located near the Parade Grounds.
     The Champions: Marie Cris Raymundo (F 30-39), Lourdes Therese Mallari (F 40+), Aldrin Elagio (M -19), Reuven Azriel Alzaga (M 20-24), Oscar Miguel Mapalo (M 25-29), Bryan Mendiola (M 30-34), Edgar Puruganan (M 35-39), Dan Brown (M 40-44), Jeffrey Malonda (M 45-49) and Crisanto Cabrera (M 50+).