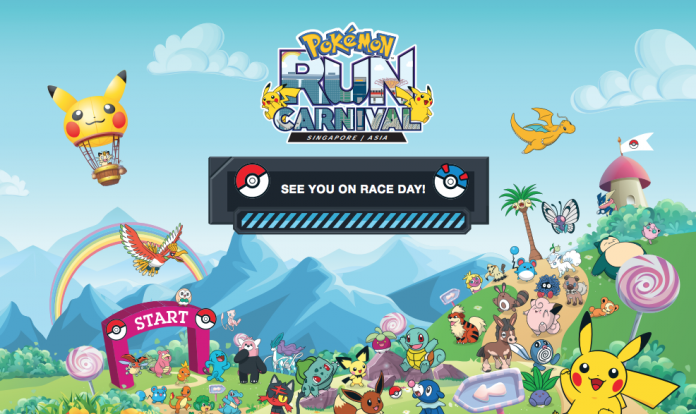 Southeast Asia's Pokémon themed fun run in its second edition is happening this weekend! Are you ready to get immersed into the life of a Trainer and catch'em all?
Read on to get all the information you need!
Important Info
Date: January 27, 2018 (THIS SATURDAY!)
Venue: Marina Barrage (8 Marina Gardens Drive, Singapore 018951)
Time: From 2pm onwards
Getting There
By Car
Limited parking space is available at Marina Barrage and Satay By The Bay (Gardens by the Bay). Prevailing parking charges applies.
To get to Marina Barrage, head towards Central Boulevard from AYE (East Bound) into MCE (Exit 2) or ECP/KPE (Towards City) into MCE (Exit 3). Follow the road/directional signs along Central Boulevard towards Marina Gardens Drive (right turn). Stay on Marina Gardens Drive passing by first Gardens by the Bay and Satay by the Bay on the left before reaching Marina Barrage. Alternatively, travel from Rochor/Ophir towards ECP (West Bound) through Sheares Avenue into Central Boulevard.
By Bus
SBS Bus 400 Operating time: 0700hrs – 2300hrs (Frequency of 15-20mins) From Tanjong Pagar Station: Take bus 400 in front of International Plaza (03223) From Marina Bay Station and Downtown Station: Take bus 400 at Marina Bay Financial Centre (03391) along Marina Boulevard.
Here's a list of what you need to know before you embark on your journey:
Arrive at least an hour before Flag-Off and do your own warm-up. This is important for your personal safety during the run!
Participants must show their bibs in order to enter the Start Area.
To collect your Finishing Medal, you will need to show your bib to the Crew at the finish point.
The cut-off timing for the collection of your medal is at 7.00pm. Remember to be back at the Village by then!
If you are not feeling well at any point during the run, do approach the nearest marshaller for assistance.
As with most fun runs, there won't be a Baggage Deposit. So pack light and bring only what's necessary!
Programme Schedule
2.00PM: Start of Carnival Exclusive Meet & Greet with Pikachu
2.30PM Bingo Party
3.45PM: Warm up with Pikachu
4.00PM: Flag Off – Wave 1
4.30PM: Flag Off – Wave 2
4.45PM: Warm up with Pikachu
5.00PM: Flag Off – Wave 3
5.30PM: Flag Off – Wave 4
6.15PM: Pikachu Parade
6.30PM: Stage Segment : Q&A Giveaway
6.45PM: Pikachu Dance
7.00PM: Bingo Party (Final Medal Collection)
7.35PM: Pikachu Parade
7.50PM: Stage Segment : Q&A Giveaway
8.05PM: Pikachu Dance (Closing Parade)
* Programme schedule is subjected to changes
Site Map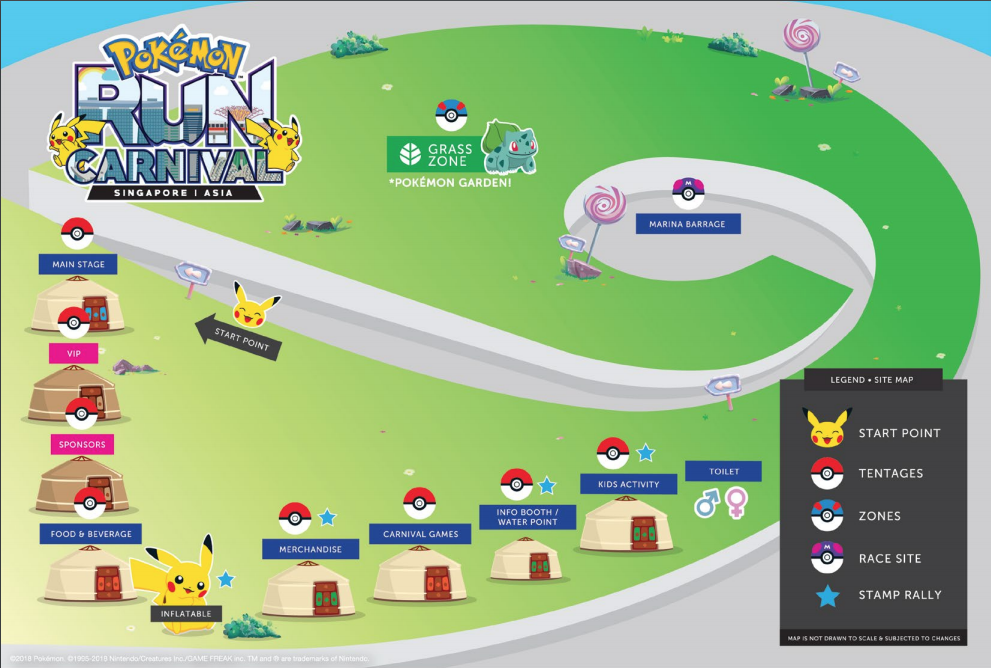 Course Map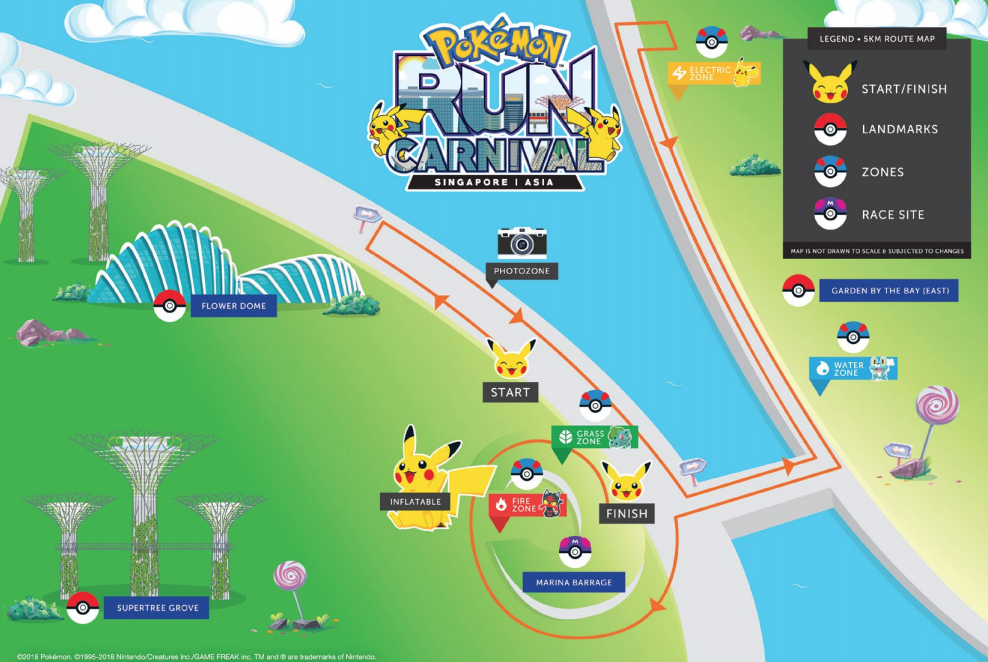 All the information above are retrieved from http://pokemonrun.com/sg/
Have fun in the Pokémon Run Carnival 2018 and run safe!
Don't forget to log your time at JustRaceLah! – The Free App for Runners
Keep track of your results and progress by adding any of the 1000+ races of our database to your own portfolio. Keep your running memories organised and see your timings improving!
Download for free of iOS and Android via: www.justracelah.com