Income Eco Run 2018 is calling for all runners to play their part towards a sustainable environment and run towards Zero Waste! Taking place on 29th April 2018 at the F1 Pit Building, Income Eco Run seeks to encourage participants to be more environmentally friendly with the introduction of new categories and expansion of the Zero Waste Runner option.
Become A Zero Waste Champion
Making its debut in 2017, the Zero Waste Runner category saw runners give up entitlements such as their medals and finisher tees in order to reduce waste. This resulted in 1,500 runners saving 150kg of metal, 88kg of polyester and 18,492 paper cups! Following its sell-out success, the Zero Waste Runner category returns in 2018 at double the capacity to encourage more runners to journey towards zero waste with Income!
For championing a greener environment, Zero Waste Runners will save $4 off their registration across all categories*. Inspired to challenge a friend to run towards Zero Waste with you? A Buddy Promo where each participant receives $5 off is also available for pairs who register together! All participants are also extended the option to give up their race pack at registration so as to encourage everyone to take just a small step with Income to journey towards zero waste.
*All categories except Kids' Dash
Involve your kids in championing Zero Waste!

Being eco-friendly is a lifestyle, and one that is never too early to start. After all, environmental conservation is for the future generation, and so, what better opportunity to get the younger ones involved than through a fun run? This year, Income Eco Run is expanding the kids' categories with two categories – an 800m dash for those aged four to eight, and a 1.2km category for 9 to 12-year-olds. Those 13 and above are welcome to join the new 5km Fun Run category, so no youth is left out!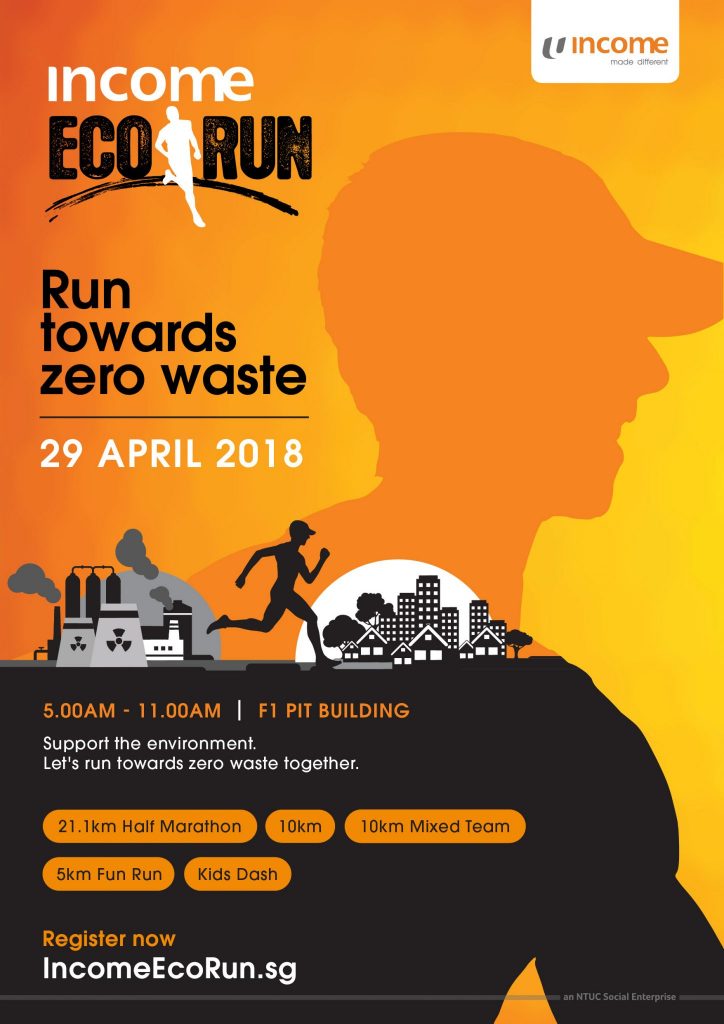 Early-bird promotion ends on 15 January, so register now and join the run towards zero waste!