While waiting for Standard Chartered Marathon to start in 2 hours, I decided to write my first ever race review: Mizuno Wave Run that took place on 26/11/17, the previous Sunday.
Race Pack Collection
Race pack collection which was held in Velocity@Novena Square was fast and over in less than 5 minutes.
There were plenty of goodies inside the race pack including cereals, isotonic drinks, muscle rub and toothpaste etc from the kind sponsors of the run.
However, I was slightly disappointed by the race T-shirt as I felt the fabric was too thin and the rainbow-colored Mizuno logo was not as colorful as I expected.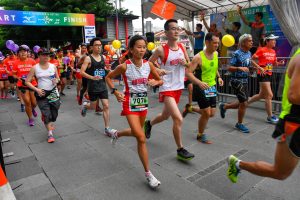 The race venue was very accessible, outside Clarke Quay Central which was beside the MRT station.
We were flagged off on time at 730am and in one wave.
There was minimal congestion along the route as the number of participants was smaller than that of other major runs.
The run took us to many scenic places in Singapore eg the Esplanade, Marina Bay Sands, the Promontory, Boat Quay and Robertson Quay etc and participants had ample opportunities to take beautiful photos on the sunny morning.
By the time I reached the Floating Platform, elite runners Foo Gen Lin and Nimesh Gurung were already on their way back.
Apart from the official photographers at the start and end points, there were 3 other volunteer photographers ie Tan Kim Lai, Dave Poh from Pictureart Gallery and Veronica Chia from Red Dots 123.
There were sufficient hydration stations with water but lacking in isotonic drink which was only given out at the end of the run.
Volunteers from Tanjong Pagar-Tiong Bahru CSC were very enthusiastic and did a great job in cheering us on.
Distance markers were not present at every kilometer but did not affect us much as the distance was short (10km) and we had our run trackers.
At the end of the run, we were surprised to find out that our medals would be mailed to us instead of given out on the spot.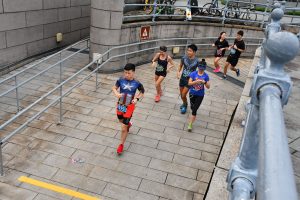 Conclusion
Overall it was a very enjoyable 10km run surrounded by beautiful scenery.
For me, it was like a warm-up run in preparation for Standard Chartered Marathon on the following Sunday.
Thank you, organizer and all the volunteers, for making this run a very successful one.
Up till today as I am writing this review, I am still wondering, like the other runners, "When will we receive our medals?"