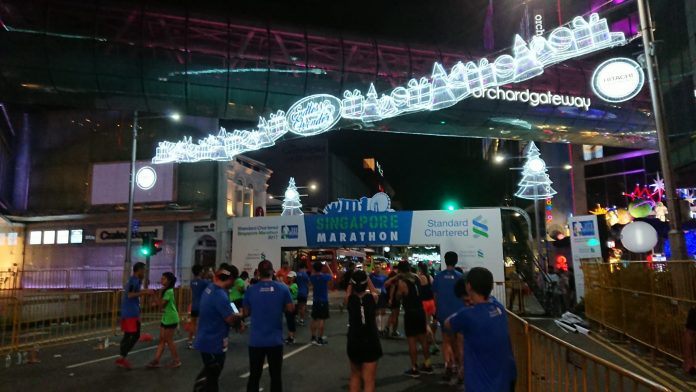 The Standard Chartered Singapore Marathon was held on the 2-3 December 2017. This is my first time joining Standard Chartered Singapore marathon and also my first ever half-marathon. The new running routes and the famous iconic landmarks of Singapore along the route motivated me to try running this half-marathon. The half-marathon route is much more appealing than the 10km one, for me. Authorities had come to close major roads for this run, since it's the largest and most well-know event in Singapore. No wonder about 50000 runners from around the world took part in this race.
Pre-race preparation
The longest race I have taken part in is 12km puma night run 2017. I trained by running a few long training runs of up to 14km once a month and a few short runs a month in addition to swimming 🏊 once a week as usual. After all, I took the courage and signed up for my first ever half marathon 3 weeks before the race.
Race Entry Pack Collection (REPC)
Race Entry Pack Collection (REPC) was held at Marina Bay Sands Expo from 30th Nov to 2 Dec 2017. There were little runners queuing when I came in to collect my race pack on 30th Nov. This is my first time seeing so many exhibition booths after walking pass the collection counter. Bought some shotz energy gels and crampfix at the REPC Expo. I Tried taking a packet of energy gel and it seems suitable for me. Normally, I never take any gels for 10km runs and other short runs. For this half-marathon, I decided to take energy gels along the way to ensure that I don't run on empty.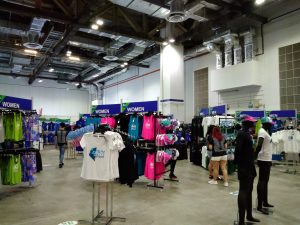 Before The race – getting there
I took grab taxi to SCAPE because I want to deposit my bag at there. Things didn't turn out as planned. There's no way my taxi could get to SCAPE because of the road closures and traffic congestion around Orchard area. So, I alighted near Paragon Shopping Center at 4:20am and made my way to another baggage deposit area at Anguilla Car park near Wisma Atria because the volunteers directed me there.
Before The race – bag deposit
When I arrived at the baggage deposit area, I saw a queue about few hundred meters long. It was disappointing to see this especially when the organiser do not allow runners into the start pen after 5:20am as stated in the website. I decided to stay in the queue until I deposited my bag at 5:50am. Waited for about 70mins to get by bag deposited. There were runners expressing their frustration with the baggage deposit service online. While waiting, I contacted my 2 colleagues who signed up for the race and none of them turned up. So, I was left alone throughout the entire race. 😣
During the race
Because the start point is so far away from the baggage deposit area, I need to travel another 1 km on foot before I start my Half-marathon! By the time, I crossed the start line, it's about 6am!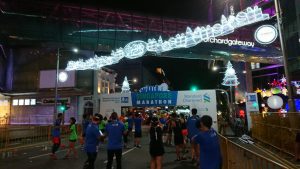 Thankfully, me and the other late runners were allowed to cross the start line. While running along Orchard Road, I saw that the road is partially opened to the traffic already.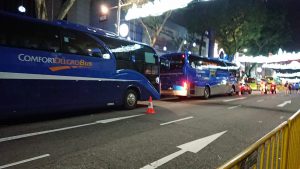 Somewhere along Victoria street, at the 3km mark, the road are going to be reopened by the road Marshall. By right, me and the other late runners will be disqualified. Thankfully, the road Marshall is lenient and let us proceed.
Before reaching the 9km mark, I saw a water point and slowed down by walking. Then I felt a discomfort in my stomach that makes me want to puke. Just drank a cup of water and continued running until the discomfort is gone. There were energy gels provided near 9km mark, I just took one and kept it in my pocket. Shorty after, I Took 1 banana and slowly ate along the way. Tried to maintain pace by running at the speed of 8.5km/h throughout until I reached 15km marker which was near Marina Bay Sands. From there, I saw an uphill slope along Shears bridge. So I run-walk my way up but at a slower pace than before, trying to go slow and keep my heart rate down.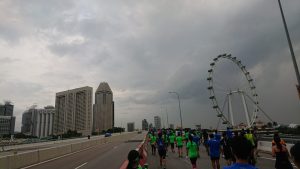 From the descend of Shears Bridge at 16km mark, I tried to maintain running speed of 8.5km. By the time I reached the last kilometer, I slowed down again due to fatigue and cramping legs. I took crampfix (that I brought along) and endured to the end with the determination to finish the race.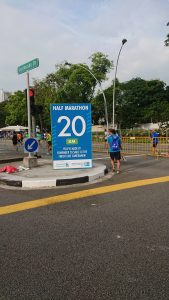 At the finishing point
The crowd who stationed near the finish line kept cheering all the runners on. Medal collection was smooth and they provided towel dipped in icy cold water. Apples, bananas, bottled water and 100 plus were provided as well.
Post race thoughts
There were sufficient hydration points offering both water and 100 plus. Waited 5 mins for the collection of my baggage. Overall, it's well organized except for baggage deposit where there's room for improvement.
Personal accomplishment
Felt the great sense of accomplishment that I'm a half-marathon finisher. I had never thought that I'm able to do so. Had been praying for this race and thankfully, God brought me through till I finished the race in 2hours 36mins 42sec. Hoping to recover from my muscle soreness fast and also hoping to do more half-marathons next year.