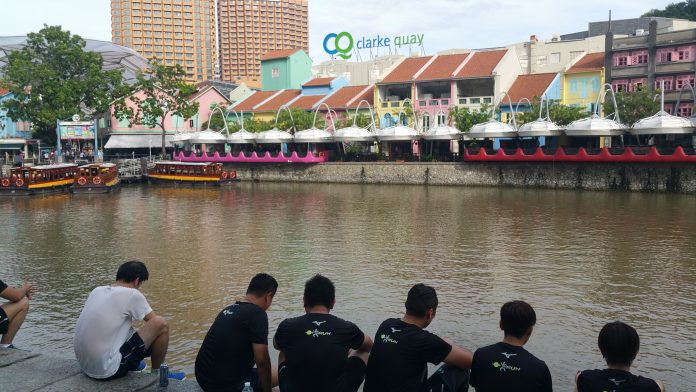 I joined the Mizuno Wave Run for the first time last Sunday morning at Clarke Quay Central.  It had been a staple event in the last 11 years but I guessed it differs from the other local races in its simplicity and in its uniqueness of venues.  There was only one category 10 km race and it started off in front for Clarke Quay Central Mall.
This year's theme revolved around the colours of the rainbow. To celebrate love and to celebrate Mizuno Iconic shoe, Wave Rider 21 years. It also represents Mizuno commitment in continuously providing a sound & healthy sport scene for the people in Singapore.
Race pack collection was a breeze at Velocity@Novena Square.  The race pack had quite a variety of goodies.  I got this slot free, thanks to JustRunLah (Mr Peter Tan).  I had thought one of my running buddies was going but he had some other commitments.  But it was fine as I always enjoy the 'lone wolf' run as my friends called it, own pace, own time.
I reached the venue early and walked around the sidewalk, enjoying the view.  Despite it starting off at 7.30 am, one of the latest start time  for 10 km races, the weather was very kind – cool and breezy.  The emcee was a young man who looked athletic, again, not like the usual you get in other races.  The race was flagged off punctually without too much fanfare.
It started off and finished in front of Clarke Quay Central Mall. The 10 km route included a different sight of the Boat Quay, The Helix Bridge, Marina Bay Sands and Marina Promontory before making a turn back to an almost parallel route (not to mention past Floating Platform, go through tunnels),  then detoured to Robertson Quay before finishing at the mall.  Although the sidewalks we ran along was at times narrow, even at the start, there somehow wasn't any big squeeze like most runs.  Perhaps due to the numbers, perhaps because I was able to get nearer the front before we started off.  There were stairs too to climb, both up and down, but again, I felt light and I heard no complaints from anyone.  For me, perhaps it was because leg muscles had memory of the 69 storeys climbed last week !
There were the usual hydration stops but I only stopped at one so I didn't really count them (probably at least two).  The volunteers were cheerful and a couple of the road marshals were just amazing.  They were just cheering loudly and encouraging.  When I gave a thumbs up to one of them, a lady, I could see she appreciated it as she stepped up her encouraging cheers.
I saw a few photographers including my new FB friend, Mr Tan Kim Lai.   It was a very enjoyable run for me as I rated it top for its different sights, light atmosphere, cheery volunteers, varied route – you don't just get the long stretches of same old mundane paths.  And to top it off, it was a very fine breezy weather even up to 9.30 am or thereabouts.
I was a bit surprised to find no finisher medal queues.  The medals would be sent to runners instead.  Collected the Lucozade Sports drinks from the cheerful volunteers.  I stayed back for the lucky draw but didn't win any.  Chatted briefly for the first time with Kim Lai in person too, since our interaction has been mainly virtual.  The results were released on Tuesday morning, earlier than the 2 pm which was announced if I didn't hear wrongly then.
This should be the 10 km finale race for the year for me and the grand finale race would be the full marathon at Standard Chartered Singapore Marathon the coming weekend.  Till then run happy, run safe!