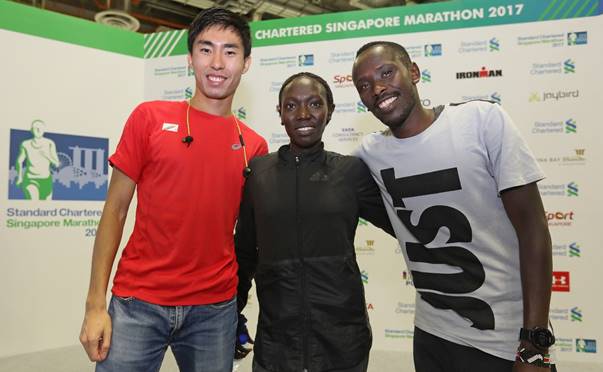 The 2017 Standard Chartered Singapore Marathon (SCSM) will see one of the strongest fields of elite competitors in the event's 16-year history.
Leading the lineup of star names is defending SCSM women's champion Rebecca Chesir and 15 other marathon champions including the winners of the 2017 Barcelona Marathon, Jonah Chesum, three-time Boston Half Marathon Champion Daniel Salel, and 2016 Paris Marathon and Half Marathon winner Cyprian Kotut.
Defending champion Chesir's return to Singapore comes off the back of an impressive season as she finished second in the Beijing Marathon and Vienna Marathon where she clocked a personal best of 2:24:25 earlier in the year.
Sharing her thoughts on her return to Singapore she said "I'm prepared to defend my title in Singapore this year. I've trained hard and took into consideration the weather and humidity here in Singapore and I can say that I am in my best condition to compete. I clocked in my personal best this year and it made me more confident before coming here. I love running here in Singapore and it's really good to be back."
For the first time, SCSM will host the National Championships – where top local runners will vie to be crowned Champion across four categories – the Men's and Women's Open and Masters. This follows a two-year tie-up between Singapore Athletics and race organisers IRONMAN Asia in July, as an initiative aimed at providing local athletes a platform to shine and pit themselves against the very best in the region and the world.
Leading the pack are SEA Games Gold medalist and SCSM debutante Soh Rui Yong and Jasmine Goh. The duo will have to hold off challenges from compatriots and including Team Singapore athletes and 2016 runner up Ashley Liew, Evan Chee, Neo Jie Shi, and Mok Ying Rong for the National title.
Reigning SEA Games champion Soh Rui Yong, "I'm excited and motivated to compete for my first SCSM. I'm very new to running marathons and would usually get nervous before the race starts, however, after the SEA Games, I felt that I was able to build more confidence and that I'm ready to take on more challenges," he added, "Having the National Championships hosted by the SCSM is a great platform for the local marathon scene to step-up and provide opportunities for local runners to participate in a world-class marathon and witness some of the world's best athletes coming together to compete."
Besides hosting the National Championships, SCSM 2017 will also see improvements by organisers IRONMAN Asia – most notably, a new iconic route, and over 90% full road closures, a first in Singapore's history.
Commenting on this year's race improvements, Geoff Meyer, Managing Director of IRONMAN Asia said, "With the new route, introduction of added entertainment, 90% full road closures, and fringe activities which have been keeping participants on their toes since the first day of registration, we have constantly been working towards delivering a holistic and top-class race experience. We can see the results of this with the changing race trend where the longer categories are now selling out first, the opposite of past races. The sell out across all categories show the increasing sophistication amongst runners here and popularity of Singapore as an iconic race stop amongst the international field."
This year, 48,400 runners will compete in the Marathon, Half Marathon, Ekiden, 10km and Kids Dash. Runners in the Marathon and Half Marathon and Ekiden categories will race through all new cultural routes and downtown core, beginning under the Christmas lights along Orchard Road, whilst the 10KM race will flag off outside One Fullerton and pass through the central business district before ending at a new finish line set within the heartbeat of the race at the Padang.
From press release