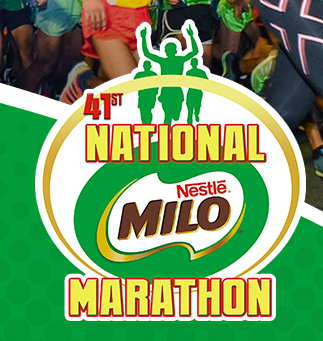 CAGAYAN DE ORO – Former champion Jerald Zabala is back on top of the podium after ruling the 41st National MILO Marathon Cagayan de Oro qualifiers last Sunday at the Centrio Mall.  In the distaff side, veteran campaigner Ailene Tolentino showed the way by easily outdistancing the opposition.
Zabala clocked 1:12:42 to beat out challengers Bryan Quiamco (1:13:12) and Ramil Neri (1:14:55) and retain the title he last won in 2014.  Zabala's winning time is also the year's fastest after completion of all 15 21-kilometer regional qualifying races.
Tolentino of the Philippine Army was too fast at 1:26:18, a time almost good to make the Top 10 in the Men's category.  Coming in at second was Esterlita Organiza (1:31:28) followed by Evamie Villarin (1:34:59).
Tolentino's time is only the second fastest for the year.  Former MILO Marathon Queen Christabel Martes registered the fastest time among the females at 1:23:45 in taking the season-opening Urdaneta leg last July 16.
In the side events, last year's leg champion Keenan Lou Caburnay opted not to defend his title and instead took home the 10-kilometer race in 33:05 together with female winner Jhelie Mansueto (42:10). The five kilometers was ruled by Erwin Mancao (17:16) and Emmalyn Taypin (21:50) while the three-kilometer kid's race was won by Jason Gumamo (12:07) and Sophia Psalm Belican (13:19).
This marks the final race to determine participants in the National Finals scheduled for December 3 in Cebu City.  Reigning MILO Marathon King Jeson Agravante and Queen Mary Joy Tabal are already seeded and set to defend their titles and aiming for the PHP 300,000.00 grand prize plus the chance to represent the Philippines in an overseas race in 2018.
International runners can still join by submitting a certification of time and finish from any AIMS-accredited race completed not earlier than December 3, 2016.  For more information, visit www.milo.com.ph or www.runrio.com.