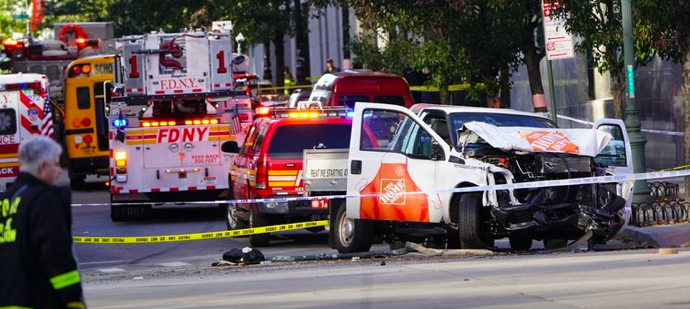 A truck crashed into a crowded sidewalk – injuring 11 and killing 8. 5 of the people killed were Argentine tourists. Happening 5 days before the Big New York City Marathon, officials are closely monitoring the situation.
The incident did not occur along the New York Marathon course, however, since the 9/11 incident and the Boston Bombings near the Boston Marathon finish line, New York Marathon officials are carefully assessing and monitoring the situation. New York officials will continue to emphasise on safety.
New York Road Runners has release a statement.
"For this weekend's marathon, as with all of our events, the safety and security of our runners, staff, volunteers, and spectators is our top priority. Together with our agency partners, we have extensive safety and security measures in place, both visible and behind the scenes. We are constantly reviewing our plans with law enforcement and will consider any necessary modifications or enhancements."
Back in 2013 in light of the Boston bombings, NY marathon increased its security measures. One of the changes were in bag checks whereby participants had to place their items in an issued clear plastic bag. Also, the race has an extensive list of prohibited items – costumes covering the face, hydration vests and bulky outfits extending out of the perimeter of the body.
For more information on security measures, please visit https://www.tcsnycmarathon.org/plan-your-race/security-measures.