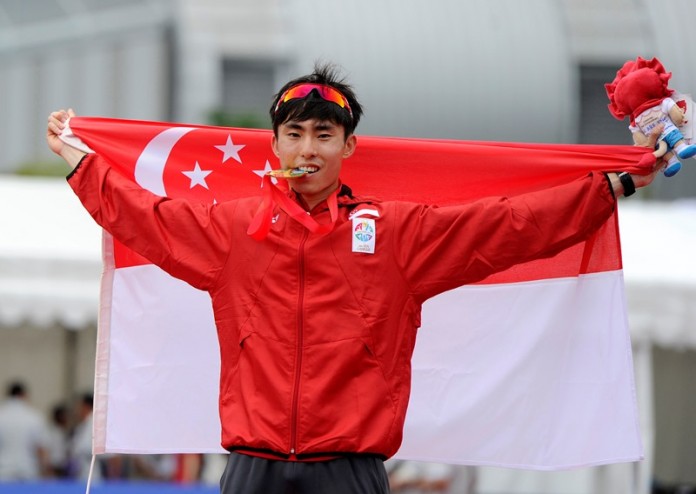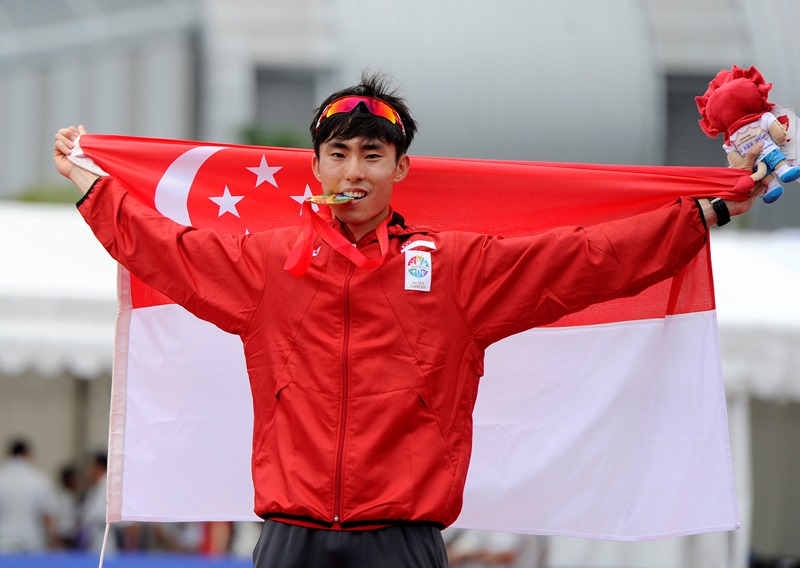 Taking a break is not a phrase commonly found in the vocabulary of two-time South-east Asian (SEA) Games marathon gold medallist Soh Rui Yong. Barely two months ago, Soh defended his SEA Games marathon title by finishing ahead of his competitors with a time of 2hr 29min 27sec in Malaysia. Rising above the heat and humidity in Kuala Lumpur, 26-year-old Soh pulled ahead of his opponents to clinch his second consecutive gold at the regional competition. But to think he would slow down to rest on his laurels would be a mistake.
Aiming to be the first marathoner from Singapore to meet the qualifying time for the Olympics, Soh has already begun his preparations for the next edition of the quadrennial event to be held in Tokyo in 2020.
After a busy few months which saw him taking on races abroad and at home, Soh will be setting off for the Frankfurt Marathon in Germany – one of the fastest courses in the world. Taking place this Sunday, 29 October, it will be his first marathon since the 2017 SEA Games in August, and the first time that he will be competing in two marathons within such a short span of time. Juggling a full-time job while maintaining his training schedule means competitions like these provide him valuable feedback for his preparations for the 2019 SEA Games and 2020 Tokyo Olympic Games.
Camaraderie and building friendships with runners across the world has always been important to Soh, and his journey to Frankfurt embodies this philosophy. He has volunteered to act as a pacer for his friend American marathoner Sara Hall, one of the top distance runners in the world whom he met at last year's International Association of Athletics Federations (IAAF) World Half Marathon Championships, and he hopes to help her achieve a new personal best in Frankfurt.
On Soh's support for her ambitions, Hall said: "I couldn't imagine a more positive and encouraging person to have by my side spurring me on in this attempt to run faster over the distance than I ever have before. It meant so much to me that someone of Rui's caliber would believe in me enough for this moment to be willing to help."
As part of his training and racing programme, Soh also recently qualified for the 2018 IAAF World Half Marathon Championships to be held in Valencia, Spain on 24 March 2018.
He met the qualifying criteria when he accepted a friendly invitation to participate in the Blackmores Half Marathon in Sydney on September 16 this year, where he finished in a time of 68:51 mins.
As the race was just a short four weeks after his grueling title defense in KL, Soh went in with no expectations other than to do his best and enjoy the run, having had only two weeks to train for the event following a two-week recovery period.
He said: "Sydney was really hilly and with lots of turns, so at no point was qualification for the World Championships on my mind. Singapore Athletics hadn't announced the selection criteria back then either, so it wasn't clear how the selection would be done, but I'm glad it's all clear now and that I've qualified for my fourth consecutive World Half Marathon Championships."
According to the Singapore Athletics (SA) website, the qualification time for the IAAF World Half Marathon Championships 2018 for Singapore athletes is 70:00 mins for men and 78:00 mins for women. The time must be recorded during a qualifying period of between 1 September 2017 and 31 January 2018, and clocked on a course that is in accordance with IAAF rules and accreditation, and sanctioned by SA. The fasted qualifying athlete of each gender within the qualifying window will be automatically nominated to represent Singapore. Should there be a tie between two or more athletes, SA will compare and choose the athlete's 2nd best timing and so on, which were achieved during the qualifying period.
Soh relishes the opportunity to race some of the best runners in the world again. Thinking back on his participation in the championships last year, he said: "I lined up against Mo Farah in 2016 and that's not something I'll forget anytime soon. The World Half Marathon is sometimes even more competitive than the Olympics, because each country can send up to five athletes as opposed to just three in the Olympics."
Soh is also a firm believer in supporting the local running scene, and he has also raced in a number of races in Singapore, including the Singapore Airlines Charity Run (10km) and the HomeTeamNS Real Run (10km), where he took the top podium spots in times of 32:25 mins and 32:40.4 mins respectively.
Apart from racing, Soh is also keen to give back to the running community in Singapore. Most recently, he pledged to use part of the $10,000 he won under the Multi-Million Dollar Awards Programme (MAP) for his SEA Games victory, to help 22-year-old Nanyang Technological University undergraduate, Reyhan Amierul, a local 400m sprint specialist in need of financial support. Soh also conducts school outreach programmes in conjunction with his hydration sponsor, H-Two-O, as well as regular running clinics for interested parties.
The road to Tokyo 2020 is long and will require strong focus and dedication, but Soh is focused on continuing his strong run of results, and we can expect many more buzzworthy performances in races around the region in the months and years ahead.
Adapted from Press Release