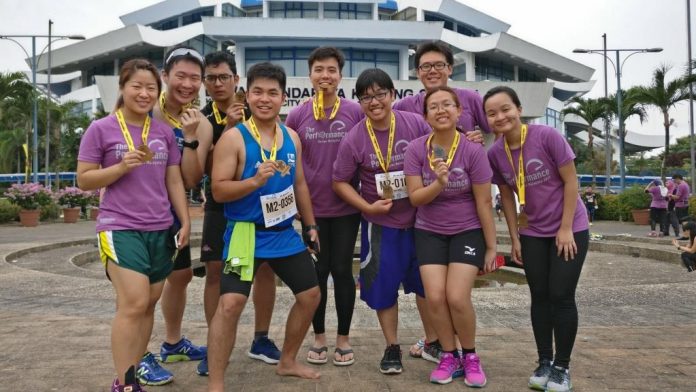 TPS Malaysia – Race 2 Kuching took place a month ago on the 3rd of September at Kuching, Sarawak.
I have never been to Kuching, Sarawak – the east of Malaysia before and I saw that TPS was going to organise one there. That was one of the main reasons I signed up for this race series because I thought of going there for a "runcation" along with my friends. We all signed up together beginning of the year and was always looking forward to this trip. I mean besides that, if we signed up all 3 races we were given a complementary medal hanger #winwin!
It was a long weekend because 31st August was Malaysia National Day so we were there for 4 days from 31st Aug – 3rd Sept.
If you would like to see my full post about the trip (where we makan, where we went etc), it's at my personal blog here.
Race Pack Collection
We all tried our luck at the lucky draw and both Han Qi and Chong won! They were given a free Aftershockz wireless bluetooth earphone each! Running gods, why you no give me luck 🙁
Race pack collection was pretty fast and efficient. All we had to do was produce our confirmation slip and we got our race packs in no time.
As usual, there were vendors selling running gears just outside the counters. I was tempted to buy the energy gels(they were on offer) but I still had some more with me so ended up I did not.
Race Day:
Woke up at around 3am. Flag off was at 5am. So we had to leave the house(we stayed at a rented house) around 4.15am.
Had breakfast consisting of banana, coffee and some bread. Still no number 2, tummy was feeling good.
Wanted to run with my earphones but forgotten to switch them off the night before, well done Eugene!
Decided to leave my phone in the car, hence no pre-race pictures 🙁
There were many people at the race venue by the time we arrived. Some were doing their warmups; some were donning their superhero running outfit, I think they were some superhero running group from Singapore.
We looked for an empty spot and started our own warmups.
Legs weren't feeling so good due to all the hiking we did the past 3 days.
Flagoff for 21km was at 5am sharp.
Started with a 7 min pace, knew that I won't be able to achieve my PB and hence decided to pace my friend Lynette together with Jo Lyn.
It was great to have company, we chatted and kept on encouraging her, stopping only at certain water stations when needed.
The run was well organised. Water stations were adequate and traffic control was good.
Best thing about these runs is that we get to explore the town or surrounding places while getting healthy by working out together with companionship. It's a great feeling really.
The race route was relatively flat and had many scenic views, great route to achieve PB.
Finished the race in 2:24. Lynette got herself a new PB, really proud for her.
We collected out goodies and chilled around the dewan while waiting for the rest.
My friends Azmi and Han Qi were also interviewed and featured in the video(link here)!
I am really grateful to TPS for organising this race at Kuching. We had loads of fun, food and laughter.
It was a much needed getaway from work and so glad this trip took place.
Until our next running adventure, keep running, keep eating, keep hustling! #runtoeat #eattorun #roadto???
*photo credits to Jo Lyn, Suli, Lynette, ThePerformanceSeries-Malaysia.
Race 3 of The Performance Series-Malaysia will be taking place soon at Shah Alam! Have you signed up yet? What are you waiting for! Sign up here! See you soon!