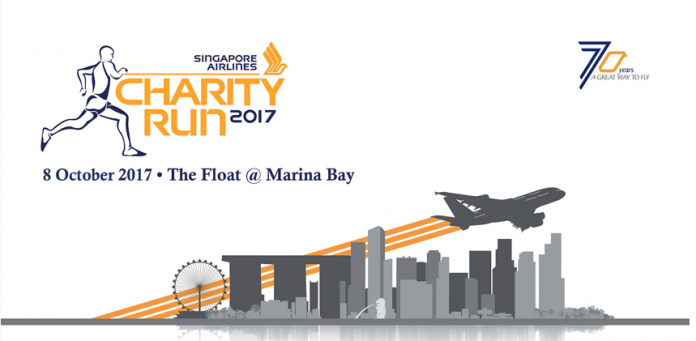 The SIA Charity Run was the first run that I took part in back in 2014. It was a 5 km fun run then and I joined it after much encouragement from my friend back then. This introduction to the running community in Singapore have brought me back and again for more races and this is also how I started trying for longer distances and shorter timings.
After waiting for 3 years, the SIA Charity Run is back and of course, I am excited to join it!
The starting point this time was at area beside the Singapore flyer (the F1 pit building was the start pen for 2014). As I was part of the 10 km race, we were flagged off at around 7 am. The sun has already risen and it was getting hot. But nonetheless, the weather remained rather windy that day.
As it was during the rainy season, I started to notice really dark clouds forming while I was at the 5-6 km mark. With about half the race to go, I started to worry that I would get caught in the rain mid race. Half of me wanted to try running in the rain while the other half worry that my weak ass will get sick. While I was worrying that I might fall sick, it started to drizzle. The rain got a bit bigger as the race continued on and I ended up racing from shelter to shelter. It was fun honestly… running in the rain and getting all wet at stretches of road between shelters. Luckily the rain didn't last long nor did it get bigger because then, the race might have to be cancelled.
Eventually, the rain stopped and I crossed the finish line. I checked my timing and it was my personal best! I was really happy to witness an improvement in my timing but I realized that it was kind of funny since this timing was likely the result of me running for shelters and racing the dark clouds. But still, it proved that I was capable of running faster.
The queue for the medal was rather short but they had run out of sports drink by the time I got there 🙁
Kind of disappointing since I was really looking forward to having a good cold sports drink. But luckily they had a tent/booth at the race village (floating platform) that served the drinks in small plastic cups and I just stood there to drink until I quench my thirst and regained some of my electrolytes.
The race was fun overall. And I finally get to try running in the rain, which was really cool. Like it brought back the memories of playing in the rain while I was a kid. And I was grateful that the rain did not get so big until my shoes became squishy because if that happened, it would probably be really unpleasant to run in that state. Plus my feet is going to stink like hell at the end of the race. So heng ah!