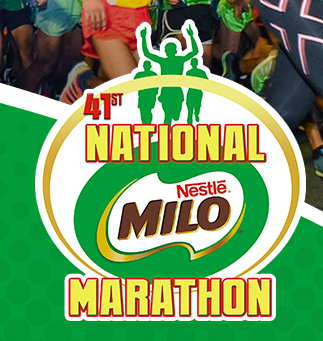 TAGBILARAN CITY – Emmanuel Comendador is back in familiar territory, the top of the podium at the conclusion of the 41st National MILO Marathon Tagbilaran qualifiers at the Island City Mall Sunday (September 24).  This marks his fourth championship in the Bohol capital after completing a grand slam from 2013 to 2015.
Comendador, who is also a member of the national Triathlon team, finished the 21-kilometer course in 1:15:56.  He was followed by Azlan Pagay (1:17:22) and Michael Largo (1:17:27).
In the distaff side, it was another crown for Ruffa Sorongon who won handily in 1:28:30 compared to her runner-ups Mereeis Ramirez (1:40:49) and Sandra Soliano (1:40:49).  Sorongon first won in Tagbilaran way back in 2014 and she followed it up with back-to-back victories in Cebu City in 2015 and 2016.
Since Cebu will be hosting this year's National Finals on December 3, there will be no regional qualifier there.  Cebuanos who wish to qualify have to travel to other provinces in order to do so just like last year's local champion Rafael Pescos who travelled all the way to Pasay City and emerged the champion of the Metro Manila 42.195-kilometer qualifier last July 30.
In the 10-kilometer side event, Ian Refuela (36:13) and Engel Estelloro (45:25) went home victorious.  Meanwhile, it was Dodong Vosotros (16:14) and Marymarie Rose Salvador (19:43) that were fastest over five kilometers.
Two more races are scheduled to be held in the Visayas in the cities of Roxas (October 1) and Iloilo (October 8).  What comes next will be more races in Mindanao as the search for the best runners for the Philippines' oldest and most prestigious footrace continues.