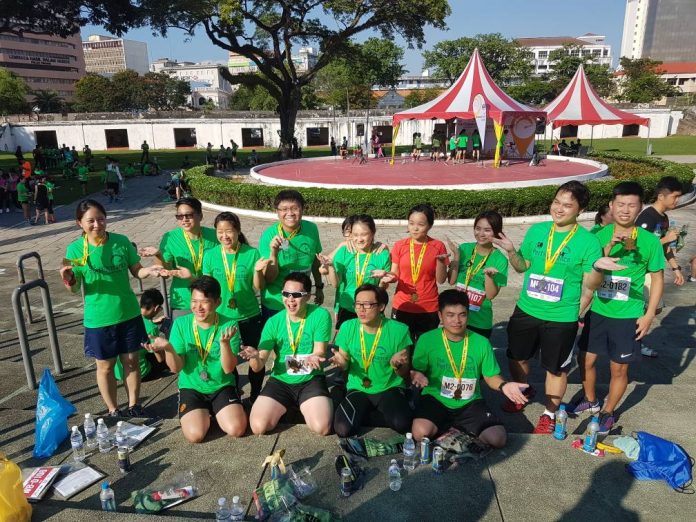 So last Sunday (09/07/17), The Performance Series(TPS) – Malaysia, Race 1 took place at Penang, Malaysia.
As we all know, Penang is Malaysia's food haven with it's delicious food such as Char Koay Teow, Asam Laksa, Hokkien Mee, Cendol, Oh Chien, Lobak, Nasi Kandar and many more!
(First part of this post will be about our food adventure, if you would like to skip to the running part, scroll down to the second part.)
I would like to appologise for the late posting because I was lazy just had so much to write and too many pictures to share.
Eat, eat, eat
My group of friends drove up to Penang from KL for the weekend to participate in the run and also to satisfy their food cravings. They had planned this trip months back and everybody was so excited for the trip. Since I was based in Penang for work, it was convenient for me to meet up with them and become their local food guide(although not a good/adventurous one).
There were 18 of us so we booked the whole house/shoplot through Airbnb in Armenian Street, where most of the famous street art and food hotspots were closeby.
My friends arrived in Penang on Friday afternoon. After checking in to the hotel house, we proceeded to Air Itam for it's famous Asam Laksa(beside the wet market). We also wanted to get some Sisters curry mee but it was opened until 12pm only.
Almost everybody had a bowl each, some shared a bowl as they were saving their stomachs for other food.
Then of course, we went up to Kek Lok Si. Apparently it was under renovation and the pathway to the Pagoda was blocked and we only managed to visit the temple.
Next destination was Penang Road Teochew Cendol.
The cendol was soft and silky, coconut milk was cold, perfect for a sunny day. We were so tempted to order the Char Koay Teow(CKT) at the stall just beside it but decided to visit the famous one at Siam Road, ranked 14 on the World Street Food Top 50 list.
We arrived at Siam Road to see quite a number of people already waiting inside the restaurant. The uncle who sells the CKT was no where to be seen yet, so we ordered some drinks and waited in the restaurant. Apparently the uncle was on a 10-day leave and that particular day we visited was the day he "reopened". As the clock hit 3:05, we see an old uncle pushing his cart to his usual spot, everybody started whipping out their cameras to snap a picture of him, he was like a celebrity! A queuing line started to appear right beside his stall.
We waited for almost an hour before we finally got to taste his CKT. I am no food critic, but the CKT was delicious nonetheless, serving size was just nice and the prawns were juicy and aplenty there are better CKT elsewhere #myownopinion.
We were also featured on StarTV, our local news portal, you can see us here.
For dinner, we went to New Lane, a street that is closed at 4pm everyday and turned into an outdoor hawker food centre. Again, not being a food critic, I felt that the food here is pricey and the standard is so-so only. However, there are many choices and one doesn't have to travel elsewhere to look for their favourite penang dish.
After filling our stomachs to the brim, we decided to have a walk and visited the "Secret Garden" of Tanjung Tokong. The garden beside the Tua Pek Kong temple was decorated with an array of LED lights, causing it to look like a garden from the movie AVATAR, so mysterious and magical. I will let the pictures do the talking.
The next morning, I decided to do a short warm-up run at one of my favourite running spots – Air Itam Dam. We drove up all the way to the dam, I used to hike up to this running spot as the road leading to the dam was closed for almost a year due to landslide. Luck was on our side as the road was re-opened the day before.
One loop around the dam is approximately 2.8KM and we managed to do one round. The air was fresh, plenty of greens everywhere, a few hills to climb, perfect place for running. We weren't the only ones there, a group of hikers were seen getting their equipment ready for a long hike.
After our run, we had breakfast at Air Itam market of course. This time, we got to order the famous Air Itam Sisters Curry Mee. I used to eat this when I was a little kid. My grandmother used to walk to the market from her house and buy us this for breakfast. The taste of the curry noodles were very familiar and the only difference is that the old aunty has more wrinkles on her face and her ever graying hair.
After breakfast, went back to shower and got ready for our next food adventure.
We went to this cake shop – The Moody Cow Cafe. They had all kinds of cake: Durian, Nangka/Cempedak, Salted Egg. We ordered like 3 slices, they were huge slices enough to be shared among 17 people and each slices was around RM30? Nevertheless, it was creamy, salty, tasty, all in one.
After all the eating, we went back to our house. Hanged out around the streets and also went for a massage.
Came dinner time, we had seafood dinner at a nearby restaurant. We couldn't drive out for dinner as the street was closed for some activities in conjunction with Penang Heritage Day.
The meal was not satisfying but it was enough to fill our stomachs. What is seafood without crab and prawns?! I guess everybody was quite full in some sense and were afraid the meal would be costly.
After our dinner, we walked to the nearby Chew Jetty. Most of the stalls were closed but we had a view of the Penang bridge and the sea, which was nice.
Then, we walked around the street we lived at and bought some snacks. We retired early as our run was to take place the very next morning.
Race Day
Woke up at 4am. Washed up and then had breakfast consisting of peanut butter and bread, bananas and plenty of water. As usual, tried to do a number 2, but end up only a number 1. Waited for the rest to get ready, and started walking to Fort Cornwalis at around 5:10am. It was a good 10 minute walk and we could already see people on Beach Street setting up their stalls; an empty club with a mix of smoke and alcohol stench filled our noses; some restaurants were already opened, ready to greet their ever hungry customers.
It was my first time in Fort Cornwalis, maybe some of them too. Many people could be seen sitting and standing at the stairs/stage. We decided to make that our meeting point. Flagoff for 21KM was at 6am. We found ourselves a spot near the starting line, did warmups and exchanged some last minute advice. My two buddies were running their first 21KM, kudos to them.
10 minutes to 6, announcer told us to get into the starting line. The starting and finishing line was at the entrance of Fort Cornwalis with the big ancient steel door, perfect for a great shot. I wasn't feeling pumped up, felt sluggish, sloppy, probably due to all the good food I had been eating the past few days. I controlled my breathing, ignored my surrounding environment, started visualising the race route, visualised I was running easily, visualised how I would look and feel like crossing the finishing line.
Countdown initiated. With the pull of the trigger, the race has begun!
Started with a 6 min/km pace and maintained throughout.
The race route brought us through beach street and armenian street, the streets we took to reach the race venue. We also managed to pass by the famous "girl and boy on bike" street art and consequently our airbnb house.
The weather was fine, streets were still quiet enough to hear our footsteps and the panting of the runners. I was running hard but also trying to look at my surroundings, trying to familiarise myself with the streets of Penang.
We slowly made our way to Tanjung Tokong, passing the secret garden we visited the previous day. The road started to slowly ascend as we made our way up the slope towards Tanjung Bungah.
As the day started to brighten up, we began to see the beautiful coastline and sea of Penang Island. Before making a u-turn, saw my running buddy, Jo ahead of me and I tried very hard to chase her.
After the u-turn, it was a downhill slope and I quickly picked up my pace, still trying hard to catchup with Jo but to no avail. She was way too fast!
The last few KM brought us to Gurney Drive. Could already see many runners (non-participants) running along this route, probably completing their long run for the week.
1 more KM to go, still running very hard, trying to chase Jo but still couldn't see her!
Fort Cornwalis was finally in sight, few hundred more meters to finishing line.
Posed for the photographer, again tried hard to smile and look good, still failed.
Crossed the finishing line but doesn't feel like one because there was no timing display at the top of the gates. Checked my GPS watch to confirm the time, again less than 21KM, stopped the GPS watch anyway.
After collecting my finisher T and medal, rushed off to basketball court beside Fort Cornwalis and ran a few loops to complete 21KM on my watch.
Felt very happy to have beaten my PB again. This time did 2:03:37 for 21.01KM. Made another stupid mistake, watch didn't register new PB for HM because Half Marathon is supposed to be 21.1KM, less 900m oh my gosh. Fine, I guess I just have to do better at my next HM which is at Kuching, Sarawak.
Met up with my friends at the stairs. Met my running buddy Jo and immediately congratulated her. She completed her HM in under 2 hours and was placed 7th in her category(like her previous HM at Bukit Jalil, lucky seven?)! #transcendyourself
Waited for the rest of my friends running 21KM.
As soon as everyone has arrived, we took a group photo to celebrate our achievement.
Was extremely happy for everyone and hope this will continue for until who knows when, our first running/eating vacation.
Until then, happy eating and happy running! See you at TPS – Kuching Race 2.
*credits to my friends for some of the pictures and also to TPS – Malaysia.