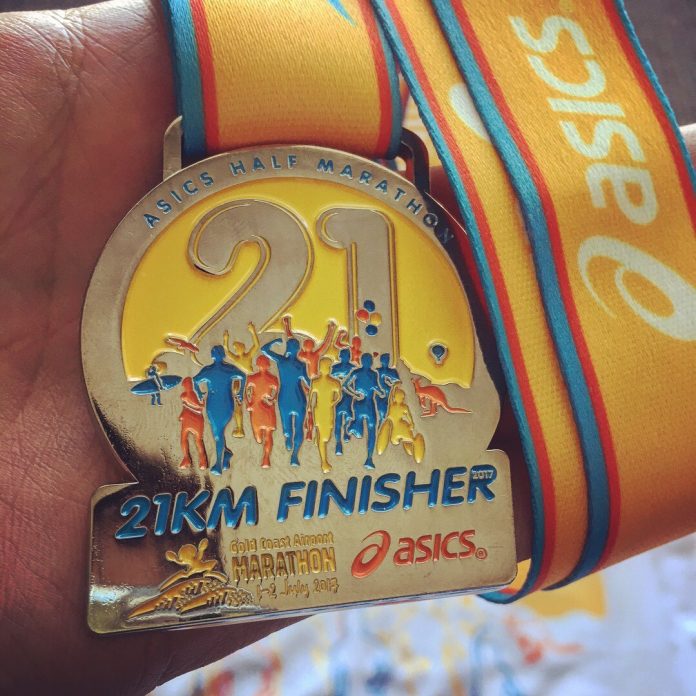 Dubbed as "Australia's premier road race" and being the only gold label race in the state of Queensland, Australia, Gold Coast Airport Marathon, the event which runs into its 39th year, the organizers continue to see a surge of runners, from hopeful professional athletes wanting to score a BQ to runners internationally who only wish to enjoy #GoodTimes in this prestigious event.
2017 will be my 2nd consecutive year I sign up for this race with my first, for a full marathon. I was contemplating whether to go for the full or half marathon. I settled for the latter since my trip is short and I could use more time for sight seeing and visiting my favorite fur friends at the Currumbin Wildlife Sanctuary !
The race pack collection was swift since Saturday (1 July) was the last day for all categories. I was issued a very beautiful duffel bag (now a used laundry bag) with my race bib, as well as a band that I had pre-requested at Asics website. I originally wanted to aim for 1.58 or 1.59 (I dared not even dream of breaking sub 1.55!) It was printed on the spot through the use of a QR code. This is now an important accessory for me for my future races. All I need to focus is getting to a certain checkpoint at a certain timing, instead of looking at the full distance and aiming a completion timing from a bigger perspective. This works for me and might/might not work for you. But there's no harm trying.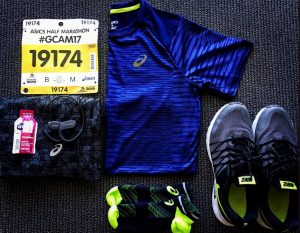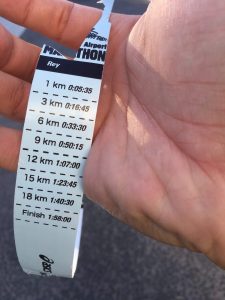 It was chilly on race morning! Most participants stood out in the cold for at least an hour before we made our way to the start pen. The half marathon category flagged us off at 6.00 am sharp. The race route would have brought us from Southport – Gold Coast Highway – to doing a u turn at Drake Avenue, enjoying a scenic view of the coast while coming back (but really, majority of the route was going through residential properties) but the folks who cheered for us along the route were lovely! Gramps sitting out in front of their porch watching us, and children giving us "POW" palms (Touch here for more power) along the way!
You can check out the Relive-ed route here – https://www.relive.cc/view/g12623611677
Hydration points were ample with 8 of them (mixture of plain water/Endura points). Endura was the official hydration supplier for this year's race. Thankfully it worked well for me.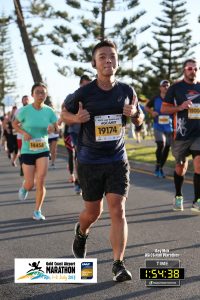 The sun has already risen on the second leg of the race but due to the cold weather, the heat is the last thing I actually had to worry about. It was mental > physical time. I followed my band diligently up to 15 km. I was slightly off pace when trying to hit 3 km (by now 18 km by 1.40.30) in 17 minutes and resulted in a few seconds walk. Then, thoughts came to my mind – "Run your lungs out", "I came here for a PB", "I have some people to prove wrong to" etc. These mind fuels were far more effective in making my legs listen to the voice in my head and kept running until I see this…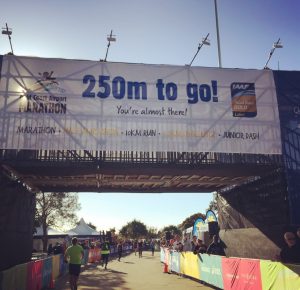 Dammit! As I was approaching the finishing line, I checked out the official timing device (gun time) at the finisher "ERP" gantry – 1.54.4X and if I do some quick math – I have sub'd 1.55 nett! Never in my life I have chiong-ed like I robbed a bank and I probably looked like s*** if I could find my running shot taken there lol! I finally outdid myself and achieved something I otherwise I thought I could never ever did.
Many PBs are broken at GCAM and I strongly recommend this race to my friends. If you think you can't score a good timing, think again! I'll be back next year to re-attempt the full marathon on 1 July 2018, and I hope to see you there too!