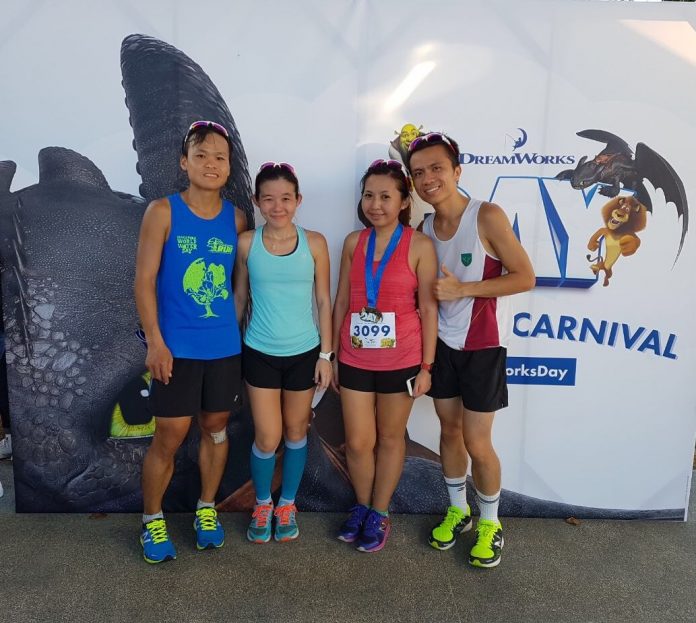 I'm quite a DreamWorks and Pixar fan since young 😍 Even went to the exhibition at ArtScience Museum a two years back with my friend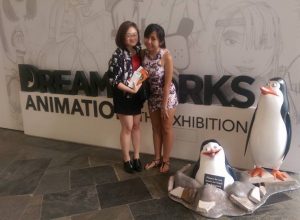 Love their movies that's why still go ahead and register for DreamWorks Run although it's paying $55 for even the early bird registration fee which to me it's much more of like paying $11 to run each km 😂  But also cannot count that way lah. Also got entitlements such as tee shirt, medal, tote bag, cap and tattoo sticker.. Erm.. which I just want the medal 🤣
There's the 800m kids dash category for 4-12 years old and the 5km fun run which I'm taking part in.
Run pack collection is at Velocity at Novena. Willis and I was almost late as we reached at 7.58pm on Saturday 😂 There's no queue at all and we were like the last few ones there to collect the run pack on that day
Too bad we didn't make it on time to queue for the balloon sculptures which is too cute 😍 Would have wanted to take for my nephews but we were told to come back the next day if we want 😭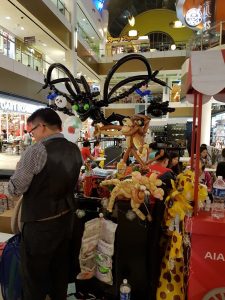 Anyway, I realized that to some parents, even a temporary tattoo is a NO. It's just a temporary tattoo but can understand that they just simply worries what if the kids grow up wanting a real tattoo? Not implying anything negative about tattoo as I've wanted a tattoo so much myself but till now I can't think of or decide what I really want on me or which part of me as every few years, my idea of what's a nice tattoo changes. I used to have the idea when I was like 15 to put a tattoo at my waist but drop that idea because what if over the years I expand horizontally then my tattoo also stretch horizontally? 😂
Race day is on 24th of June on a Saturday, flagging off the 5km runners at 5.15pm running one of the usual routes from Gardens by the Bay East running towards the Marina Barrage and Flower Dome and back.
Willis and I reach about half an hour before the run flags off and went to explore the race carnival 😊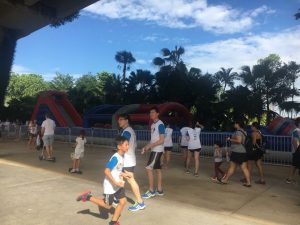 It's actually quite awesome for the kids. During my era as a kid I don't remember having these type of bouncy bouncy thing for us to bounce around in and I don't remember doing these types of abseiling activities but zero point, 5 stones and hop scotch etc. Awwww.. It looks really super awesome and I would enjoy myself if I'm 20 years younger 😆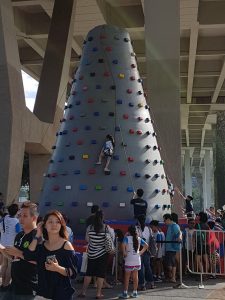 There's a few games stalls and food stalls around. There's the balloon sculpturing again but there's a queue which I think would take a long time because of the effort need to sculpt the characters from DreamWorks. There's also movies screening. But it's not a really gigantic carnival. "Big kids" like us is not really impress but good enough for the young ones I guess. If the location is at the Float or even at universal studio, let us run in USS and make it into something much bigger and make it worth the registration fee and even if the Organisers increase the registration fee to $80 I will register happily and yell "Take my money!" and I believe it will attract more crowd and even much more participation and sign up in the event as it's the last week of school holidays as well. All I can say is that this $55 is not really well spent actually.
Willis and I queued for a photo at the photo booth and went to the start pen where the Kungfu Panda is there to flag us off at 5.15pm. Think it's the only cosplay character I've seen around the whole run and carnival 😭
Anybody can run as nobody check on the bibs which means anyone is able to get into the start pen, just that at the end of the run couldn't get any entitlements. It's more than 30 degrees and we are melting. I remembered saying before to no more runs that flags off at 5pm but here I am again 😂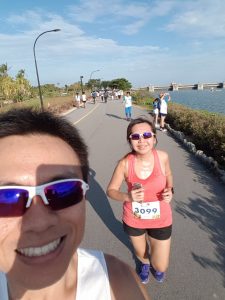 Luckily the 5km is quite tahanable for me to run but many people is walking because of the Sun, the heat and they have kids and prams along with them. It's an enjoyable run, maybe I just love the atmosphere in fun runs as everyone is here to have fun and I really love seeing the kids running along with their parents. It's just super cute! 😁  But honestly speaking I was quite disappointed as I was wishing that along the route there's cosplayers, to find Shrek or Fiona or any DreamWorks movies characters along the route but there's nothing but just distance marker and directional signs. As the route is not sealed up and it's a public area, there's not any road marshals in sight throughout my entire 5km run and there's many cyclists around going at super fast speed which is just so unsafe as there's so many kids around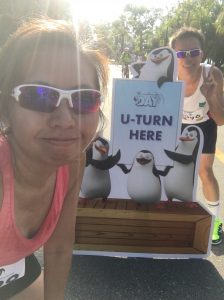 There is only one hydration point at the Marina Barrage. But I guess the Organizers considered it as two water points because of to and fro. It's still okay for me, but to consider this as a fun run and there's kids plus the weather is so hot, it's really considered as not enough water points. The sad part is that the water at hydration is not cold at such a torturous weather 😫
This was the first time I've seen so many kids taking part in the 5km fun run and the kids can really run so fast and so much! 5km is no piece of cake!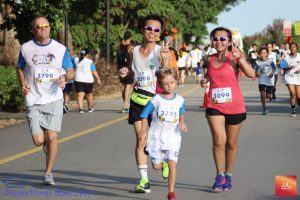 (Photo Credits: Andy Tan – JJL Runners)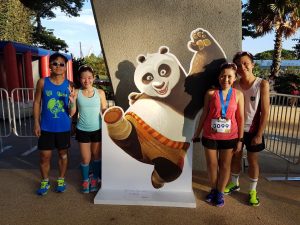 I really love the medal a lot 😍  It's by far the cutest and most colourful medal that I've ever gotten! Overall, as a runner, I enjoyed the run, I enjoys most of my runs. But as for this running event, I just need to convince myself that it's fine though there is no real life size moving Shrek and Fiona, no Vikings or no Madagascar characters just full or paper boards with DreamWorks characters 😂