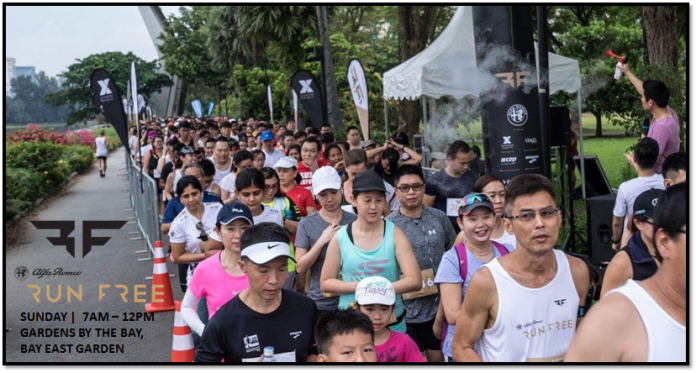 What constitutes a good run event? For most, it's the price and experience gained at the event which justifies for the overall race experience.  These are just some the expectations that participants would have when they sign up for a run event.  But what if the event is totally free and comes with option for participants to purchase its race merchandise? Sounds too good to be true?
Run Free is new race concept which allows participants to take part in a run event at no cost! I recently participated in this run event together with my friend, Cheng Yee which was held on Sunday, 7 May 2017 at the Gardens Bay the Bay East. Participants were given the option to purchase any race merchandise such as race event tees, race tags with timing chips, sling bags etc. I was happy that I had the option not to purchase any race merchandise as I have quite a bit of event tees being an avid run event participant. Also, run events are not cheap and can range from $38 or more for a 5 KM run.
There were two categories for the Run Free event, a 5KM and 10KM category. This event was sponsored by Alpha Romeo and made possible by the same organisers, X-Change Republic, who brought us the YOLO Run.
When the news about a free run event first appeared, I was interested to join and see what a free race would offer but I only signed up later when I was selected as a running hero by 42 Race. Being a running hero for 42 Race entitled me to some race merchandise which included a bib with timing chip and an event tee.
RACE ENTRY PACK COLLECTION (REPC)
The REPC was held at the main atrium of Novena Square. The collection of the race pack was done quick and efficiently but I noticed that the volunteers are not briefed properly as they need to check with the staff in-charge regarding questions posted to them regarding the event. This previously happened also at 2016 YOLO Run REPC where the volunteers were not properly equipped to handle queries from the participants which resulted in long queues at the collection site.  What I thought the organisers did well at the REPC was the merchandise area display and mini race expo.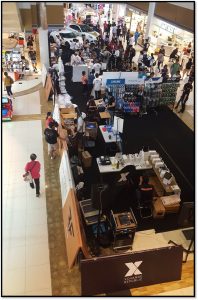 [Run Free REPC at Novena Square]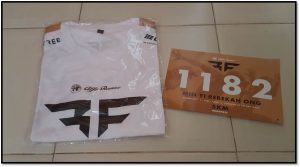 [Goodies for Run Free 2017]
This being a no frills run event, participants only collected their race bib. There were neither vouchers nor tote bag given out unless merchandise was purchased. There was also an on-going Facebook contest where participants could be an Alpha Romeo X Run Free Dri-fit Tee.  I didn't take part in the contest as the area was crowded.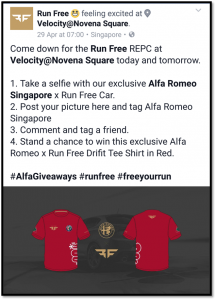 [Facebook contest post for Run Free 2017]
COMMUNICATION BY ORGANISERS
Run Free social media presence was done well. They had utilised Facebook as a form of communication to their participants. They would post details regarding the race on their Facebook page. Examples would include dissemination of shuttle bus services, race routes, race guides, availability of race results etc. I remember I had a query on registration and messaged them privately on Facebook to get help and I was impressed by the organisers' responsiveness to Facebook messages.
RACE DAY HAPPENINGS
Normally Cheng Yee and I like to arrive at the race site a bit early, so that we could take some photos and soak in the atmosphere of the race day. There was a free shuttle bus service which was available from Stadium MRT Station to The Gardens by the Bay (East) from 06:15 hrs to 08:00 hrs. We arrived around 07:15 hrs at Stadium MRT but were surprised that there wasn't crowd there. We were slightly worried that we might have read the information regarding the shuttle bus wrongly but luckily we saw other participants heading to a nearby waiting point where the shuttle bus were waiting. What I thought the organisers could have done better here was to have directional signs guiding the participants to the pickup point.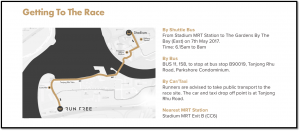 The trip to the race site was pretty fast and we arrived with plenty of time to spare. There was a huge row of portable toilets available and no queue. The only queue we noticed was at the bag deposit. Bag deposit was counted as an extra service and you need to pay for it either at the race site or you have pre-purchased the service. We took some photos around the area before heading for the START pen.
While we were waiting for the START pen to open, we noticed that the security was allowing the 10 KM runners to start and this was just 15 minutes to 5 KM flag-off. We were wondering how the security could differentiate a 10 KM and 5 KM 'free' bib. The 'free' bibs were all white in colour and no indication of the race category on it. We figured it was all based on what the participants were saying their categories were. 'Paid' 10KM bibs were black in colour and 5 KM bibs were Gold in colour. Flag-off for the 5 KM participants were done promptly at 08:00hrs. An improvement area would be to have better defined race tags which can be quickly differentiated.
ROUTE
The route for the 5 KM category was a pretty flat one except for some gentle slopes at the Marina Barrage Bridge which connects the Barrage to Gardens by the Bay East. This was a familiar route as most run events utilized this route. There were no bottlenecks along the route which made the run an enjoyable one. There was only one hydration point for the 5 KM route placed midway so that runners heading towards the U-turn point or heading back would have access to the drinks.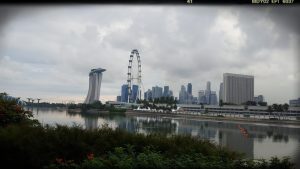 [View from the START Pen]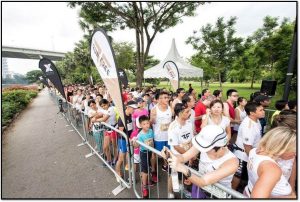 [Participants in the START Pen – Photo Courtesy of Run Free Facebook]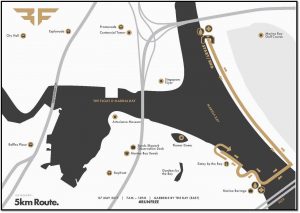 [5 KM Route – Courtesy of Run Free Website]
Some improvement points for the route would be the following:
Have a minimum age limit for the participants joining the event – I don't want to sound harsh but having young kids below the age of 13 years old participating in the 5KM category can pose as a hazard. I was running behind a lady who was trying to pick up pace and suddenly this kid cuts right in front of her and she almost bumped into the kid. Her immediate stopping could cause a chain reaction and I could tell that she was displeased and frustrated as she heaved a loud 'tsk tsk'!  If she had bumped onto that kid, the both of them would be injured and the people would have blamed the lady even though it was not her fault.
Section of the route for participants or place volunteer along the route to guide the public and participants – As the route was not closed to runners; there were some cyclists who were also cycling in the area and this and this may have been a bit dangerous to runners who did not keep a lookout on where they were heading.
POST RACE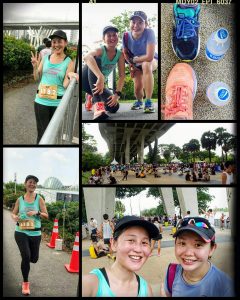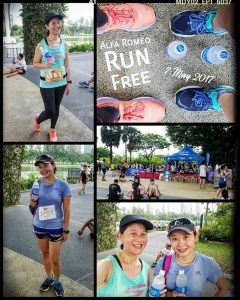 I finished the race in 34 minutes and it was a fantastic feeling. It was a bit weird that we did not need to collect our medals but after all it's a no frills race.  Cheng Yee and I cooled down a bit before heading off for breakfast. It was really nice to be handed a 500ml bottle of Pocari Sweat for post-race hydration. Big thanks to Pocari Sweat for that as it was just the right amount of hydration needed for me to recover properly after a 5km run event. There was no shuttle service back to Stadium MRT but that was okay.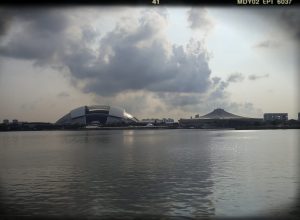 [Nice scenery on the walk back to Stadium MRT Station]
Overall, I did enjoy the Run Free event! It definitely didn't disappoint and I thought the organisers did well though there's lots of room for improvement. Results and photos were released 2 days after the event!  I'm already looking forward to next year's edition. Sorry for the late review. Till my next write-up! #RunFree & # RunHappy everyone!
REVIEW OVERVIEW

Race Entry Pack Collection (REPC)
Race Route (5KM)
Post Race Experience

SUMMARY

Enjoyable race. There's definitely room for improvement in terms of the route.