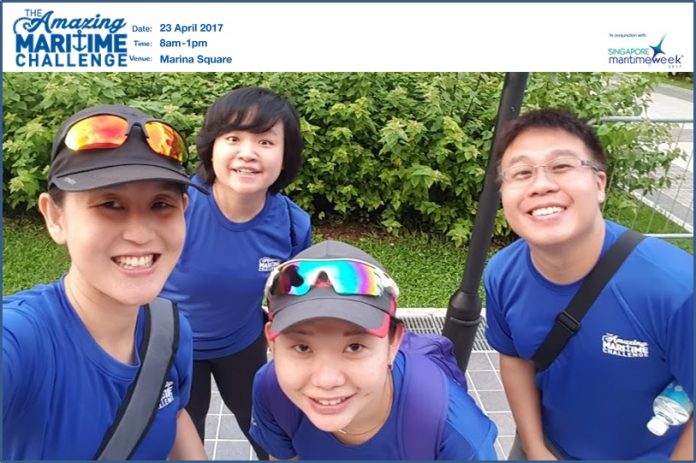 Have you ever googled a longitude and latitude co-ordinate? Or have you flown a UMV/ drone before? Not many would have but that's what I and over 1000 participants from today's (23 April 2017) The Amazing Maritime Challenge (AMC) got to do. The AMC is organised by Maritime and Port Authority of Singapore (MPA Singapore) as part of Singapore Maritime Week. It is the first time that my friend, Cheng Yee and I have taken part in this event. The AMC is not your usual run event; it is race that was designed with exciting challenges which mirror the Singapore maritime industry to create better understanding about the industry among its participants and the general public. Each challenge is designed to test you physically and mentally.
We decided to join this year AMC because:
Rave reviews from cousins – My cousins, Justin and Femy have been loyal participants of this event since it first opened to the public! They said the challenges were always fun and it was a great way to spend the weekend with friends!
Reasonable entry fees – With a registration fee of $10 per team of two, participants were entitled to things such as goodie bags worth $50 and Finisher tees (only available on event day), event tees, race bib and race tote bag.
Different from a normal run event – It is not your typical run event where there is a marked out route. Participants have to plan their route for the different challenges and they can either do it by foot or public transport. The last time that I have participated in a similar event was the Nile Fun Race in 2015 which was held in conjunction with the 8th ASEAN Para Games
RACE ENTRY PACK COLLECTION (REPC)
The REPC took place on the 21 and 22 April 2017 at Marina Square Link Bridge Atrium. The Marina Square Link Bridge Atrium is the open area that has a link bridge that connects Marina Square to Suntec City Convention Centre. This place is not a frequently utilized REPC site and it took me a while to find it.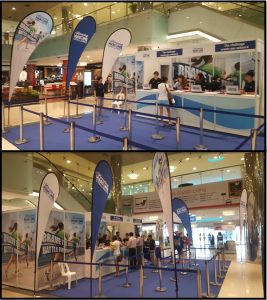 [Photo: REPC Site]
I went during lunch time on the 21 April 2017 and race pack collection was a breeze as there was no one in queue! Unlike a normal race expo, there was also no mini expo. It was just a simple no frills race expo. The no frills concept also applied to the race pack. The event tees were just normal dry tech tees, no vouchers or coupons inside the race pack.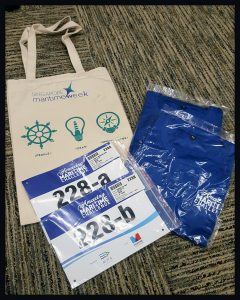 [Photo: No frills Race Pack]
RACE DAY
Cheng Yee and I arrived early at the event site as we didn't want to be held up in long queues and we wanted time to strategize. Race resource pack (goodie bag and game card) collection was at Marina Square Outdoor Plaza between the timings of 06:30hrs to 07:30hrs. Every counter was organised according to bib number and there were no queues. We were disappointed as we could not formulate a plan on which place to go first but because participants had to collect 4 sets of longitude and latitude co-ordinates which were only available after flag-off. We just settled to find a place to read about the 4 game stations and have our breakfast.
My cousins, Justin and Femy were also taking part in this race. It was good to have a team that we could collaborate with because splitting of transport fees would be much cheaper if we travel by taxi! We made our way to find them and took some photos before entering the START pen. Since we were early, we were in the second row very near to the START line. I have never been so close to it before! Simple warm up exercises were conducted before the Flag-off party was invited on stage and participants were promptly flagged off at 8am!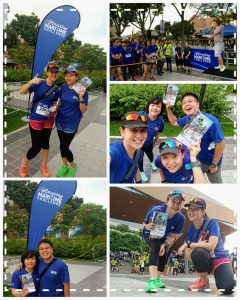 [Photo: Before the START of the race]
GAME/ RACE DYNAMICS
Participants are supposed to complete all challenges at the 4 locations by trying to score as many points in the shortest possible time. Participants are also given 100 Maritime dollars which can be used at the various stations to score more points or get you through the challenge quicker. For every unused Maritime dollars, 20 points will be added to your overall score.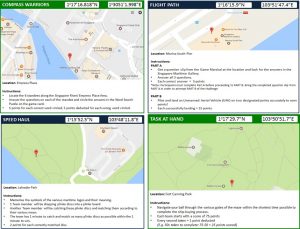 There were also 3 optional BONUS challenges which participants can choose to complete. If completed, the team will secure an additional 60 points to their overall score.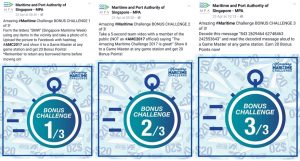 Participants are permitted to travel via any mode of transport. All game stations will close at 12:30 hrs, and the Game Master will close the game station queue at 12:15 hrs. Participants have to submit their game card at Marina Square Outdoor Plaza – Results Station (Start/Finish point) by 13:00 hrs as a team.
RACE START
The first thing that every team had to do was to consolidate 4 sets of longitude and latitude co-ordinates which will tell you the location of your stations. These 4 sets of co-ordinates were scattered around the outdoor open area of Marina Square. Once collected, participants were to figure out where these locations were and make their way there. Entering co-ordinates into Google was definitely not an easy task because of the long string of alpha number characters you have to enter! It was surprising to see that Google actually recognized the string of characters.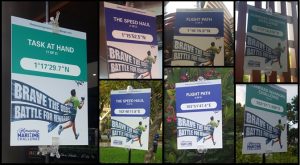 [Photo: Longitude & Latitude co-ordinates were clues to the game station location]
4 GAME STATONS
Once the participants had deciphered the location co-ordinates, we were supposed to head to those locations to complete the challenges. Our team had decided to start with the furthest station which was at Labrador Park and end at Empress Place.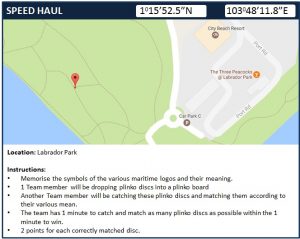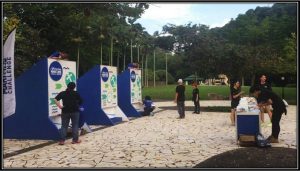 The first station we went to was called Speed Haul and we took a taxi there. Thankfully we opted to take a taxi if not we would be walking a very long distance to the game station. Our teams were one of the earlier ones there and didn't need to queue to attempt the task. As this was our first challenge, we did not do really well as both of us didn't know what we were supposed to do and plus we remembered the logo rather than the definitions.
Our next stop was Marina South Pier which is the Flight Path station. This was one of the more interesting stations! Upon arrival, we were greeted with the scenic views of the Marina South Pier. This just brought back memories of my cruise 2 weeks ago. We quickly got our question sheet and headed for the Singapore Maritime Gallery which we didn't knew existed until now. We were really impressed with the exhibits there but didn't have time to go through everything. I'm definitely planning a trip back there to try out the interactive displays. After completing the questions we did Part B of the challenge. It's a first time for both Cheng Yee and I trying to fly a drone. Somehow when you see people fly drones, they make it look soooo easy but you can imagine the number of times the drone crashed while we piloted it! We 'pitied' the station personnel as he had to run numerous times during those 90 seconds to pick up and reset the drone for us.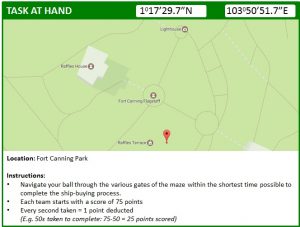 From there we headed to Fort Canning by cab! By the time we reached this station it was roughly around 10:15hrs. The sun was up in full force but we had to scale the hilly slopes of Fort Canning get to the Task at Hand station. This was the only station that we needed to queue before attempting the challenge. I never knew that there was a light house replica at Fort Canning and it had some Singapore Maritime history to it.
Finally our last station! We headed there on foot as it was nearby. The Compass Warriors station was the one that required the most foot work! We were brisk walking in the hot sun to get the clues and solve them. I think this station burned the most calories as it sent us walking up and down the Singapore River area.
From here it was a fun walk back to Marina Square passing some of Singapore's iconic landmarks like the Merlion, Marina Bay Sands, Jubilee Bridge, Esplanade etc. We knew we would not be one of the winners so we just took our time and crossed the FINISH line at around 11:20hrs.  We completed all 4 challenges and all 3 bonus challenges! We were rewarded with our FINISHER tees once handed in our game card to organisers. My team scored a total of 247 points! It is not the highest but we were happy to complete all the challenges!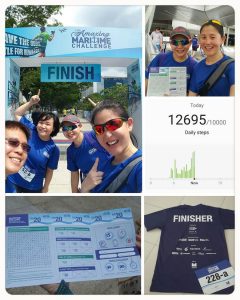 [Photo: Completed the AMC 2017]
SUNDAY WELL-SPENT!
The AMC 2017 was definitely an experience for me and my friends. Definitely a well spent Sunday! It was well organised event that met its aim to promote the Singapore Maritime Industry. We were glad that we got to do, see and learn things that we never would have a chance to do if we did not join this challenge. Kudos to the organisers on a job well done. Thanks to Justin and Femy for recommending this event to us. I would definitely recommend this event to all if you are looking for a fun filled weekend!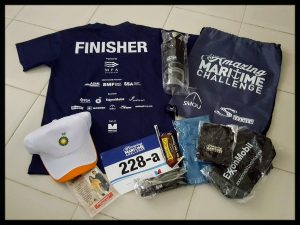 [Photo: Goodies from AMC 2017]
REVIEW OVERVIEW

Registration Fee
Race Entry Pack Site
Race Entry Pack + Resource Pack
Event Organisation

SUMMARY

A fun race for participants of all ages! Great workout and fun! Definitely an event worth joining!