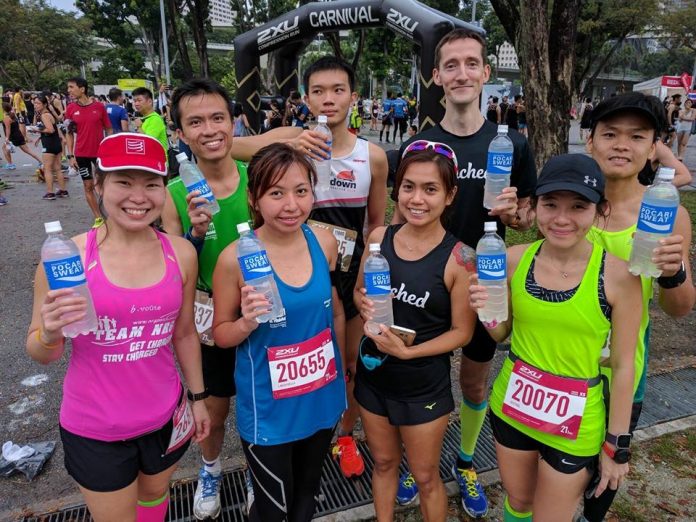 [Race Entry Pack Collection]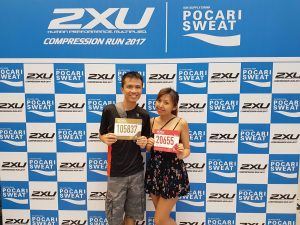 Almost couldn't make it to REPC luckily a friend reminded me at nearly 6pm that REPC is only till 7pm and quickly took a Grab down and reach Marina Square, the REPC venue at 6.30pm. It's the last day of the first REPC and there is no queue at all 😍
Lucky me. Heard from friends that the first few days of collection the queue is crazily long but at least they are not queueing in the rain or queueing under the sun to collect the REPC just like Sundown Most importantly, the queue is moving. What the organisers did good is the REPC is not very last minute, that it is held 1 week in advance before the race and there is also a second REPC a few days before race day 😊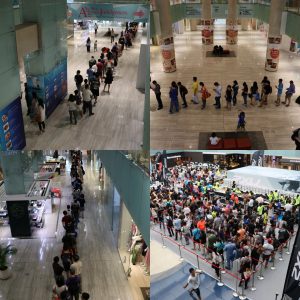 (Photo Credits: Eugene Tan)
Though many runners complained about the size of the race singlet but it was already stated beforehand of the cutting and there's size chart when we do size selection for the singlet. But what's nice is that there is a bulletin board prepared for the participants to leave down their contact details to exchange the singlet of shirt size. I love the singlet though the armpit hole area is quite big, I like the material of the singlet, its soft and light weight. What's more is that I love the rose gold colour! 😍 Great that 2XU manufactures their own race singlets as I had enough of Compressports race tees and singlets, so many of my singlets and finisher tees of many runs is Compressports 😅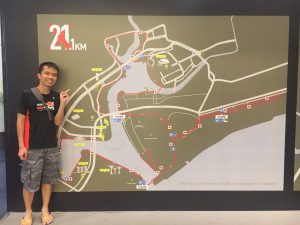 I liked 2XU's compression tights and I will always wear it for my long distance runs. My legs is usually fine after the long distance runs when I'm wearing it. I have only 2 pieces of 2XU compression thights which both I bought during sale at 50% off. Once is during SG50, online sale by Key Power International and another time, when a shop is closing down in Queensway shopping centre I got it for 50% off too. I don't think I will buy unless it's at discount. It's expensive for a pair of tights will be ranged from SGD199 to SGD249 but I think it is really worth this kind of money because it's really good and your legs don't suffer after long distances 😊
Just to add in a little more of Sundown. Really kns, say simi free photos for us, I rarely see any of their Photographers around After one week still tagging photos? See whether got my photo or not. Last year not free photos got many photos but this year many of my friends and I got kosong photo But luckily we got photos from Running Shots and from other professional Photographers such as from WoW2WoW photography and etc at Facebook. Thank you! 😊 Many people ran shorter distance for FM route, think some were misled and no marshals to guide 😑 Wrong timing 😑Some no timing and their results show disqualified 😑 Some people photos not theirs 😑
[Race Day]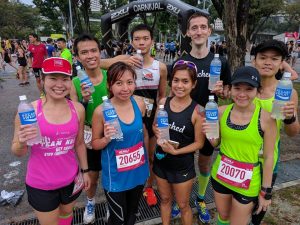 There is the half marathon category, 10km and 5km and I ran the half marathon category. On race day morning, my friends, Willis and I reach the race venue at about 3.45am as we wanted to be in the first wave which is flag off at 4.30am. Start early to end early and chop chop go back rest and avoid the ☀️ I like the way the Organisers stated clearly in their website, flag off is by waves and first come first serve To be exact there were 8 waves and more than 20,000 runners the last wave is flag off at 5.40am. Once we reach the race venue we thought hoseh liao! 😱 So many people, wonder will there be bottlenecks in the run?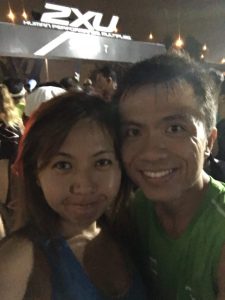 We queued straight away for the start pen as we wanted to be in the first wave as the pacers are only in the first wave. Though I don't like to follow pacers as I always am stress and failed at following them but I started using the pacers as a rough guide to know when I am going to end at the run.
Their social media, Facebook page is very updated and informed us about what happened if there is rain beforehand and it will be cancelled if there is rain. Luckily there isn't any rain and the race are held as per usual and flag us off at 4.30am sharp 😊 We are in the first wave and we are very near to the front of start line and the stage. I like the emcee, he's really funny and I was laughing a lot Really not a lot of emcee is as good as he is! 😆
Willis and I had planned to run together the entire 21km to encourage and support each other. And we did run together the entire distance 😘 Though we didn't talk much during the run as I'm trying to regulate my breathing but it's really the companionship that matters a lot. Thank you Willis I'm really more motivated to run with him beside me and unexpectedly we both got our personal best timing! 😍
There is hydration points at about every 2km along the route and I just took a few glance at the hydration points, some have just cold water and some just Pocari Sweat, some with both and some with bananas. The route is the usual scenic route and what I really appreciate Is that there were big boards to warn us of the steps and slopes ahead and the volunteers is all very nice and doing a good job to tell us to be careful of the steps and run safely 😊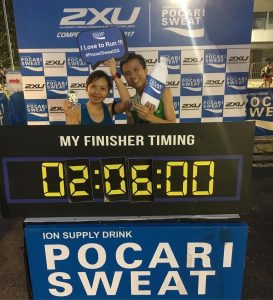 There were quite a few small gentle slopes throughout the entire route and thank you my dear Willis for supporting me to make my running upslopes so much easy by giving me gentle push and at all the slopes and every few while check with me if I'm alright. Our pace is quite constant, we are constantly slowing down but we were running between the 2 hours and the 2hours10minutes pacers and I just keep telling myself try not to let the 2 hours10minutes pacers overtake us and just keep on running. The is no bottleneck for us and its a good run for us.
It's actually the time of the month for me and I really sian 1/2. From aiming to break my personal best timing at last month's Marina Run finishing a half marathon in 2 hours 13 minutes to just aiming to complete because I close two eyes and no need to think I will also know I will definitely have cramps. I pop down 2 ibuprofen(pain killers) pills before the run. This is first time I took pain killers and run (is it considered doping?) Kena the pain at Standard Chartered last year, I really suffered a lot in that run and finished in about 3 hours because I walk a lot and frequent the toilet I'm glad that I don't have any cramps or pain at all throughout this entire run.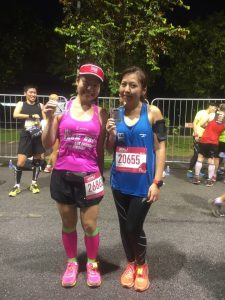 After we end the run, we collected our finisher entitlements, the super chio rose gold finisher tee, bottle of 500ml Pocari Sweat, banana and the cold and wet towel. The towel is definitely the best part after the run as it's really very refreshing after all the sweat to clean up a little.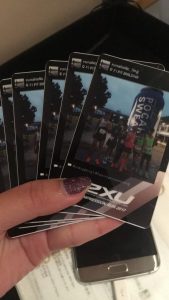 The race carnival site had some food and beverage booths, a massage tent which offers post-race massage for runners but I only visited the hydration point there for more water and the Instagram printing booth which we hashtag #2xucompressionrunsg (which is so long to type) in Instagram we can get our photo printed on a card. The card is so nice! Love it!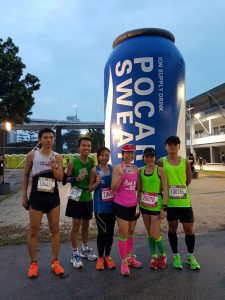 There is a super huge Pocari can which I recognised from the Pocari run last year, everywhere in the race carnival is like a photo spot to take pictures to keep as memories. Runners are also graciously queuing up patiently and orderly to take pictures and there is also a yoga/workout conducted.
Overall, 2XU Compression Run is a great organized run which I also ran last year and I can say that I will definitely participate in this run again