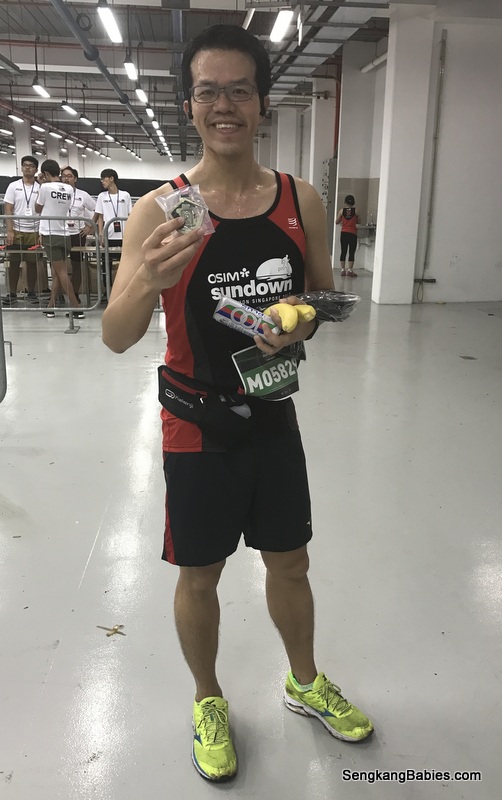 YES, I am now a Marathon Finisher, but I will not be showing off my Finisher T-Shirt everywhere haha. After Sundown Marathon, I am now confident to embark on more running journey.
Start of a new chapter in my running journal.
(You may read about my DIY newbie training tips here)
A few hiccups happen before and after Sundown Marathon, a pity that Sundown Marathon's 10th anniversary might be remembered for the wrong things:
– poor Race pack collection experience
– or race village muddy or chaotic entry into start pens
– no photographers at end-point
– wrong Race results for some at the end 🙁
– or using mineral water to shower at the Grohe cubicles
Runners "online" were harsh and impatient for solutions. The plus point for me were the volunteers, well stock hydration points and generally well-organised route.
Nevermind all the inconveniences, they pale in comparison to the HIGH I got from my Marathon completion 🙂
Timeline activities for my First Marathon jolted down, a memory which I will cherished for a long time.
=== Race Village ===
2130 – Took the train down to race village, you can feel the anticipation when you see fellow runners making their way to Promenade MRT. The 5km runners are already on their way back, all smiling and happy, I was just like them in previous editions of Sundown Marathon (5 and 10km categories).
I had arrived early to support fellow ambassador Nick. Happy that he achieved his Personal Best (PB) by going under 50 minutes for 10km 🙂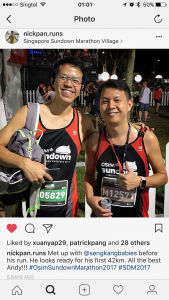 Race village was cramp and the barricades make it hard for runners to manoeuvre around.
My toilet trip delayed my entry into the pen, and I ended starting the race at 0028. This was two waves behind my (target) 5.30HR pacers.
=== Flag off, too fast too furious===
Started out too fast, I was influenced by fellow runners' adrenaline.
Due to inexperience, I broke the first rule, which is to run at my OWN PACE.
Managed to caught up with 6.00HR pacers at 8km mark but my pace was already inconsistent by then. Followed them and tried to regulate my breathing and pace.
The paths from 7km onwards (exit from Nicoll Highway) all the way back to Singapore Flyer was congested and dark. Felt sorry for the 21km runners who were dashing to break their PB. So many slower runners did not keep left and there was a risk of collision.
In fact, some folks were already walking casually from 2km onward, chit chatting with friends. If they are not in a hurry, they should join the last start-pens and not block other runners.
=== 10km, 20km Go Easy ===
My plan (newbies always have too many plans) was to treat first 10km as a warmup. The path between 10 to 20km was spacious and scenic, with views (and reflections) of Gardens by The Bay, Marina Barrage and CBD skyline.
East Coast Park (ECP) will have the 20km and 30km markers, and I will always remember the long never-ending pavements.
Two weeks earlier, I had a chance to participate in the lead-up runs by Team Fatbirds.
This lead-up run was crucial for me to have a feel and expectation of long distance running (25km) with the pacers.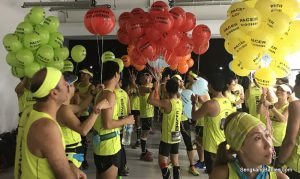 On Sundown Marathon race day itself, there was no sea breeze and only humid weather to drench the runners.
More runners were getting cramps and stretching by the side, our bodies struggled to get use to wee hours running.
My pace was actually a slow 7.30 to 8.00 Mins/km around ECP, and I thought I should be able to go faster.
In reality, my legs were getting heavier and I had to force myself to brisk walk more often to maintain the momentum.
Perhaps I was too conservative and worried that I might over-stretched and get cramps?
I had a few running strategies.
1) – First 10km go slow, even when you can go fast. ( On actual day, it is hard to go slow, when others around you are so fast)
2) – Consume energy gel or bar before we are hungry or tired, so muscles can help breakdown the gel into energy easier.
3) – Check your heartbeat. You could feel tired, but if your heart rate is relax, then we are good.
How would a newbie remember all these strategies during a run? Once I got tired, all rules were thrown out :p
I only had one mission and that was to keep running as long as possible, kilometre by kilometre.
=== 30km, Walking Dead ===
Walking Dead in East Coast Park! Grimacing and tired runners, a lot of us were struggling to keep moving.
If I had started walking with them, I really doubt whether I would want to run again.
I only turn on my music at 20km onwards to try and tune off negative thoughts.
My colleague lamented that my love ballads playlist would bored him to death and kill his pace, but I was just happy to listen to my favourite music 🙂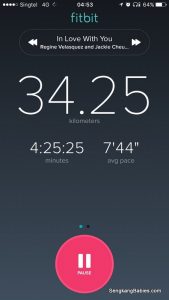 34km – At 0452, I missed the cut-off timing for Benjamin Sheares bridge. Not sure whether it is a blessing? Well, I need not climb the slopes of Sheares bridge or go down Rochor and bypass Flyer (so near to end point) only to circle another 5Km.
I did not care too much as I was just happy to reach 34km and was still able to run.
Nothing else matters, I cannot give up now.
Before Sundown Marathon, my furthest distance was 25km. Every kilometre after 25 was a new milestone, and I was still enjoying my run. That must be a good sign.
The detour from 34km onwards had no kilometre markers, why!
I did not know how fast to run or how much more longer to end point?
Looking across Marina Bay, Singapore Flyer always looked so near yet so far.
=== End point, Exhausted Elated ===
I heard a volunteer shouting "ONE More kilometre!" near to Gardens by the Bay.
500m more, but more most of us had no more reserves, I quicken my pace and cross the finishing line.
Turn around and the clock 6Hr 13Mins Gun time, and my Fitbit indicated 5Hr 58Mins, HOORAY under 6 hours 🙂
The ending was a little bit less dramatic and no fanfare.
In case you are expecting volunteers to cheer for you, there was none and whole area was a bit dark. My kids prefer to sleep rather than cheer their Dad :p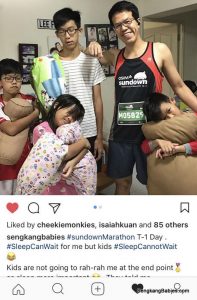 Security quickly usher us to move on, collect our banana and 100 Plus.
As I sit on the F1 Pit tarmac and try to recollect the "anguish and joy" over the past 6 hours, I felt good and proud of myself 🙂
My own running project #Training42Sundown2017 completed and bucket-list un-ticked.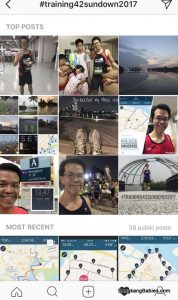 ps.. In case you are interested, this is my amateur training log, it helps me to track how much, how long I was running week by week. By running longer, I was actually improving my stamina subconsciously. We will need to clock minimum 40 to 50km per week to prepare for a Marathon.
It took me 3 to 4 months to train myself, the hardest part is finding the time to train. If I can complete a Marathon, you can try too 🙂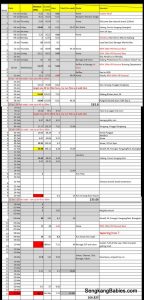 You may read more preparation tips here, or pop by another review on my blog.
No more Marathons for 2017, but I intend to join one more in 2018 🙂