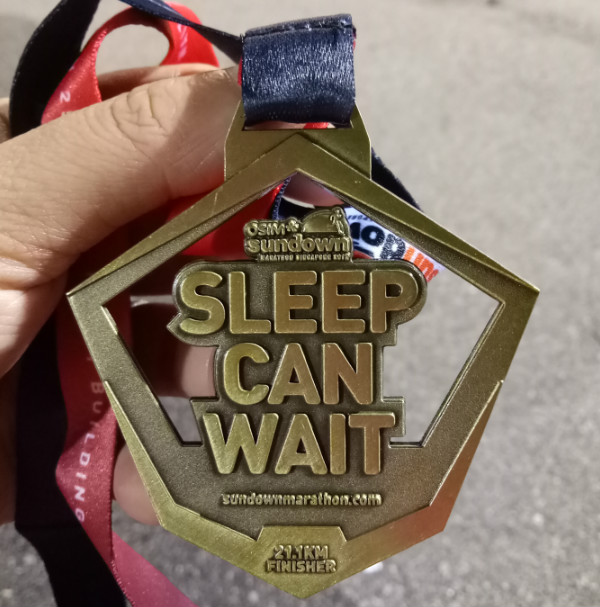 Thank you Evan Chee for the race slot! I am very happy to have won this race slot. I have never run at night before. But since I won it, I don't mind trying to run at night and see how it goes, little did I expect that the flag off time was 1AM! I was expecting it to start around 11PM or something. I am not a night owl, I need my sleep.
Evan Chee is an elite runner and one of this year's Sundown with Love ambassadors. He ran his Personal Best (PB) at Tokyo Marathon 2017 earlier in February at 2 Hour 45 Minutes! Amazing. Congratulations again!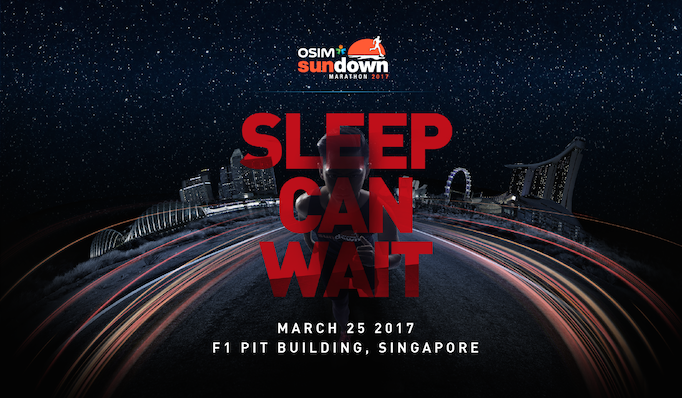 REPC
It's my first time taking part in Sundown Marathon and it's their 10th Year Anniversary. However, their Race Entry Pack Collection (REPC) was a disaster for the first 2 days. It was because the organiser wanted to try a new concept – Sundown Night Festival. So race pack collection hour started late afternoon at 4.30PM and ended at 10.30PM. They hoped people could enjoy their race pack collection experience and soak in the atmosphere of the night festival at the same time, but sadly it did not happen. Runners had to queue for long hours (2 – 3 hours) under the hot sun and race bibs were not printed beforehand because they wanted to minimise wastage.  Weather has been extremely hot and humid this month with rain shower in the late afternoon. Race bib was printed on demand, collection venue was outdoor without shelter. This was something foolish in my opinion because how could an outdoor event like this be without temporary canopy to prepare for rain and hot sun? Given Singapore's extreme weather condition. I saw tons of complaints and negative comments on their FB page but situation improved on 3rd day of collection because counters increased from 10 to 28 eventually and sorted according to race categories and race bibs were printed in advance. I heard umbrellas were given out too.
I was lucky to be able to collect from the vending machine on Thursday at Novena Square. That was one day before they decided to shut down all machines due to overwhelming demand and machines were unable to cope. There were 2 people in front of me collecting theirs and they also showed me how to use the machine so I was able to get my singlet and bib in less than 5 minutes. Thank you so much!
I didn't go to collect my goodie bag on race day because I heard that there were no goodies inside the big bag. Only Salonpas and Osim voucher? So forget about the goodie bag with no goodies. 
I read about the plantable medal. The medal can be planted in soil and it can grow into basil plant. Wow very interesting but will it biodegrade very fast?
Race Day
I reached the race village at around 11:30PM and waited for my brother. The place was really crowded with people who completed their 10K still hanging around and people who just arrived for their half marathons and full marathons.
I watched a little of the movie screening on the large screen. Personally I feel the movie screening idea was good. People could just relax there watching some movies and chatting with friends.
I have been carbo loading a lot for the past 3 days before race day. Ate quite big portion of rice and stuff. I think it was too much. My tummy felt a bit bloated and I regretted eating too much. I told myself I must run harder to burn off those calories. >_<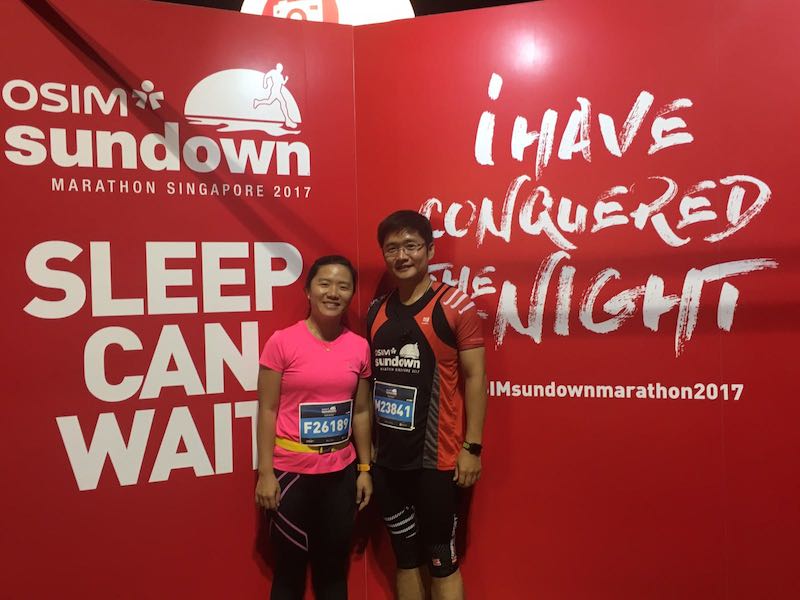 The race flagged off at 1.00AM sharp for Pen 1. I was in Pen 3 and it was flagged off around 1.14AM. Quite fast as I was expecting Pen 3 to flag off later than that considering the large number of participants.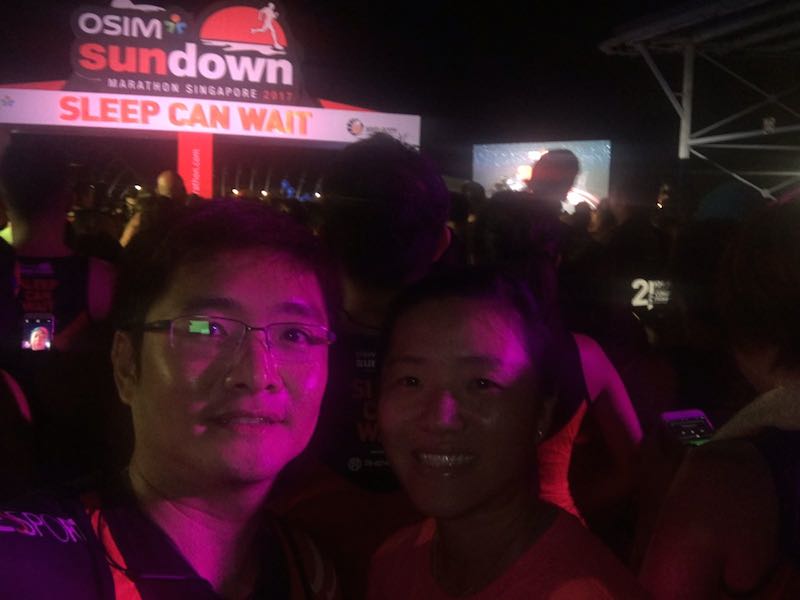 The road was quite narrow in the beginning and it was hard to run without bumping into each other. It got better after a while and the running was quite smooth for me afterwards with no bottleneck. I was quite happy with sufficient hydration provided (100 Plus and Ice Mountain water) though I skipped some stations because I was feeling great. Thankful to the volunteers who helped out and passed the cups to us in an efficient manner.
I finally decided to take my energy gel at 17 KM because I had a feeling my energy was draining… I drank some water at the hydration point soon after and also poured some on my face to cool down because the weather was extremely hot and humid! Hot and humid in the middle of the night with not much wind.
Some complaint about merging with the full marathon runners at some points along the way and at 19 KM mark along Sheares Bridge but I didn't have any problems with that. I love the Sheares Bridge experience especially the down slopes lol. I walked up the slope instead of running because the upslope was quite challenging at 19 KM with depleting energy… But when I reached the top and realised it was down slope now, I literally just let gravity pull me downwards and ran down the slope like flying… Love it!
When the finishing line was in sight, I was so thrilled! Some shouted really loud to express their excitement in reaching the finishing line. A bit exaggerating :P. When I crossed the line, I felt accomplished and overjoyed. Finally I have conquered the night! My maiden night race. 🙂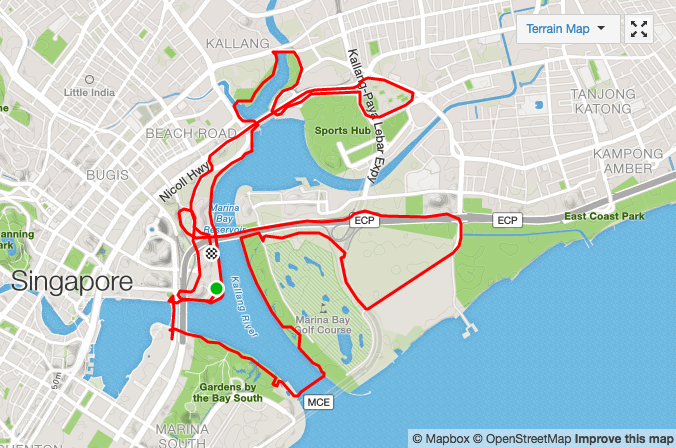 Collected my medal and a can of 100 Plus and went to look for my brother who had completed 10 minutes ahead of me. Heard some love proposals happening on stage too… interesting. We rested for a good 45 minutes before heading to look for my shuttle bus to go home. 
The shuttle bus was quite efficient. Many were already waiting in line. I looked for my bus route 5 and went to queue, the queue was short. The bus ride home was comfortable  and pleasant because it was so spacious with so little people on board the 3-seater by 2-seater coach. I was sitting at the 3-seater seat all by myself.
Well done everyone on completing your night race and rest well for 2XU next week! Another half marathon for me. 🙂