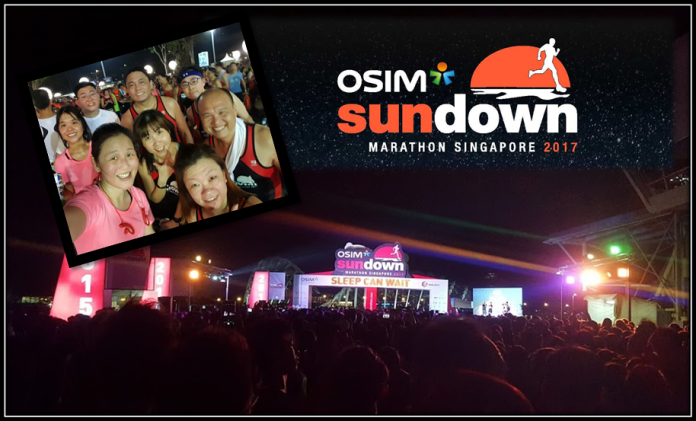 "Unforgettable…. That's what you are…" Sounds familiar? Those are the lyrics from Nat King Cole's Unforgettable. Being unforgettable can be both good and bad, and for this year's Sundown Marathon, it's exactly that but I'm leaning more towards the bad because of my torturous 2.5 hours wait during the Race Entry Pack Collection (REPC) which I would touch on in a bit.
"Sleep Can Wait" is this year's OSIM Sundown Marathon tagline! Back for its 10th edition, this run event challenges it's participants to sacrifice sleep and run through the night and beat the sunrise. Well, perhaps that is true for the longer distances like 21 KM and 42 KM categories but for me I'm participating in the 10 KM category and this was going to be one of the build-up runs to my 21 KM at the end of April! There is also a 5 KM category for this year too!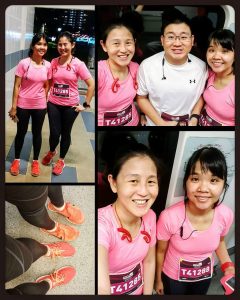 Milestone Anniversary…
Like most run events, the 10th edition is a milestone and the organisers have introduced some new elements and features to differentiate it from the rest of the previous years.   Here are just a few new initiatives by the Sundown Marathon organisers, HiVelocity: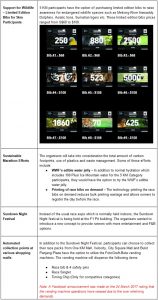 Disappointing Sundown Night Festival…
Whilst these changes look impressive and promising, the execution and planning did not go according to planned. This was largely seen through Facebook posts by frustrated participants who were collected their race packs on the first and second day at the REPC.
Wait time in queues were as long as 2 hours or longer. To make things worse, it rained on both the first and second day of the REPC and the organisers did not have wet weather plans till the second day. In response to the long wait times, HiVelocity Managing Director did post an announcement via the Official Sundown Marathon Singapore Page apologizing and explaining why there were long waiting times and why these changes were introduced.
I got to experience the horrendous queue first hand when I collected my race pack with my colleague, Ian on Thursday evening which was the third day of race pack collections. We headed straight to the REPC site after our Thursday workout without dinner and arrived around 20:00 hrs. It's here that the waiting game begins!
Endless Queues…
We thought the situation would be better after the first 2 days of fiery comments via Facebook to the organisers but there was no improvement despite the an announcement stating the changes they implemented. Waiting time is as follows at the various sections:
1st holding area (F1 Pit Building Garage) –> 1 hr 30 mins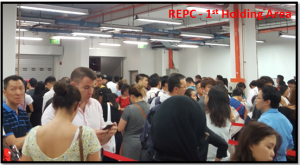 All participants were to join the main queue but at least the place was well ventilated. Crew at REPC were making announcements over loudspeakers to call out for 21 KM and 42 KM participants to a separate queue after they joined the main queue. It was really noisy because there were on-going performance at the main stage and hearing those announcements can be a challenge.
An improvement area would be to filter the participants into the respective race categories instead of them joining the main queue; this would be more organised and not so chaotic. If the wait is going to be longer than half an hour, hydration should be provided. I had to buy a can of 100plus because I was sooo thirsty and there wasn't any water fountain around.
2nd holding area (After Garage, streaming to the different categories queue) –> 30 mins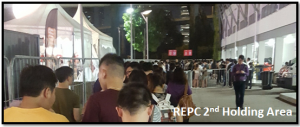 Shorter queue that separated the participants into the various race categories. By this time I was already starving, luckily the good people from AMGD (ahhmahgawd!) had some free sandwiches for the participants there.
 3rd hold area (Right in front of the collection tent) –> 30 mins

Final section where you can see the collection counters. By this time, I was soo wishing there was a chair because my legs were aching from standing and my workout! The only silver lining was that there were some volunteers from World Wildlife Foundation (WWF) walking around offering gummies to the participants in queue.
When it finally came for our turn to collect we thought everything should be smooth sailing but we realised that the crew who were also exhausted, were making mistakes in handing out the race bibs and event tees. Though the race bibs have been pre-printed but it was chaotic as the volunteers struggled to find our tags. We spent a few minutes at the counter making sure that we had the necessary things required before we left. We both were hungry and exhausted and just want to get home to rest. We walked past the deserted Night Festival and it was now pretty much like a ghost town. I would have loved to check out the festivities and offers but that was not an option.
The contents of the race pack were pretty much barren except for the event tee, race tag and a copy of RUN magazine. Some participants noted there was an OSIM voucher and a Salonpas Rub in the pack but I guess the volunteers did not pass it to us. Super disappointing…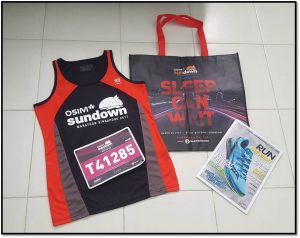 Though the organisers managed to cut down the queue time for the fourth and fifth day of the REPC, I felt it was a tad too little too late but I have to applaud them for their efforts in wanting to cut down their carbon footprint in their part to save the earth. They will just have to think very carefully before they introduce any new initiative for a big run event like Sundown Marathon in the future.
Race Day and it's queuing AGAIN….
Event day was no different from the REPC. Flag-off for the 10 KM category was scheduled for 21:35 hrs and holding pen opened at 21:00hrs. I reached the race site at around 21:10 hrs and had problems entering. There was only a small entry point that said START Pen and participants were entering through that small opening.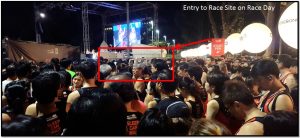 [Entering to the race site]
My friends and I was super frustrated when I had to squeeze our way through. It was so chaotic! Crowd control was so bad. This did not happen at all last year. We finally managed to get into the Start pen and met up with some friends. Comparing last year flag-off to this year, 2017 pales in comparison to last years where there was a light show on the F1 Pit Building wall before flag-off and there was none this year. We started off in the 2nd wave.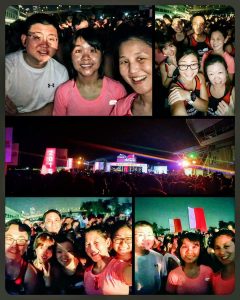 Race Route…
The 10 KM route was a challenging one but very scenic at the same time! Running past our Singapore skyline just makes your workout not boring, plus the weather was great that evening because of the rain earlier. The challenging part of the route were:
Slopes Galore – Slopes were encountered in your 1st and 3rd km via the bridge near the Marina Bay Sands. The much dreaded underground tunnel near Crawford Street at the 8km.
 Narrow paths – Bottlenecks only cleared halfway through the 3km mark which is after the U-turn Point at Gardens by the Bay.
What I thought the organisers did well along the route were placing light reflectors and blinking lights along the paths which were darker. This really helped as they alerted participants to stay within the marked route. They also converted the places which had stairs into slopes so that participants won't lose their momentum when running. Hydration points were well spaced out, placed at strategic positions and well stocked.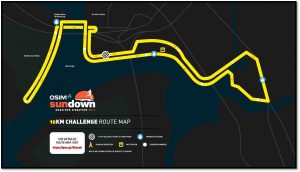 [10 KM Route from the Sundown Marathon website]
Post race…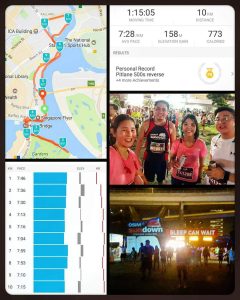 I completed the race in 1 hr 15 mins (unofficial timing according to my Garmin). I collect my Finisher entitlement and goodies which comprised of a my medal, banana, a can of 100 Plus.  Collection was a breeze.
Met up with my friends to take some quick photos of our happy but tired and sweaty faces! We had to rush off in order not to miss the last train. Exiting the race site was definitely a challenge too. We were directed to exit by that small exit that we entered from and it was terrible! The same situation like when we entered the race site. It was super congested but eventually we managed to exit. I would somewhat consider the exit area to be a safety hazard  as participants had to avoid a power generator on the way out.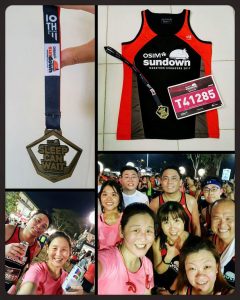 Overall, the race experience was a disappointing one. It didn't lift up to its hype like previous years or it's marketing posts promoting it's event on Facebook. The long tortuous wait at the REPC, the chaoticness on race day when entering and exiting the race site just spoiled the entire experience for me. If it wasn't for the company that I had on race day, this event would not even be palatable! I don't know about you all but I will think twice before signing up for another Sundown Marathon. Till my next write-up, have a great week everyone!