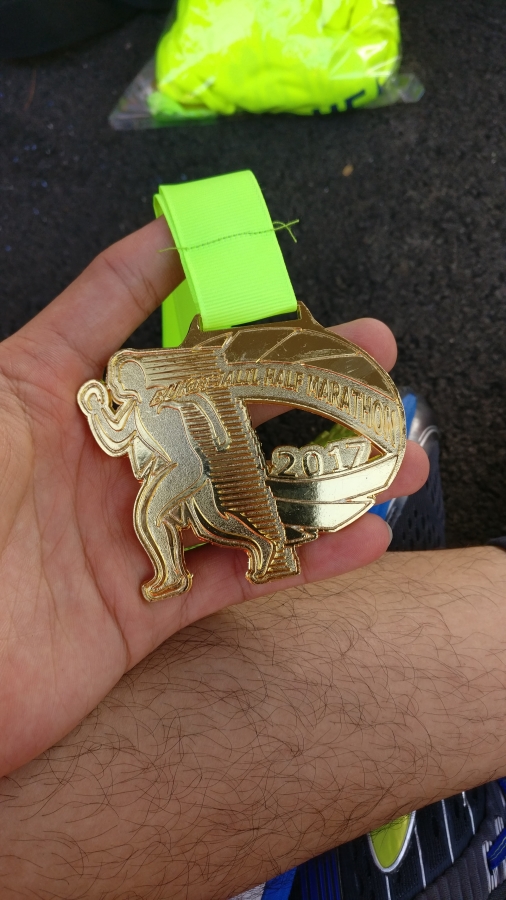 One year ago, I took part in this half marathon together with my good running buddy, Jo-Lyn. I remember finishing it under 3 hours, was struggling at 17-18km because I remembered that the route had many hills and I had very bad cramps. Was almost limping/walking/running/crawling towards the finish line and this dude came up to me to console me, saying I did my best, keep up the good work, you can do it etc… I thought:" Damn, I must look like I'm in such a bad shape now that people had to pity me…".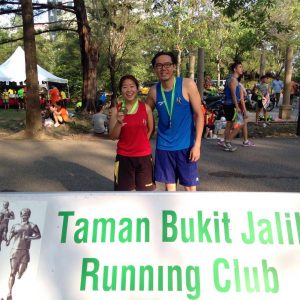 This year, the organisers changed the route. We flagged off at Bukit Jalil Stadium instead of Bukit Jalil park like last year.
Woke up around 3.30am to have breakfast and hopefully use the toilet before heading to the race venue. Had some bread, coffee and banana for breakfast. Unfortunately, stomach was relatively calm, didn't feel like releasing any "big" one.
My friend Han Qi picked me and Jo up and off we went to Bukit Jalil Stadium. We reached around 5am and was surprised to see so many people already at the venue. We just relaxed ourselves and joined the warm up session by Salonpas. They had some Japanese song playing in the background while Salonpas representatives did some warm-up dancing routine.
By 5:30, we got ourselves ready and lined up at the back of the starting line. Weather was really nice as it rained the night before. I double checked my GPS watch to make sure GPS and Heartrate Monitor is on; I switched on spotify on my phone and put on my earphones, I chose to play Shooting Stars by Bag Raiders after hearing it on facebook with all those silly meme videos.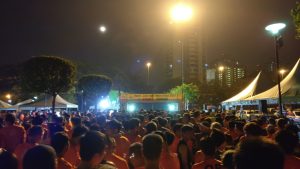 We flagged off at 5:45am. I started the run with a 6:30km/h pace; controlled my breathing and decided to do a negative split race. I've read about it in articles but I have never really tried it. I ran slow and easy, stopped at every water station to take a sip.
Some part of the route was not brightly lit, had to watch my steps in the dark. At times, we were accompanied by the moonlight and stars, I felt really at peace. Also, as I mentioned earlier, I accidentally put "Shooting Stars" on replay, so the first 10KM it was on repeat. But, it really suited the moment because I really felt like I was in space during the run, it was calm and easy, I felt like I was floating.
At approximately 7km (can't remember precisely when…), as I was crossing a T-junction, I saw this Rela actually attending to a snake that was stucked in a drain cover. He was supposed to be looking after us runners but I think he has a bigger matter in hand. It was a huge and long snake and I had to look twice just to confirm it was a snake.
After the 10KM mark, I started to pick up my pace. Since I wanted to try a negative split, I tried to increase my pace up to 5:50km/h. I felt confident and strong and managed to maintain that pace throughout the second half. I also had an energy gel with me. Since I have never consumed energy gel in my runs before, I decided to give it a try in this HM because I plan to consume them for my upcoming Full Marathon in May (SCKLM 2017). I took it around 12KM mark, slowly swallowing the thick and sweet gel before flushing it down with some water at the water station. The gel was of banana and coffee flavour, two of my favourite flavours/food.
The skies were slowly turning bright as I slowly make my way towards the finishing line. As usual, I sprint all the way for the last KM, while trying to put a smile on my face for the cameras.
I crossed the finish line.
I stopped my GPS watch without bothering to look at it.
I grabbed my medal.
Then headed to the tent where they were giving out our finisher Ts and goodies.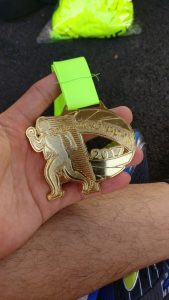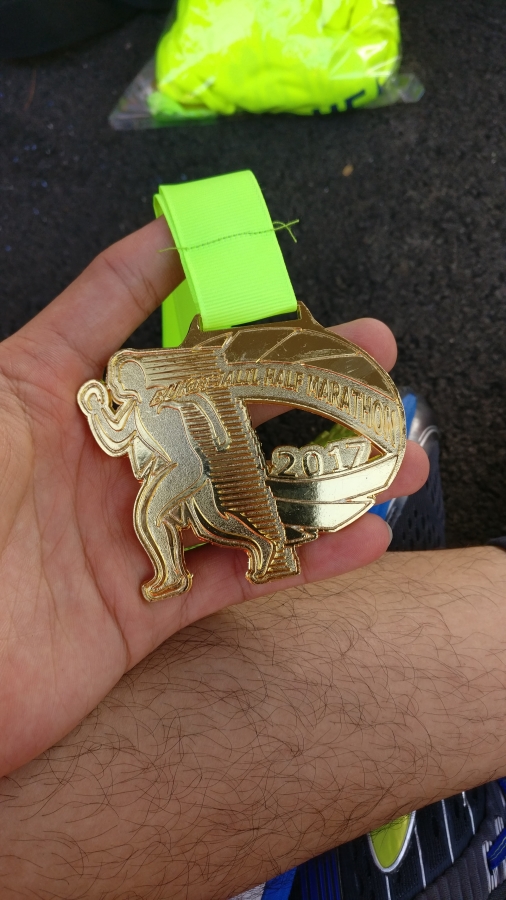 As I caught my breath, I looked at my watch, proudly expecting it to beep a congratulatory tone, signaling I got myself a new Personal Best. Unfortunately NOT. It registered 20.84KM! I was like:"ahhh dang, no wonder it didn't beep." My previous PB was 2:10:10 for half marathon. Since this wasn't a 21km, it didn't register it as a new PB…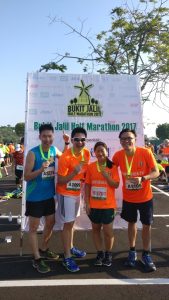 I was so mad BUT happy at the same time because I knew I did better this time. Afterall, it was a new PB and I initially didn't think of beating it in this HM because I thought the route will be as hilly as the last one. I was wrong, I ran hard all the way, I did my very best and I did well. At least now I have learnt one very important lesson: to double check my watch after crossing the finishing line.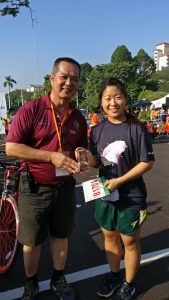 On the side, I would like to congratulate my running buddy Jo as she managed to snatch 7th place in the run! Funny thing was, we were in the car ready to go for breakfast when another friend who was still at the venue called us to tell us that she had won! He said he heard her name being called! So we quickly got out of the car and ran one last time to the stage to receive her prize. Well done, Jo! To more runs!