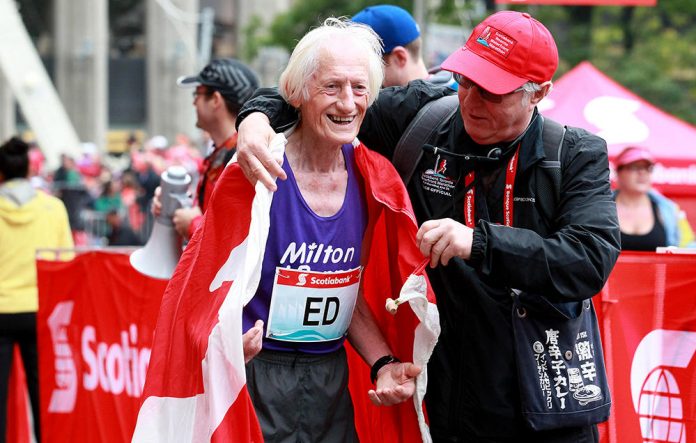 Ed Whitlock is a true marathon legend. The running world has suffered a great loss with Ed Whitlock's death (just a week after his 86th birthday), but his wisdom, guidance and strength of character will live on.
YOU ARE NEVER TOO OLD TO CHASE YOUR DREAMS
His story is inspiring. He is the epitome of you are never too old. If you haven't heard, while many of us- young and dangerous, are struggling to hit that sub3 marathon mark, Ed casually ran a 2h 59 minutes 10 seconds marathon at the age of 72. Told you he is legend-wait for it-ary. A year later, he improved that record with a time of 2:54:49. If age-graded, this would be equivalent to a 20 year old running a 2:03:57 which would also be the fastest marathon time posted for the year 2010. Talk about impressive! He recently posted a sub4 timing, setting another world record for the 85 – 89 age group for the marathon.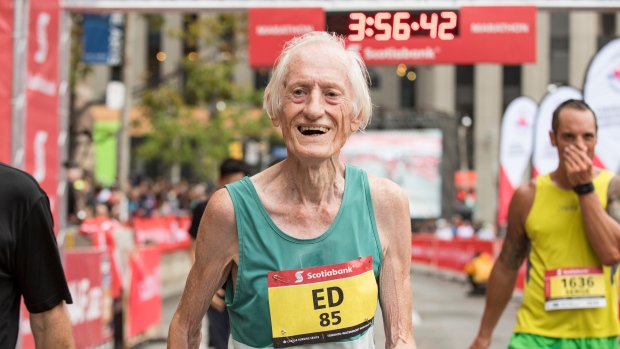 Photo Credits: CBC
Ed holds 36 records in the Masters Athletics. Able to run a 1:22:23 half marathon in his seventies – how many of us can do that in our twenties? Not many of us can relate to running a sub2 marathon, but many of us can relate to running a sub3 marathon, but at his age – it's just world class! Ed is truly an inspiration to thousands and millions of regular runners.
Considered a true inspiration by many, Ed sees himself as just a guy who loves to run. His recent death is certainly an enormous loss, but his legacy will live on.
If you need motivation, think Ed Whitlock!