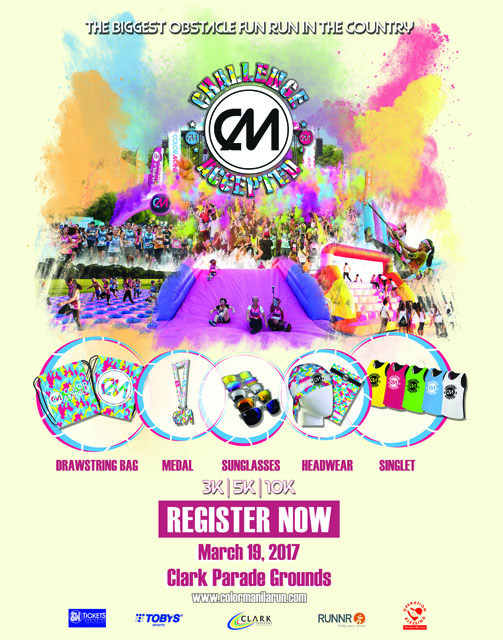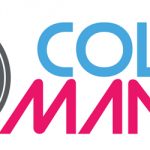 AFTER SUCCESSFULLY conducting the fifth edition of its flagship event to an overflow attendance last January, Color Manila Run braces for a fitting follow up with the holding of the Color Manila Challenge Run on March 19 at the Clark Special Economic Zone Parade Grounds in Pampanga. This time, participants will have to negotiate a series of obstacles while being dusted with powders of various colors.
Distance categories are at 10, five and three kilometers.  There will only be one registration fee of PHP 650.00 for all distances but runners may opt to upgrade their Deluxe Kit to the Trooper Kit for only PHP 1,050.00.
The Deluxe Kit consists of a race singlet and bib, sunglasses and a packet of colored powder while the Trooper Kit contains everything in the Deluxe Kit plus a bandana and drawstring bag.  All finishers will be rewarded with a medal upon crossing the finish line.
Online registration is now ongoing at www.colormanilarun.com.  Those without credit cards may purchase prepaid cards at selected branches of Runnr, Toby's Sports and at all branches of SM Tickets nationwide.
"We had over 6,000 runners compete in our Color Manila Night Run last December at Clark with runners coming not only Pampanga but also from Metro Manila and other distant provinces plus a good number of foreign tourists," said Color Manila Vice President Justine Cordero. "We hope to use this event to do our share in helping promote tourism in the area."
If one survived the Fifth Color Manila Run, it's time to take the game to the next level and take up the Color Manila Challenge. There are no obstacles that are too tough to overcome so sign up now!