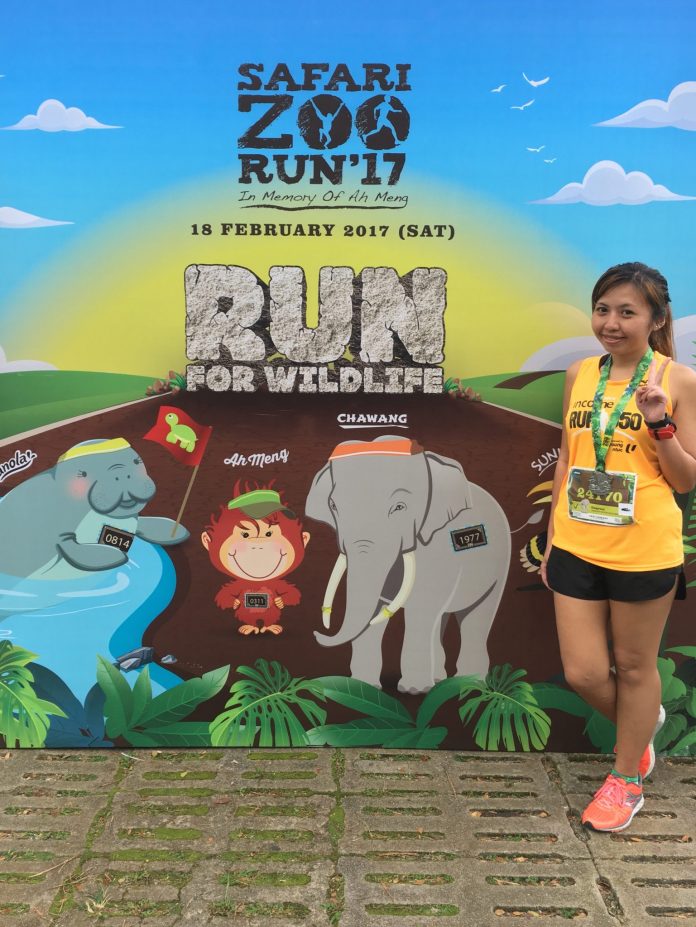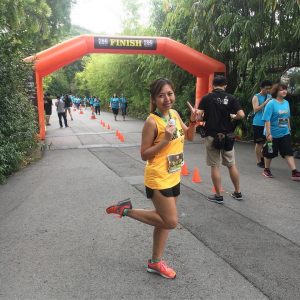 It is my first time participating in Safari Zoo Run. The Safari Zoo Run is organised to raise awareness for wildlife conservation and to encourage family bonding. Thank you JustRunLah! for the slots! Runners participating in the run gets complimentary entry to the Zoo and River Safari after the run! Of course I will make use of the opportunity to explore the Zoo 😍 But after Zoo I have to go back rest already as I have Run for Hope the next day 😆
Have to grant the runners complimentary entry what, the race slot is very expensive compared to other runs! A 10km competitive slot is $80 😱 A family of 4 person can easily cost over $200! 🙈 But considering that these are tourist attractions, just buying tickets for its entry is already around that price so consider it paying to visit the beautiful creatures! 😊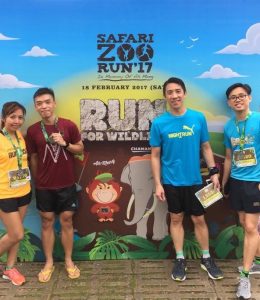 Thank you Rey for helping me collect the race entry pack as I was away in Hong Kong for Standard Chartered Marathon 😊 Since I'm back from Hong Kong I'm a little sick, I kena flu virus and I can predict that next few days I will get cough as it always comes as a package 😂 Speaking of which, I'm really grateful that my legs is very fine the very next day after the marathon. Last year after my Sundown marathon, I couldn't even walk properly after a week 😭
Flag off for the 10km competitive run is at 7am so I took a taxi there at around 6am wanting to reach there earlier in case there is jam. Though it's about 8km from home, I'm not so hardcore to run there and it's troublesome to take bus and do all the transfers there and I will not make it on time. Baggage deposit and collection is efficient with no queues at all as I think most people drive there and does not require baggage deposits. What I like is that there is actually shower facilities prepared for the runners of both gender!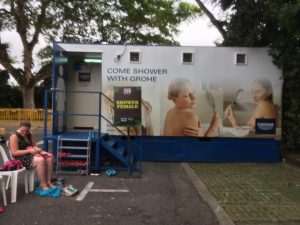 There's not much of a queue and even seats and slippers are prepared for those who wants to take a shower 😍
There's a slight delay of 10 minutes in the flag off time but it's no big deal. The emcee is trying his best to come up with a short unplanned warm up to keep us entertained during the delay. The 10km route is quite sloppy and theres 4 water point one loop, for the 10km route we are running 2 loops around zoo and night safari with the second loop a smaller loop so we are passing by many water points and no need to worry of not enough hydration. The weather is cooling these few days and luckily it is cooling this morning too and the Sun is not out 😊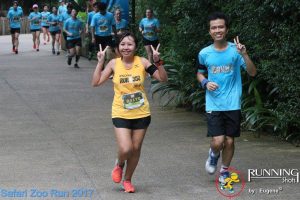 (Photo Credits: Running Shots – Eugene Tan) I feel that my flu getting worse after 2km so I have to go slow. This 10km took up even more effort than the 42.195km I did the last weekend. I thought I will just walk the rest of the distance, the cut off time is a generous 3.5hours 😆 That's when a runner from 42race saw me and ran with me. That's what I like about running and participating in running events, we get to meet people, exchange conversations and share experiences. Thank you Willis for running with me, really appreciate it, if not seriously I would have walk all the way after 2km. I'm just glad that I managed to complete the run and the medal is so nice! 😊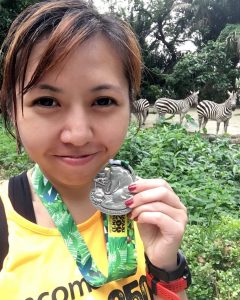 After the run went to explore the zoo with Kelvin and Rey. The family run/dash is still going on, there is so many adorable kids running. Just so cute! 😍
I really like going to the Zoo, Bird Park and River Safari and also places like the Underwater World and Sea Aquarium though it's really troublesome to go to these places. These are happy place to go to 😊 And for your information, it is free entry to the Zoo, River Safari, Night Safari and Bird Park within 7 days from your birthday with a paying person! 😍 I like some animals they are really beautiful, gentle and cute creatures with interesting facts about them such as the male penguin will picked a pebble which he thinks is beautiful and gives it the a female penguin he likes and the otters will hand hands while they sleep! So lovely right? Makes me feel that life is so magical and amazing!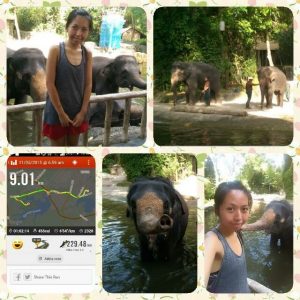 In 2015, I even signed up for a yearly membership for Zoo and River Safari. And for quite a while, I visited the Zoo and River Safari quite frequently. And the privilege for their members in the past is that you can enter the zoo as early as 7am to encourage people to run when it's only opened to public at 8.30am, but I don't know what is there for their members now. What I like best going there super early is that it's quiet, no human beings except nature, those beautiful creatures and you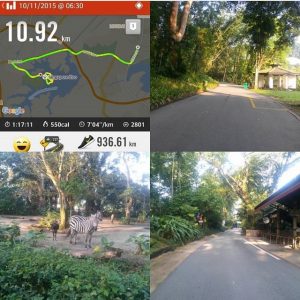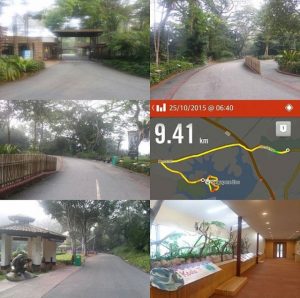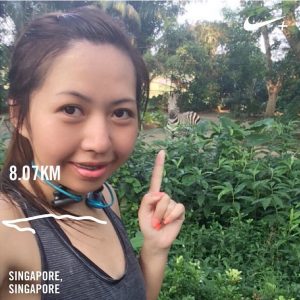 (Even the Zebras were stunned to see a human being there so early in the morning 😂)
Then, the zoo is like my "gym" and the path is my "thread mill". During the weekends I would run there from home and spent quite a lot of time there, mostly hanging out with the Ring Tailed Lemur and the Giraffes or can just be sitting there looking at the Orang Utans. Let's not debate whether a zoo is a "prison" for these captured creatures but can see that they are well taken care of, it's a safe environment with food and shelter and with vets and zoo keepers who are trained to look after them 😊