My Race Journey. Safari Zoo Run 2017 (10KM and 2.5KM Kids Dash) 
How are you racing? I have been so behind the race scene this year. In fact, if not for the complimentary race slot, I have not signed up for any races yet! Let me take this chance to thank JustRunLah! for this. Having my race registration waived and since it is a themed run which sounds great for kids, I thought why not I register my daughter too. Lil' Miss, as how I referred to my 7 year old kiddo, is a very spontaneous little girl who loves outdoors and is always willing to tag along with me in either her scooter or bike as I go out for a short run.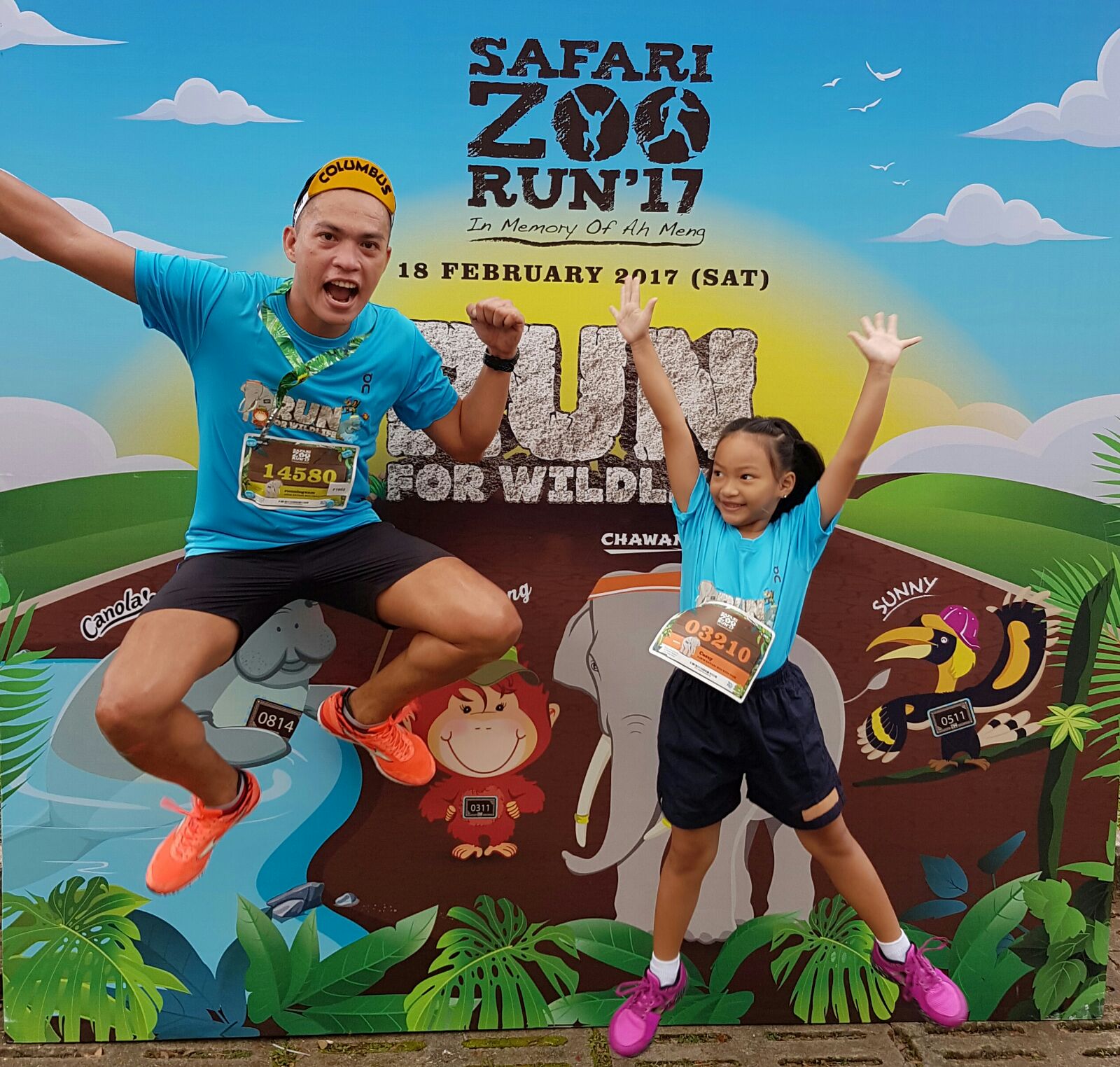 I bought her first scooter when she was 3 and eventually got mine too as I got hooked into a level up GPS based android game few years ago wherein I had to go to a certain location where there is this called "portal" which can either be a figure, a mural, a landmark or a anything and link it to another portal. Each time I link them I earned mind units (MU) so that is where I level up in addition to destroying the portals owned by the opposing faction. There were only 2 factions and this game is developed by the same PokemonGo game developers. Since then, I always wanted to go out check out new portals and so did my Lil' Miss who enjoys discovering places with her scooter. She enjoys her ride so much that my wife worried she will develop big leg muscles considering our daughter is still a girl! This did not stop us though and this has brought us even closer before I started running. Now she has learned how to bike. 
As I was offered with the free slot, I quickly signed up for a 10km competitive and 2.5km kids dash for Lil' Miss both under team Chawang, the Sumatran elephant. She was very excited that time I broke the news that she'll be going for a race. I even got a hug when I told her it is going to be at Singapore Zoo. She has been asking me to go to the zoo again for the nth time earlier this year which apparently we are scheduled to go later this month through our corporate scheme and so this run is a perfect experience for her. This is going to be her first official competitive race too so I am as excited as her and as worried at the same time as her mother. Worries like what if she cannot finish the race and act like a baby crying in the middle of the race or what if she gets too competitive at the start and ends up fainting or injure herself along the way. Although I believe in her so much that I know she can finish this short distance "easy-peasy" like she always say, I still can't stop the anxiousness in me. I trained her to be a tough girl and she knows how much I hate seeing her become teary eyed. She attends swim class every weekend and she bikes for fun as well. That is enough training for her. I reassured my wife that our Lil' Miss can do this. 
Race pack collection was a breeze. We went on the second evening of the race pack collection. There were auto-counters which I thought were photo booths so it did not intrigue me much and went on to the manual counters instead. There were not much people then so collection at Marina Square was a little less of a hassle except that I registered my daughter's FIN wrongly -common mistake or maybe just for me, O for 0 instead so we spent a little bit more time waiting for them to search. The event shirt was quite big for my Lil' Miss but we were told that there were only a few shirts for kids available and that we were not allowed to change hers for a smaller tee. Chance is to post it on social media as suggested by one of the crews and wait for the right shirt size for exchange which I do not find any spark of hope. It was still alright to keep the shirt though because kids this age grow up fast and she can use the shirt for maybe a couple more Safari Zoo runs. It is funny how race packs become more and more empty these times. It is not a mystery why less people post about their race packs on social media nowadays unlike before. Our race pack is bare containing only the event shirt, the bib and a few prints which are mainly discount coupons. What more do you expect. Race packs change too as much as people/runners do. 
The excitement in my daughter's eye never faded off until the race week. She may not have full understanding of what's going to happen next unlike us adults that we, at some point, seem to worry about our race performance. Still, the parent in me, took her out one evening a few days before the race day for a very short run just to test whether she can really endure running 2 kilometers without stopping. We ran a distance of about 3 bus stops as 1 km estimate and back. Proud I was that evening knowing that she possess such eagerness to run. I told her to imagine that the third bus stop is the finish line and that once she sees it, she must run faster than ever before and never stop until the finish. Surprisingly, she did as I say. Of course we had to stop before we u-turn and let her take a rest. There I am now very confident that she can do it and went on for a one more round that she merely resisted and started hearing a lot of complaints from her so I decided to call it a day and we headed back home. 
I went off first during the race day leaving the house at dawn. Mandai area is quite accessible to me because a direct bus coming from Ang Mo Kio interchange passes by my place and goes straight to the zoo. I instructed my wife and daughter to come a little bit later and but they must be there by 8AM as the kids dash flags off at 9AM. The bus journey was rather fast and reached the venue dimly lit by vehicles' headlight. I walked through the dark using my phone's torch and proceeded to where the music comes from which I assumed to be the race village. I went straight to drop my bag and passed the information booth, from afar I can see the stage where the host is randomly talking to runners. Porta-loos are well situated and something new to me is the mobile shower which I find it cool specially to everyone who loves to be always feeling refreshed after a good run. I still had plenty of time so I did a little warm up run and loosened some muscles before going in to the start pen.
The flag-off was delayed by 10 minutes which is kind of still not bad as I find the place still very dark. The host did a good job as he entertained us well while we waited. I could see silhouettes of some primates jumping at the branches of one of the tall trees in front of us. Ah Meng the mascot then helped to flag us off. I start strong at a sub 5 minute pace probably because of the rush of runners in the front where I am and immediately a downhill slope pushed us even faster til I realized I am not running a comfortable speed anymore. I slowed down and constantly checked my watch and made sure I  maintained a 5 min pace instead. A gentle uphill slope welcomed me at the 3rd km mark but what surprised me more is that the uphills seemed to be never ending until finally I realized I have passed by this part of the route earlier completely unaware that I am already on my second loop. It has gotten bright and I could see a squirrel crossing the road swiftly. The animals showed up from their dens and I couldn't stop myself to slow down and admire the place looking left and right as I run thinking God is indeed amazing creating such beautiful animals of different sizes. And so yes, it's that uphill slope again at the 8-9 km which nearly killed me dropping down pace to 5:30. I aimed for a sub 50 minutes  but finished at 50:12 net time.
I went off quickly to find my wife and daughter after getting my medal. It was a long walk from the finish line back to the race village. At that moment, the family run is being flagged off. As I approached the race village I immediately saw my daughter getting some artwork done on one of the tents. While she was busy, I asked my wife to get me some post run photos. Then we proceeded to the start pen and waited until they flag off the 2.5km competitive Kids' Dash.
Before the Start Pen Opens
The kids were flagged off in 2 waves: first the 10+ year olds and lastly the 6-9 year olds where my Lil' Miss's is. This time the Chawang mascot flagged them off. Two or three kids fell down on the first wave. I was crossing my fingers that it will not happen to my precious one on the second wave. Off they went and yes, nobody fell. I saw her very happy as she ran alongside other kids. Impressively, some kids are very competitive that you can see them wearing those game faces especially the older ones.
Me and my wife went to the finishing side immediately after their flag off. We walked slowly as we  entertained ourselves with sights of the mascots all around seeing real kids and kids at heart very happy at their presence. We followed the sign to the kids holding area. I expected Cassy, Lil' Miss's nickname to finish in 20 minutes or so. Fifteen minutes have past but I couldn't see her distinct purple shoes. I decided to find her then. I was a little worried she might have injured herself and walked instead. Truly enough, I caught her walking with other kids looking at the big birds flying above. I waited for her until she reached the giraffes and took a quick snap with the huge stunning long-necked creatures in the background.
Finally, I encourage her to run the remaining distance and reminded her that once she saw the finish line, she has to run faster which she did without hesitation! Hooray! She did it. She completed it in 18:43 net time. Not bad at all for a first timer.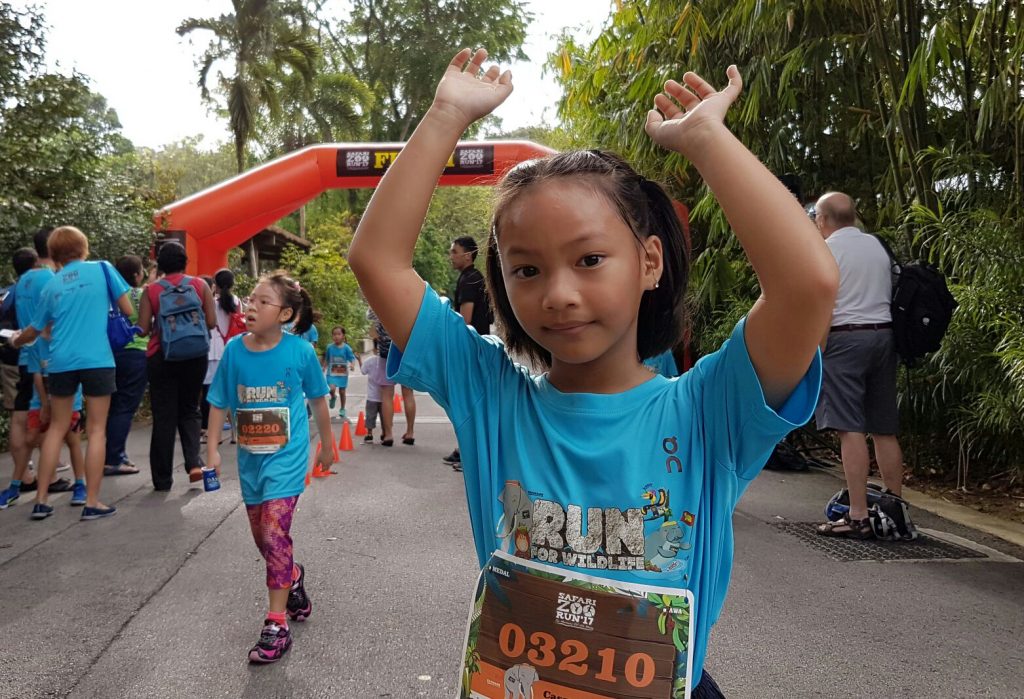 We had the best time at the Zoo. We had to leave early though as Lil' Miss needs to attend her stage 2 swimming exam. Meanwhile, enjoy some our photos at the zoo.
We look forward to the next kid's race. Are there any race you can suggest?